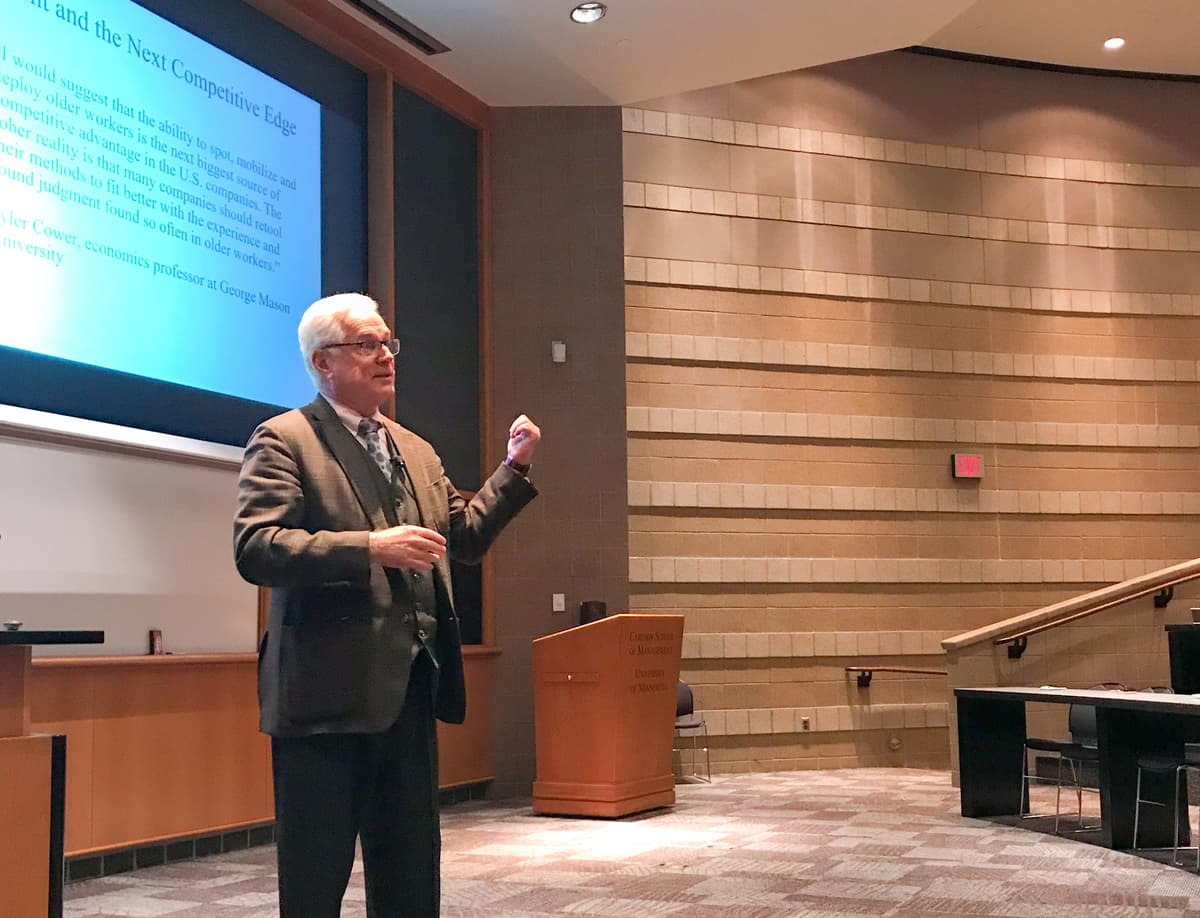 Purpose and a Paycheck: Finding Meaning, Money and Happiness in the Second Half of Life
When one thinks of what an economy needs to thrive and flourish, older generations are not usually included in that vision. However, after years in the field reporting for Marketplace, Chris Farrell has seen firsthand how experienced workers will continue to be a driving force in our economic growth. The author of Purpose and a Paycheck: Finding Meaning, Money and Happiness in the Second Half of Life joined us in February for our first Way We Work live event to share more about how the 50-plus crowd is shifting the narrative of what it means to get older in America.

The U.S. Census Bureau forecasts that in 2030, those 65 and older will account for more than 21 percent of the U.S. population -- about 73 million. Just four years ago, those numbers were 15 percent, or 49 million. According to many economists, these figures spell doom and gloom for our future economy. Older workers are stereotyped as expensive, cantankerous and unproductive.
But Farrell argued quite the opposite. He sees the aging of America's population as a historic opportunity to create a more inclusive society and flourishing economy.
Instead of traditional retirement, "people are continuing to stay employed, whether that's through self-employment, full-time or part-time jobs or gig work," Farrell said. "There's a lot of experimentation going on. I call this movement 'unretirement.' Folks increasingly have the ability and the desire to stay engaged with the workforce."
What's Causing this Change?
There's a myriad of factors behind workers remaining the workforce longer.
For one, Americans are living longer, on average. Thanks to improvements to our quality of life, including sanitation, healthcare, nutrition and education, life expectancy has increased 19.4 years -- up from 13.9 in 1950.
Farrell pointed out that this transformation will create a huge opportunity in our economy as many goods and services will be designed by and cater to the 55 and older community. "The future trajectory of housing markets, public transportation and urban design will be shaped by growing numbers of older adults," he said.
Another component at play here is that, in general, our work is less physically demanding these days. "No longer are people spending long days mining coal or working on an assembly for hours and hours at a time," Farrell said. Instead, our jobs make the transition to longer work lives more natural.
"I think one really underappreciated but very, very important thing is that the workplace is a community. People care when you show up. Work offers this creative outlet and helps so many stay mentally active. When people leave the workforce, they often lose these strong communities," said Farell.
Perhaps one of the most obvious reasons folks are delaying full-time retirement is the cost. Farrell spoke at length about this: "We have an inadequate retirement system. 40% of workers do not work at an organization that offers a retirement savings plan. Even for people that have a 401(k), it's still hard to save. The thing that happens: Life. Losing a job, getting sick, having to take time off to care for someone, that all delays saving for retirement," he said.
Financially, it makes sense to continue working, if possible. Farrell notes that the longer people can stay on the job, the higher their retirement savings will be and, in turn, so will the standard of living.
Fighting the Stereotypes
With his research and writings, Farrell is out to beat the idea that older workers have nothing to bring to the table.
"Experienced workers are productive workers. One study found productivity peaks pretty much at the age of retirement," said Farrell. "But the most intriguing twist is that, according to research, most productive workers were multi-generational teams. The argument is that experienced workers have a been there, done that, seen that mindset," he said.
One of Farrell's favorite examples of how aging workers can in fact maintain productivity is a recent case from BMW. Faced with an inevitable increase in the average age of their line employees, managers were faced with two traditional options: lay off their workers or force them into an early retirement.
Instead, they reassigned younger workers to the same line older workers were operating on, revamped their wellness program and completely overhauled what their physical workspace looked like.
In the end, they found that not only were older workers able to keep up with their younger peers, but also that overall productivity increased on the line. Defects went down. And employees missed less work.
Thinking Creatively
"There's this notion that with age, you become less and less creative. You're in decline. And there's this whole body of research that shows that is fundamentally wrong," said Farrell.
One of his favorite examples of this? Matisse's cut-outs that defined the latter half of his career. After a colon surgery left him in ill health, the renowned painter shifted mediums, instead creating masterful pieces of art with simple pieces of painted paper and scissors. He was in his late sixties when he gave life to some of the most recognizable silhouettes in art history, including his Blue Nude series and La Gerbe.
"Artists don't retire," Farrell pointed out, and went on to list a number of famous authors and their works that weren't published until a later age: "Laura Ingalls Wilder didn't publish Little House on the Prairie until she was 68. Norman Maclean had been retired for years until he wrote and published A River Runs Through It when he was 76."
The Future of Experienced Workers
Farrell concluded his talk by sharing examples of companies that are adapting for older workers, and how that will inevitably give them a competitive edge. Though automation typically has a bad rap in the manufacturing world, Farrell found that a machining company in northern Minnesota has made major investments to automate processes in order to lift burdens off of older workers. In turn, this allows these workers and their valuable skills to stay longer and the company has to spend less money in the long run to recruit and train new employees.
"In this whole discussion, the most pernicious idea is that there is inter-generational warfare in our organizations. And there's a whole group of people that are stoking this. And it's really fundamentally wrong," said Farrell. "What I've really found is that people share similar goals: They want to be paid well, they want respect, they want to work in teams and they want to work for a company they can be proud of. People want to work for a purpose."
Stay connected with Antenna. Follow @Antenna for our take on marketing trends, corporate culture, and current events.
ABOUT ANTENNA
Founded in 2006, Antenna is a leader in bringing top marketing professionals to corporations and non-profits for project-based consulting, interim leadership, staff augmentation, and direct placement needs. Headquartered in Minneapolis, Antenna draws from its private community of experienced marketers to provide clients with on-demand resources – both individuals and teams. Our vision is to fundamentally change the way marketing teams get work done by helping clients balance the flexibility and expertise required by today's modern marketing organizations.