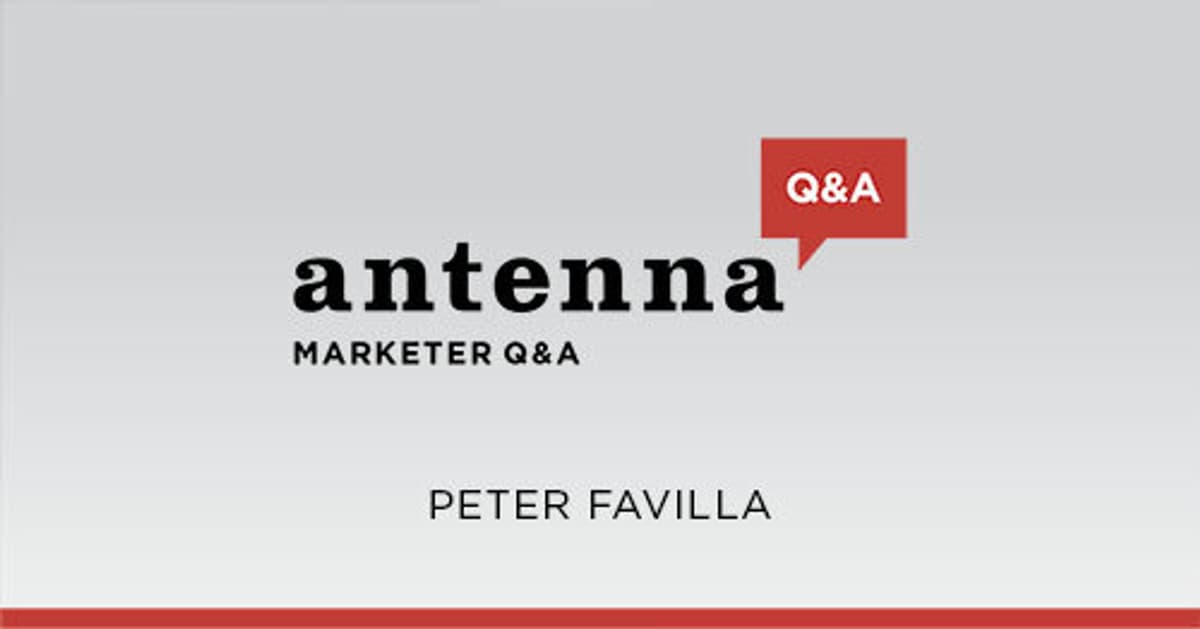 Marketer Q+A: Peter Favilla of Pentair
During these unprecedented times, we're focused on bringing you thoughtful advice from fellow marketing leaders across a variety of industries — all of whom are also navigating these uncertain waters.

As vice president of marketing at Pentair, Peter Favilla oversees a team of spread out over the globe. While this has brought its own series of challenges, there's unexpected positives as well. Read on for his thoughts on how COVID-19 has changed the way he works and the impact it might have on the future.
To start, describe where you're answering these questions from. What's your home office setup like?
Well, I had a home office already, which was nice. It's basically a spare bedroom. The good news is it looks out over the backyard, so I can look out the window while I'm working. I got tired of looking at my laptop and the small screen, so I stopped by work on a weekend when nobody was there, grabbed a large monitor and that makes things a lot easier.
What has been your biggest challenge leading a team through so many unknowns?
I manage a global team of 80 people and we had a couple of new people starting in China when they were in lockdown. So imagine onboarding people during a lockdown and getting them introduced to their new team. It took more communication — you can't give new employees their folder and say good luck. It's a lot more calls after day one, day two, day three to say: "What did you learn today? Any questions?"
How has your work changed in the past several weeks?
When we started working fully remotely, everything started off being a conference call but as the situation has progressed, people are using video more and I think probably because we want to be humans, right? We want to see people and talk to people and see smiles. I find we're spending more time in the beginning of calls talking about things that are not work. Asking, "How's your family doing?" or just talking to peers about how they're dealing with this or sharing funny stories. It's something that you wouldn't normally find in a Fortune 500 setting.
What opportunities have surfaced for you and/or your team in the past several weeks?
I would say that, from a business perspective, I think we're finding that we can actually do more than we thought we could do on calls and that creates the potential for less travel in the future.
As we think about communicating with consumers, we're focusing more on celebrating the stories of people versus sharing products. We've really found that these stories resonate more.
We've also seen a bit of an internal communications shift. We have an intranet site where they started a "Pentair Proud" page and within two days there were about 40-50 stories on there from people across the globe, either celebrating their teammates or sharing their personal stories. It's pretty cool.
What advice do you have for other marketing leaders working through a time like this?
You have to recognize your audience internally. What I mean by that is, you have people who are now chasing three-year-olds around the house, so it's important to recognize where people are instead of just acting as if things are like they were six weeks ago. So that means giving some people a little bit of space and some flexibility because they're probably dealing with stuff they didn't plan to deal with before.
I also think it's important to consider: even amidst the craziness, how are you focusing people on the most important thing?
How do you think what's happening now will impact the future of work?
The pandemic will make these flexible arrangements more powerful because we're all going through this and are starting to know how to work through it, together. But while I think the pandemic has opened up some opportunities, especially as it relates to video calls and working remotely, I think people are going to appreciate human connection more. I think oftentimes you can get a lot more done when you're in the room with somebody.
Stay connected with Antenna. Follow @Antenna for our take on marketing trends, corporate culture, and current events.
ABOUT ANTENNA
Founded in 2006, Antenna is a leader in bringing top marketing professionals to corporations and non-profits for project-based consulting, interim leadership, staff augmentation, and direct placement needs. Headquartered in Minneapolis, Antenna draws from its private community of experienced marketers to provide clients with on-demand resources – both individuals and teams. Our vision is to fundamentally change the way marketing teams get work done by helping clients balance the flexibility and expertise required by today's modern marketing organization.