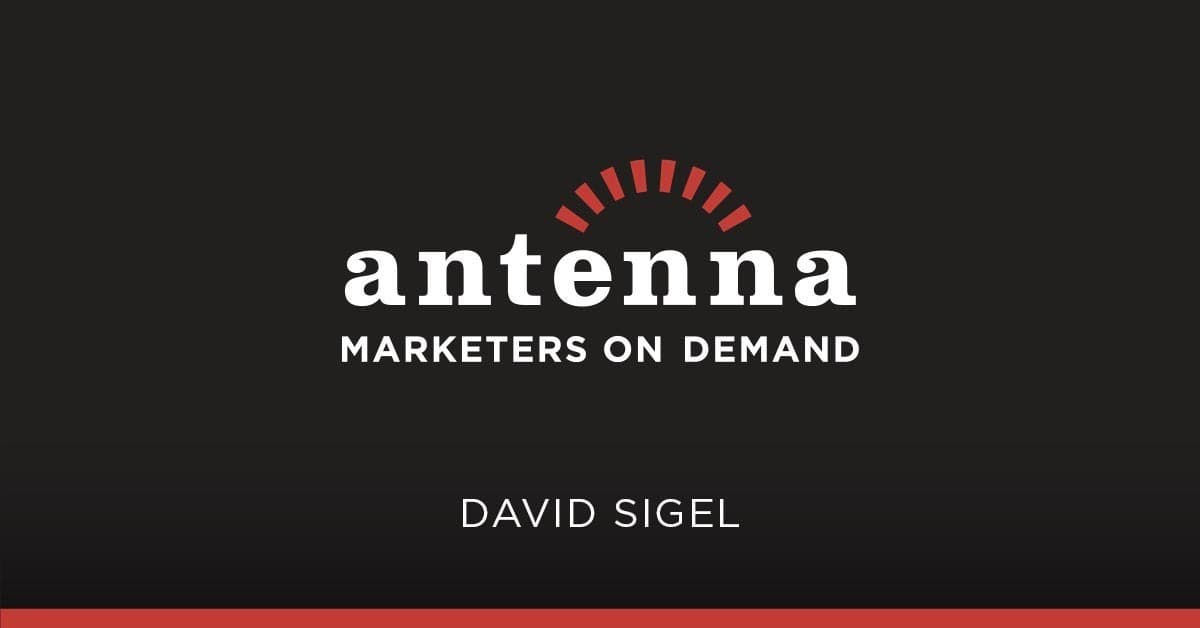 Marketer on Demand: David Sigel
For our Marketer on Demand series, we're sharing the stories of how work is changing within our own community in light of the pandemic. From interim leaders to our most senior consultants, we'll bring you unique perspectives and fresh examples of how all marketers can make an impact right now.
About David
I work as a fractional chief marketing officer, to help growing and transforming companies strategically elevate their marketing system. Modern marketing is complex, and keeping up with your target in a rapidly changing environment like we have now is more important than ever. I work with B2C and B2B companies across many industries, including financial services, sports-tech, health-tech, real estate, and distilled spirits. Before starting Sheepdog, I worked in advertising for over 20 years at Fallon, leading creative communications for some of the world's preeminent brands.
When I'm At My Best
Defining an insight-based, ownable brand platform — positioning, target, voice, identity system.
Developing high impact, high quality creative content.
Managing marketing programs in a strategic, integrated way to drive against tangible business outcomes.
Brands I've Worked On
Citi, Travelers, Rocket Mortgage, BMW, United Airlines, Deluxe, Charles Schwab, Ameriprise, New York Stock Exchange, Ladders, Plated, Prevent Biometrics, Seedsheet, Homestead Road, By The Yard, Woodford Reserve, Herradura Tequila, SMART Logistics, to name a few.
How The Pandemic Has Changed the Way I Work
Obviously, pandemics aren't great for marketers. Many industries and companies have been severely disrupted, and the public health and economic impacts to people are profound. I think the biggest thing is for every brand to realize that it is far from business as usual, and they need to be very agile to adjust their tactics and tone.
In some businesses, that may mean pausing just about all marketing to reduce expenses and just survive. For others there will be opportunities to serve customers differently or even build awareness or share. I'm busy helping my clients adjust their marketing for the environment. Personally, I am used to working remote a lot of the time, so being at home and collaborating through technology isn't too unusual.
What Marketing Leaders Need the Most Right Now
First, probably empathy — both internally through your team and with your target market. It's just a crazy, stressful time that is going to impact every individual, every family, differently. Brands need to be authentic and genuinely helpful. Find new ways to serve your customers.

One of my clients is an outdoor furniture manufacturer. When their showrooms were closed down, we did Facebook Live broadcasts to help people shop their spring sale, and offered video chats with their salespeople.
How Marketers Can Make An Impact in Uncertain Times
Marketing is all about innovation and creativity, and both are needed commodities right now. Do what you do, and always keep the consumer or target top of mind. Stay positive and confident. You'll get through this.
---
David Sigel
Owner, Sheepdog Consulting
Stay connected with Antenna. Follow @Antenna for our take on marketing trends, corporate culture, and current events.
ABOUT ANTENNA
Founded in 2006, Antenna is a leader in bringing top marketing professionals to corporations and non-profits for project-based consulting, interim leadership, staff augmentation, and direct placement needs. Headquartered in Minneapolis, Antenna draws from its private community of experienced marketers to provide clients with on-demand resources – both individuals and teams. Our vision is to fundamentally change the way marketing teams get work done by helping clients balance the flexibility and expertise required by today's modern marketing organization.