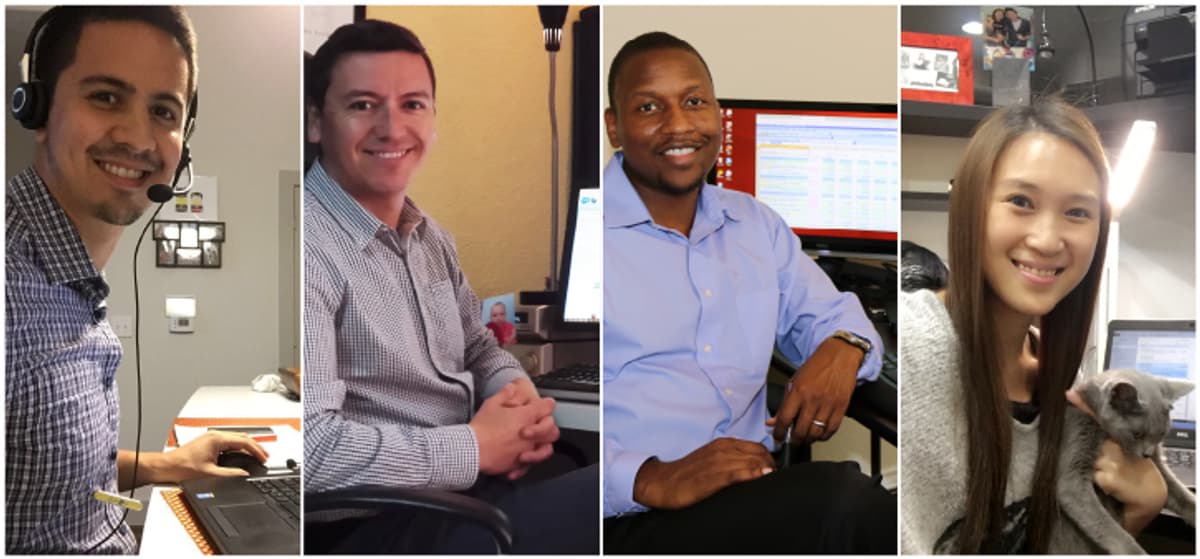 Dell Global HR Leader: Flexible Work is More Than a Perk; It's Good Business
If you could reduce your office space costs by 25 percent, just by letting employees work from home, would you do it? Dell does, and the results are more than worth it, says Mohammed Chahdi, the company's director of global HR services — who works remotely himself.
Remote work is growing fast. We're fans here at Antenna, and Dell has been focused on remote work since 2009, when leaders wanted to reduce real estate costs. Since then remote work has turned into a major part of the company's culture and business strategy. "It's good business," Chahdi says. "You don't have to choose to either reduce real estate or retain employees. You can do both and deliver for customers."
About a quarter of Dell's employees work remotely, and the company has a goal of 50 percent by 2020. So far, the results speak for themselves. Providing more remote-work opportunities has led to a smaller impact on the environment, energy cost savings, improved employee satisfaction, higher retention and productivity, and reported real estate savings of about $12 million per year. We talked to Mo about how Dell implemented its flexible work strategy and how you can do the same.
Formalize Your Program
Some larger companies may find they already have an ad hoc remote-work program, where an employee might work from home while taking care of a sick child or when the weather is too bad to come in. That's often how remote work programs start. "We wanted to formalize a practice that was already happening," Chahdi says. "We already had people telecommuting, and wanted to give it a proper framework that we could put initiatives around."
In addition, the company wanted to get a picture of how it was using its offices around the world. Was it getting the most out of them? Did they really need all that real estate? Formalizing the program made it possible to determine whether Dell really needed all the offices it had.
At first the goal for Dell was simply to formalize the program and determine its use of real estate, Chahdi says, but now it's about being flexible enough to shift with each team member's needs and the way the market evolves.
Support Your Strategy with Tech
Advances in technology have made work something you do rather than a place where you are, Chahdi says. "All of us now hold devices in our pockets that are offices. They can contain everything we traditionally would have done in an office setup," he says. Think of technology as an extension of the workplace and look for solutions that make it possible for people to do their work anywhere.
Collaboration tools are key. "Sometimes I forget my colleagues are sitting on the other side of the continent," he says. When collaboration is easy, people can focus on what they're doing no matter where they are.
Build a Culture, Not a Perk
Once people are up and running in a remote workforce, that functionality becomes part of the organization's culture rather than simply a feature or perk. "We're working to make this a seamless experience," Chahdi says. "If you're a remote team member, you don't feel you're isolated. You're not in a unique setup that no one's heard of. It's an inclusion culture and part of our DNA today."
Let Employees Decide
You may find that some people aren't interested in working remotely — and that's OK, Chahdi says. He suggests using remote work as a way to build an adaptable culture where employees feel empowered and enabled. "It's not about forcing everything to fit into this remote model," he says. "It's about a full, flexible continuum that can move between fully remote and fully in the office; the decision is with the employee."
Employees themselves are often the best judges of whether they would be good remote workers. "Change the equation to let employees make the call and deliver their best results, without boundaries or rules they have to comply to," Chahdi says.
Use Your Flexibility Program to Recruit Talent
The remote-work option is one of the major topics job candidates talk about, Chahdi says. Dell's progressive stand about flexible work is attractive to candidates and provides a lot of buzz.
At the same time, Chahdi says, touting Dell's remote-work policy helps candidates see the strength of the team at Dell. A large remote workforce speaks well to the talent of individual employees as well as their managers — and that sends a message to candidates. "The fact that we talk about it externally isn't just to attract talent, but to reflect the talent internally," he says.
Change Your Thinking
Moving toward a remote workforce is more than a series of tactical changes. It requires a complete overhaul in the way managers and employees view work and how it's done, Chahdi says. "You want to make an environment that's attractive to top-tier talent," he says. That means moving past the traditional idea that employees who show up early, sit in an office all day, and stay late are the most productive. "Do you want the best people to join you, or do you want people who will comply with conventional thinking?"
Promote a culture where people can do their best work rather than pushing the idea that good work happens only during traditional business hours, Chahdi says. "Team members will always answer those expectations of being in the office 9 to 5 when in reality, their most productive work style might be completely different," he says.
Chahdi recommends keeping an eye on the big picture. "In the conversation about this, we tend to narrow the topic down to allowing employees to work remotely for their convenience," he says. "In reality, it's much bigger than that. We're making it possible for employees to deliver for their customers."
Subscribe to our blog to get the latest post delivered to your inbox weekly.
Stay connected with Antenna. Follow @Antenna for our take on marketing trends, corporate culture, and current events.
ABOUT ANTENNA
Antenna is a leader in delivering top marketing professionals to corporations of all sizes for project-based consulting, interim leadership assignments, and contract staffing engagements. With headquarters in Minneapolis, Antenna draws from its private community of experienced marketing talent to help clients balance the flexibility and expertise modern marketing organizations demand.