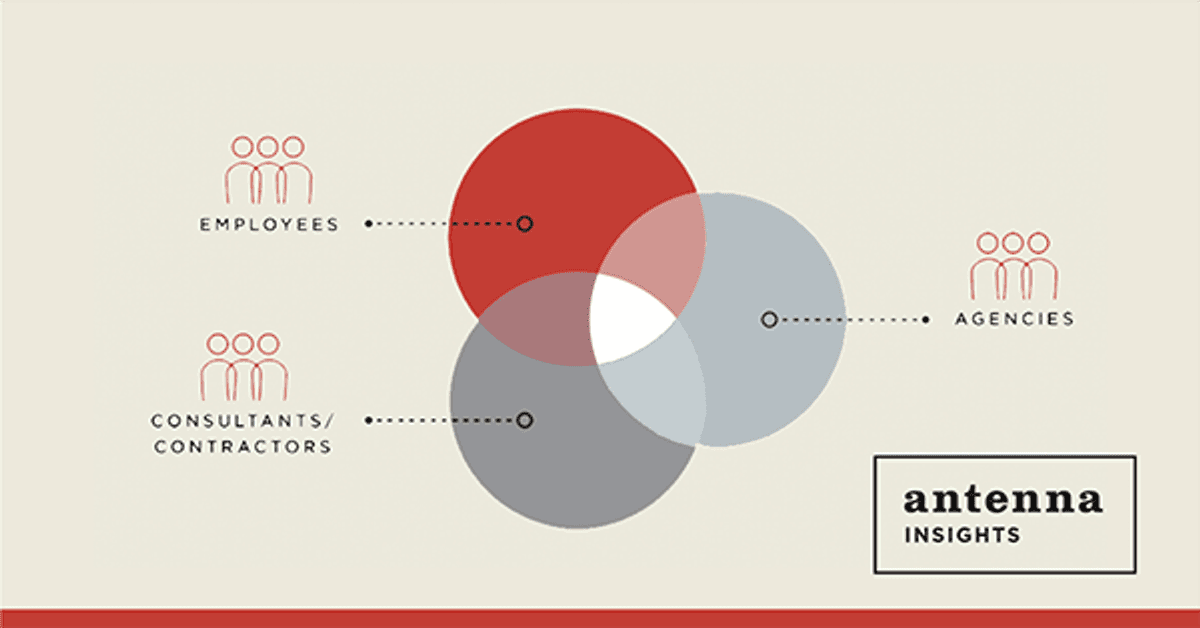 A Model for Building Marketing Teams in Uncertain Times
As COVID-19 continues to disrupt business and bring economies to a slow crawl, very few industries are being left untouched. With budgets tightening and project scopes shifting, the instinct may be to turn inward and pull back on marketing efforts. Rather than indiscriminately cut marketing budgets, now is the time to fine-tune strategies, tactics and product offerings. This means being creative and thoughtful about the solutions you seek during this time of uncertainty.

Yes, marketing leaders should be adjusting and evolving their strategies and plans to reflect the current, and future state, of business. More importantly, they must figure out how their team's roles, responsibilities and partners evolve with the ever-changing business climate.
Our model is designed to help marketing leaders adapt and align quickly to business needs. To start, think about your marketing team as a "clover" — a mix of employees, agency partners, consultants, and contractors. The clover flexes and changes constantly based on key projects and initiatives.
We've used this model with dozens of companies and hundreds of consultants. Here's how to integrate a consultant into your marketing team as part of this model.
Identify which functions and skills must be done by your core employees
It's crucial right now to identify what your core team of employees is uniquely qualified to do. What absolutely needs to stay in-house? For right now, focus on your short-term strategies. Plan out the next six months and decide what you want to own. If you want accountability for something but don't have that talent, it's time to engage a consultant.
Consultants are a flexible option that many organizations need in this moment in time to bring expertise without adding headcount. These folks not only bring unique skills sets and expertise, but also add extra horsepower during a time when many marketing teams need an extra hand.
The best consultants and contractors will augment your employees and agencies and seamlessly integrate into your workflow, but in order to do so, a little preparation is needed.
Get ready ahead of time
Here's one of the biggest, most expensive mistakes we see companies make: They hire a consultant, sign the contract, check the box and move on. They don't think about that person's workload or onboarding until the first day the consultant shows up in the office. They're unprepared and end up scrambling to pull together everything the consultant needs to get started.
During a time of economic unpredictability, you not only need to maximize your budget but also every moment of the consultant's time. Before their first day, create a list of what they'll need:
All information on current marketing efforts. This includes printed materials, historical data, strategy decks and other reading materials.
A list of key people they'll need to talk to. Who are the internal stakeholders, customers, other consultants, agencies or partners that the consultant should get to know right away?
The tools they'll need to work at your organization. Don't make a consultant wait two days for access to the vital marketing tools you use. Set up basic administrative rights ahead of time.
Background on the current team. Have there been layoffs as a result of the pandemic? Are folks sensitive to an outside resource right now? These are delicate situations for everyone, but vital for smoothing any friction ahead of time.
Provide context
Consultants bring expertise, but they're often missing something just as important: context. If a consultant has never worked at your organization they'll need to know how decisions get made, how to navigate the organization, what internal language to use, and what values and priorities guide the team's strategies.
For example, one of our client's marketing strategies is based on five key pillars. In order to communicate priorities, team members talk in terms of those "pillars." If a consultant leads a meeting and talks about "goals" or "objectives," they won't be heard in the same way.
Your organization might be prepared with a corporate glossary or an explainer for acronyms. But if you don't have that resource, make your own. Explain the most important internal language to new consultants, and encourage them to ask questions if they hear jargon they don't understand.
Schedule time in advance with key team members
Relationships are crucial to a consultant's success. Often, consultants need to meet with a long list of people before they can dig into the work. If it takes them weeks to get meetings on all of those people's calendars, their contributions will be limited.
Ensuring success from day one is simple. Start by sending an email to everyone who will work with the consultant. Introduce them, share why you're excited about their expertise, what they'll bring to the team, and explain core goals. Schedule time on each person's calendar and specify exactly what you expect each person to share or discuss during their meeting.
Doing so in advance will help get the ball rolling faster and avoid lag time that you don't have at the moment.
Be open
If you've hired a consultant, remember that you've sought an outside resource for new ideas and a fresh perspective. We've seen many consultants start a project, bring in an updated outlook, and get immediately shut down. It's easy to say "that's not how we do things here" or "that will never work." However, this line of thinking isn't helpful, especially during a time when we're dealing with history-marking unpredictability.
"The definition of insanity is doing the same thing over and over again, but expecting different results." ~ Albert Einstein
To maximize a consultant's impact on your marketing efforts, it's important to keep an open mind and encourage your employees to do so as well.
Plan for the future
Uncertainty prevails, but so does the expectation that marketing will grow your business.
What worked this year will most likely not work next year, as businesses move in new directions and respond to new challenges.
Like your marketing strategies, your teams are not meant to to stay fixed forever. That's why it's incredibly important to designate someone on your team to be responsible for actively managing the talent mix and continuously optimize the same way you actively manage your marketing plan.
While every organization is different, this current climate is a great opportunity to challenge yourself to get creative about finding the solution that best suits your needs. The organizations that will come out of this successfully are shaking things up, rethinking their mix of resources and staying flexible as things change every day.
Stay connected with Antenna. Follow @Antenna for our take on marketing trends, corporate culture, and current events.
ABOUT ANTENNA
Founded in 2006, Antenna is a leader in bringing top marketing professionals to corporations and non-profits for project-based consulting, interim leadership, staff augmentation, and direct placement needs. Headquartered in Minneapolis, Antenna draws from its private community of experienced marketers to provide clients with on-demand resources – both individuals and teams. Our vision is to fundamentally change the way marketing teams get work done by helping clients balance the flexibility and expertise required by today's modern marketing organization.