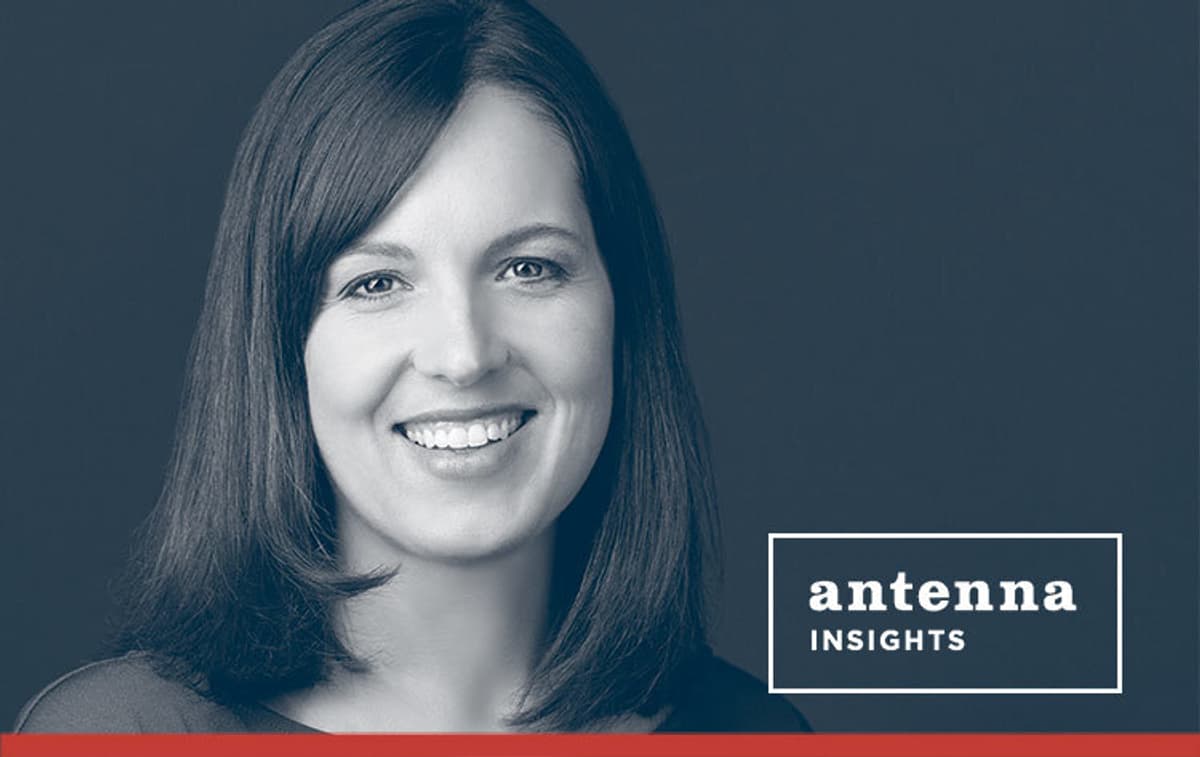 Five Lessons Learned from Pivoting Careers
By Jennifer Laible
Some career paths are like highways, while others resemble winding country roads. But everyone's career trajectory has a story.
Mine started on a conventional path. I worked for Fortune 100 corporations like American Express, Allstate and Best Buy, each a stepping stone on what appeared to be a very methodical journey. You might say I had chosen a "lane" — that of large companies — which I enjoyed for a long time.
But eight years ago, I decided to try a different model and transitioned to a smaller company. I had been curious about how I could align my strengths in a small business setting and make an impact by leading and growing a business. And that's how I landed at Antenna.
As I talk with people about their own career paths — specifically the "lanes" they have chosen -- I find that they are very curious about what it's like on the other side — that is, how it feels to work in and lead a small business given my corporate background. Many also see that the macro environment of the job landscape has changed and they, too, are contemplating shifts of their own. I'm often asked about the differences and similarities between my two career worlds and what advice I have for people who are thinking about making a change.
Here are five lessons I've learned about the main differences between running a small business and being a part of corporate life.
The Impact is Immediate
One of my favorite aspects of a small business is that you quickly learn whether your new idea, product or service is going to make it. While it's often known as "fail fast," I prefer to think of it as "find out fast." The feedback you receive is often real-time, and you can see results quickly, which makes the work very dynamic and gratifying.
Conversely, I found that while projects at a large corporation are complex and often have a huge impact, it can feel as though you are moving at a snail's pace to get there, even when you yourself are working frantically. You may find that something you poured your heart and soul into gets scrapped through no fault of your own; company priorities and investments often dictate what moves forward. At a large company, the ship can seem large, and you are rarely the captain.
Performance is Paramount
At a small firm, every single person is vital to the success of the company and the team. Roles are often fluid, without the rigid job descriptions or layers that can sometimes accompany organizational charts in a larger corporation. This makes it ideal for those who like to wear multiple hats. In a small business, you are always changing and morphing your role and skills to keep up with the demands and needs of the business.
But that means each and every person must pull their weight and push the team to be better. In larger companies, it's easier for underperforming talent to hide or get passed around. In a lean organization, strong teams are even more critical, as there is no organizational capacity for apathy.
Your Network Has to Work
In a small company, you're only as good as the people who can help you out. That's why I'm proud to have assembled an extensive network of partners who, just as important, are handpicked.
In a corporation, you have the benefit of strong, internally shared service and support teams to draw upon when you need expertise. But because small businesses are lean, the only way to accomplish your goals is to build a network of partners and experts that can help you reach them (versus just dialing up the internal marketing/IT/HR/legal department).
That means the onus is on you in a small business to build and navigate relationships so the top-notch advice, counsel or talent you need is only a phone call away.
The Scrappy Succeed
Corporate America comes with large budgets and teams, complex and interesting challenges and pressure on quarterly earnings. In a small business, I am more cognizant of making every dollar count because of resource scarcity. That often requires creativity, and I am frequently surprised by how a shoestring budget can bring out our best work.
Of course, I often wish we had more resources for the business — time, people and money — because we often have to make tradeoffs such as whether to hire someone new or fund an important initiative. But I've learned the importance of scaling, making smart investments and starting small.
The constant game of allocating and reallocating resources helps all of us make informed decisions and keeps us focused on results. It also gives us the freedom to be more creative than we otherwise might have been.
Flexibility Comes in Many Forms
Flexibility in a small business means you have more control over many aspects of your work environment and likely have more control over your schedule, better allowing you to integrate work and life. Often you have the opportunity to choose your clients and projects, which allows you to focus on work that is fulfilling and challenging.
It's critical to have a team that is accountable for results because it creates a dynamic where everyone understands what has to get done and yet they are often free to accomplish it in the way that works for them. Flexibility doesn't necessarily equate to less work. However, when you're working your own terms, the hard work, effort and contributions are more personal and, therefore, feel different.
So when people ask if I like working in a small business, I can unequivocally say yes. I love working in and leading a small business — it is challenging, humbling and gratifying. I also loved my corporate career, and my time there made me a better leader. Given how quickly things are changing today, there is no better time to reinvent yourself as we come to understand that one size no longer fits all.
This post originally appeared on Forbes.
Stay connected with Antenna. Follow @Antenna for our take on marketing trends, corporate culture, and current events.