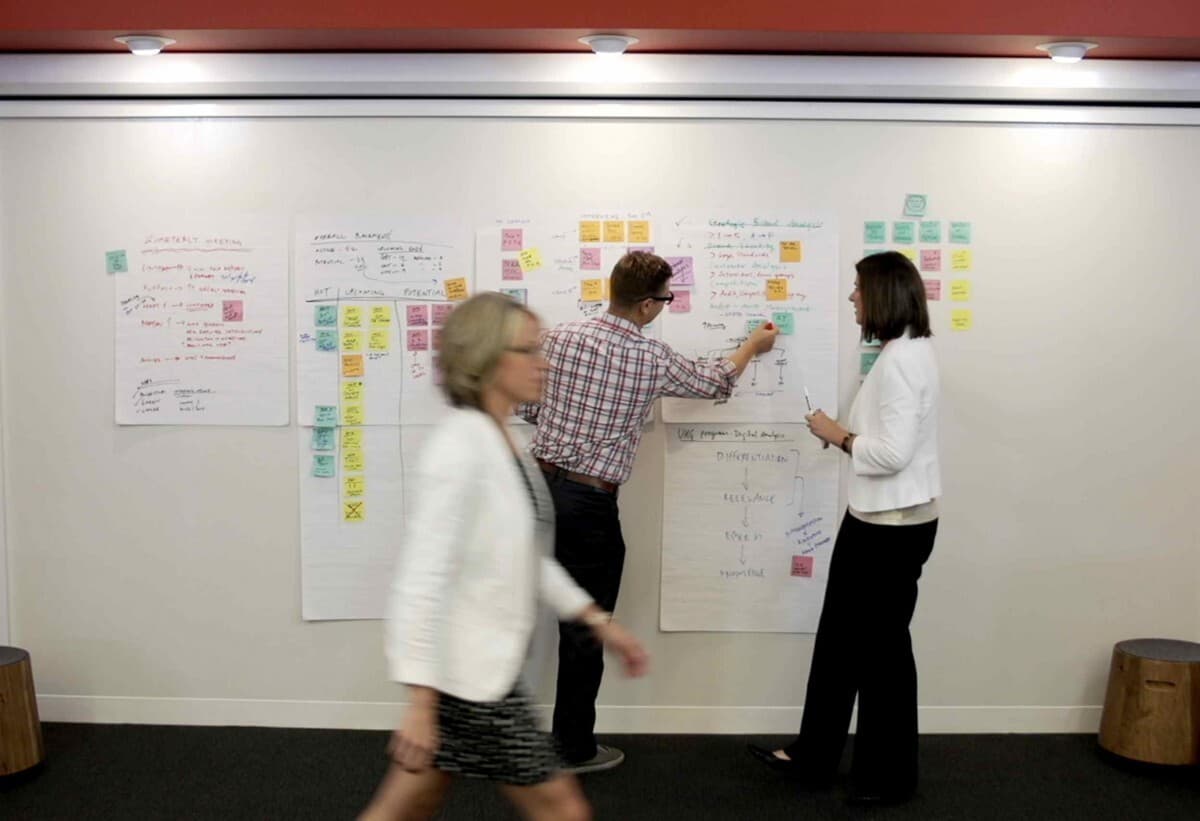 Antenna's Secret Weapon: EOS
By Jennifer Laible

While we generally use the Antenna blog to share trends and ideas on the world of marketing and leadership, today I want to give you a peek behind the scenes at Antenna HQ. Let's talk business strategy.
As president of Antenna, I'm responsible for overseeing the day-to-day function of the company. While that core work with our consultants and clients is incredibly important, I also have one eye on our big-picture strategy.
Antenna has been growing quite a bit — we've been fortunate to have 40% year over year growth for the last few years, which means more opportunities for our clients and consultants. As we grow it's important to us to follow a sustainable, responsible strategy. We've found an important framework to help us define that strategy: EOS.
What Is EOS?
The Entrepreneurial Operating System, or EOS, is a way to operate growth-oriented small businesses (companies with 10 to 250 employees) in a systematic way. Using EOS, leaders can get everyone in the company on the same page and move through a strategic plan in a thoughtful, pragmatic way. In other words, EOS forces business leaders to work on the business, not just in the business — which I know from experience is easier said than done.
EOS also simplifies strategy. I come from a corporate strategy background, and I'm used to formal, impressive binders full of many pages of projections, numbers, and strategic plans. EOS uses a two-page strategy (two pages!), and breaks down the goals into manageable quarterly milestones. With EOS there's no room for pie-in-the-sky goals and ideas. You force yourself to choose your top priorities for each quarter, and leave anything else for later.
How Antenna Uses EOS
The things that got Antenna through our first few stages of growth aren't the same things that will push us to the next level of growth. EOS is our foundation for building a healthy, strong company that's primed for more growth. It gives us a method to our madness and organizes our teams and processes.
Every employee at Antenna has read "Traction," and every employee contributes to a weekly meeting about our business strategy.
Those meetings ladder up to bigger plans. Our leadership team spends a full day each quarter off-site working on the business. We identify our most critical priorities for the next 90 days, which has been incredibly helpful for us.
We started EOS 16 months ago, so we're still in the beginning phase. EOS generally recommends two years to get fully operational in the system, at which point we'll continue to optimize and refine our processes based on the EOS structure.
What We Learned at the First EOS Conference
There are 4,500 companies that run on EOS. In 2017, EOS held its first user conference, and we knew we had to be there. Our four-person leadership team (Marie Oberle, Erik Voge, Brendon and myself) went down to Atlanta to network with other business leaders and learn best practices.
One of our mutual favorite sessions was about building healthy and strong teams. The session discussed what teams need to be happy and functioning, and how to take the pulse of how your team works together. Our leadership team was inspired to make plans to dig more into our team health this summer, through a company-wide off-site. And after the conference, we all read one of the recommended books, "The Five Dysfunctions of a Team" by Patrick Lencioni.
EOS has been a game-changer for our team at Antenna. I wholeheartedly recommend it to any other small-business leaders reading this, and I can't count the number of leaders who have told me EOS has been a key to their success.
Subscribe to our blog to get the latest post delivered to your inbox weekly.
Stay connected with Antenna. Follow @Antenna for our take on marketing trends, corporate culture, and current events.
ABOUT ANTENNA
Antenna is a leader in delivering top marketing professionals to corporations of all sizes for project-based consulting, interim leadership assignments, and contract staffing engagements. With headquarters in Minneapolis, Antenna draws from its private community of experienced marketing talent to help clients balance the flexibility and expertise modern marketing organizations demand.