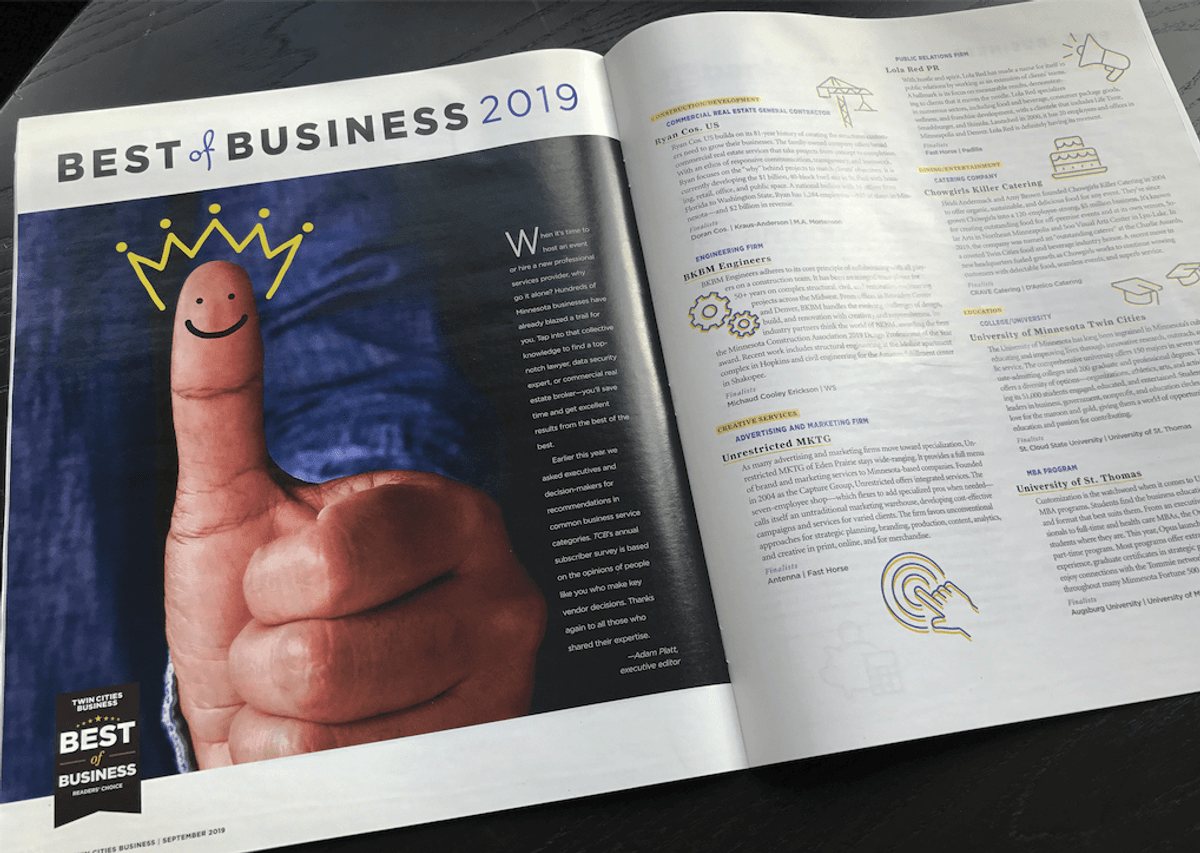 Antenna Recognized as a Top Marketing Firm by Twin Cities Business Magazine
The Twin Cities are integral to Antenna's business model. We'd be nowhere without the smart, creative folks that are the backbone of our local business community. We're not only thrilled but also humbled that these same people have once again recognized Antenna as a top marketing/advertising firm in Twin Cities Business Magazine's Best of Business Awards. This is the fourth year in a row we've been voted to this list.
Adam Platt, Twin Cities Business Magazine's executive editor, describes this list as a way to source insider knowledge:
"When it's time to host an event or hire a new professional services provider, why go it alone? Hundreds of Minnesota businesses have already blazed a trail for you. Tap into that collective knowledge to find a top-notch lawyer, data security expert, or commercial real estate broker—you'll save time and get excellent results from the best of the best. TCB's annual subscriber survey is based on the opinions of people like you who make key vendor decisions."
We're honored to be included in the marketing/advertising category alongside Fast Horse and Unrestricted MKTG. A big congrats to the other amazing businesses included on this year's list including many of our partners, friends and clients at:
Lola Red PR
University of Minnesota
University of St. Thomas
Amy Zaroff Events + Design
Lurie LLP
SALO
Code 42
Calabrio
Mayo Clinic Executive Health
Health Partners
Medica
North Memorial Health
Stay connected with Antenna. Follow @Antenna for our take on marketing trends, corporate culture, and current events.
ABOUT ANTENNA
Antenna is a leader in delivering top marketing professionals to corporations of all sizes for project-based consulting, interim leadership assignments, and contract staffing engagements. With headquarters in Minneapolis, Antenna draws from its private community of experienced marketing talent to help clients balance the flexibility and expertise modern marketing organizations demand.