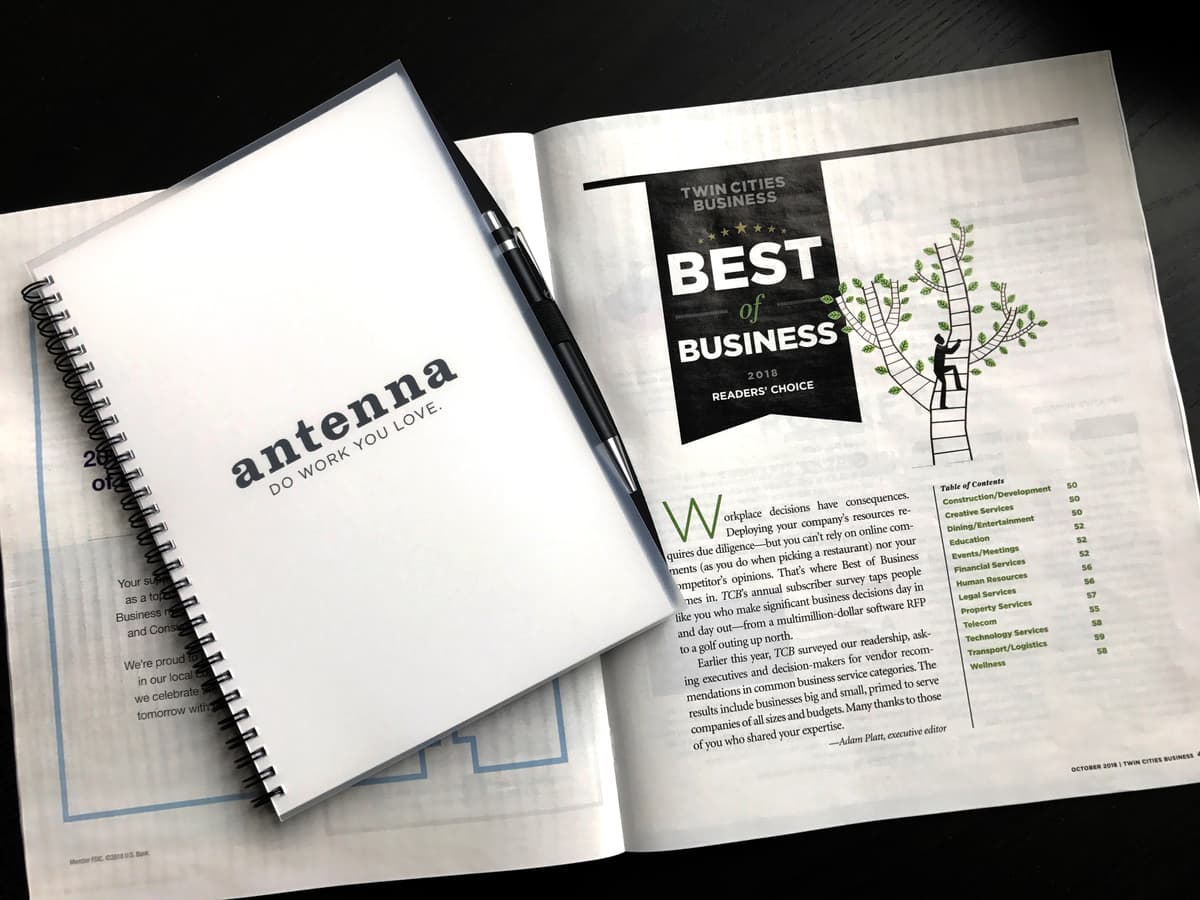 Antenna Recognized as Best of Business by Twin Cities Business Magazine for Third Year in a Row
Being in the Twin Cities has been an important part of the Antenna business model. The smart, experienced people and strong business community have powered our business from day one, and we're humbled that the local community recognized Antenna for the third time as a top Marketing/Advertising firm by the Twin Cities Business Magazine's Best of Business Awards.
Twin Cities Business Magazine describes The Best of Business Award as the result of a peer voting process, using a subscriber survey to crowdsource the kind of business-to-business vendor advice you can't often find online.
We're proud to be included on this list as the winner alongside so many other great companies, including many of our marketing friends and clients. A big congratulation to the other marketing category winners, Fast Horse and Olson, as well the other amazing small and large businesses that help fuel this one of a kind business community.
Here's what Twin Cities Business Magazine had to say about Antenna:
Antenna became the marketing experts that companies and nonprofits rely on soon after it started in 2006. When customers have complex, urgent, or specialized marketing needs, they call on Antenna to find the right team of experts. The Minneapolis firm has 100 nimble, free-agent marketing experts available to handle marketing communications, brand management, analytics, and more. Fortune 50 companies like Target, 3M, and Ecolab have fueled Antenna's growth to the tune of $11 million in revenue; they like its hybrid model of consulting and staffing—arranged by marketers who know what other marketers seek—that provides a winning blend of flexibility and skill.
We'd like to say a big thanks to all in this local business community for helping us grow and thrive. We'd also like to extend a hearty congratulations to our friends, partners, and clients at the following firms:
Lola Red PR
Good Day Café
Hewing Hotel
University of Minnesota, Carlson School of Management
Lurie
Salo
Stinson Leonard Street
Cresa Minneapolis
Clockwork
Blue Cross and Blue Shield of Minnesota
Subscribe to our blog to get the latest post delivered to your inbox weekly.
Stay connected with Antenna. Follow @Antenna for our take on marketing trends, corporate culture, and current events.
ABOUT ANTENNA
Antenna is a leader in delivering top marketing professionals to corporations of all sizes for project-based consulting, interim leadership assignments, and contract staffing engagements. With headquarters in Minneapolis, Antenna draws from its private community of experienced marketing talent to help clients balance the flexibility and expertise modern marketing organizations demand.