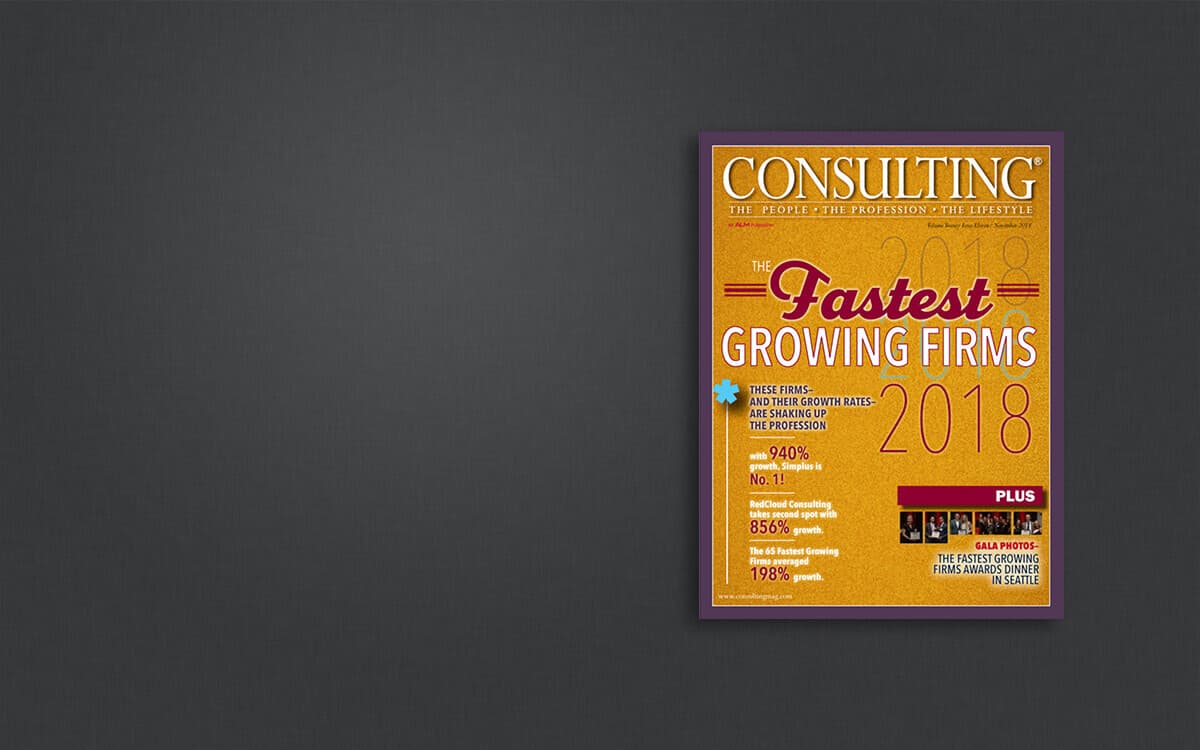 Antenna Named to Consulting Magazine's Fastest Growing Firms List for Third Year
Consulting Magazine released its annual ranking of the consulting industry's Fastest Growing Firms — a celebration of the industry's top movers and shakers in terms of revenue growth from across the country. Antenna has made the list for the third year in a row, and this year appears as the profession's No. 41 ranked firm over a three-year period.
"The Fastest Growing Firms award is designed to shine a light on those firms that are making their impact through revenue growth – all too often those firms fly under the radar. These firms are the future, and they deserve to be recognized," writes Publisher & Editor-in-Chief Joseph Kornik.
In all, 65 firms qualified for the ranking. The Fastest Growing Firms were unveiled and formally recognized at Consulting magazine's gala dinner celebration in Seattle. The Fastest Growing Firms are featured on consultingmag.com, as well as in the November issue of Consulting magazine.
Learn more about this award and what's behind our growth from our CEO, Brendon Schrader, in an interview with Consulting Magazine:

What were the main factors that contributed to your firm's exceptional growth?
Antenna's consulting model is designed to provide marketing organizations with flexible, on-demand consulting resources. As the marketing discipline continues to evolve, the need for specific skills, talents, and resources has become more critical for our clients to accelerate their business. We continue to focus on scaling our firm, reinvesting in the company, and integrating new systems and technology into our business for growth.
How is this year shaping up for your firm?
2018 has been another growth year for Antenna. We continue to build our firm and focus on our internal infrastructure to better deliver service clients and create a strong experience for our consultants. We see a strong interest for on-demand resources, especially as the marketing function evolves, and more clients are interested in better understanding and communicating to customers.
What would you say are your firm's biggest challenges in 2019?
Our business is unique in that we continue to serve two distinct audiences – our great clients and our talented consultants. Our talent is the heart of what we do, and we have been taking big steps to ensure that they are connected, supported, and growing on assignment. We also want to keep a close eye on our client relationships, so they stay strong and productive. We know that we can be helpful not only in bringing them top consultants, but making sure they maximize the talent they have from us.
What does being named one of Consulting's Fastest Growing Firms mean to your firm, your employees and your clients?
Being named again to Consulting Magazine's Fastest Growing Firms is an incredible honor. Antenna's success comes from our focus on community and our commitment to the people who work with us. We believe in connecting real people with real opportunity to do the best work of their lives. Being named to Consulting Magazine's Fastest Growing Firms is a direct reflection of our consultants' hard work. They are the face of our brand, and our growth is fueled by the collective work of all the great people we have here at Antenna.
About Consulting Magazine
Consulting® magazine is the flagship publication of the consulting profession featuring the latest information on consulting careers, thought leadership and corporate strategies. In addition to providing industry insights, Consulting® hosts award dinners as part of their Achievement Awards series – honoring Women Leaders in Consulting, The Top 25 Consultants, Social & Community Investment and Rising Stars of the Profession.
Subscribe to our blog to get the latest post delivered to your inbox weekly.
Stay connected with Antenna. Follow @Antenna for our take on marketing trends, corporate culture, and current events.
ABOUT ANTENNA
Antenna is a leader in delivering top marketing professionals to corporations of all sizes for project-based consulting, interim leadership assignments, and contract staffing engagements. With headquarters in Minneapolis, Antenna draws from its private community of experienced marketing talent to help clients balance the flexibility and expertise modern marketing organizations demand.