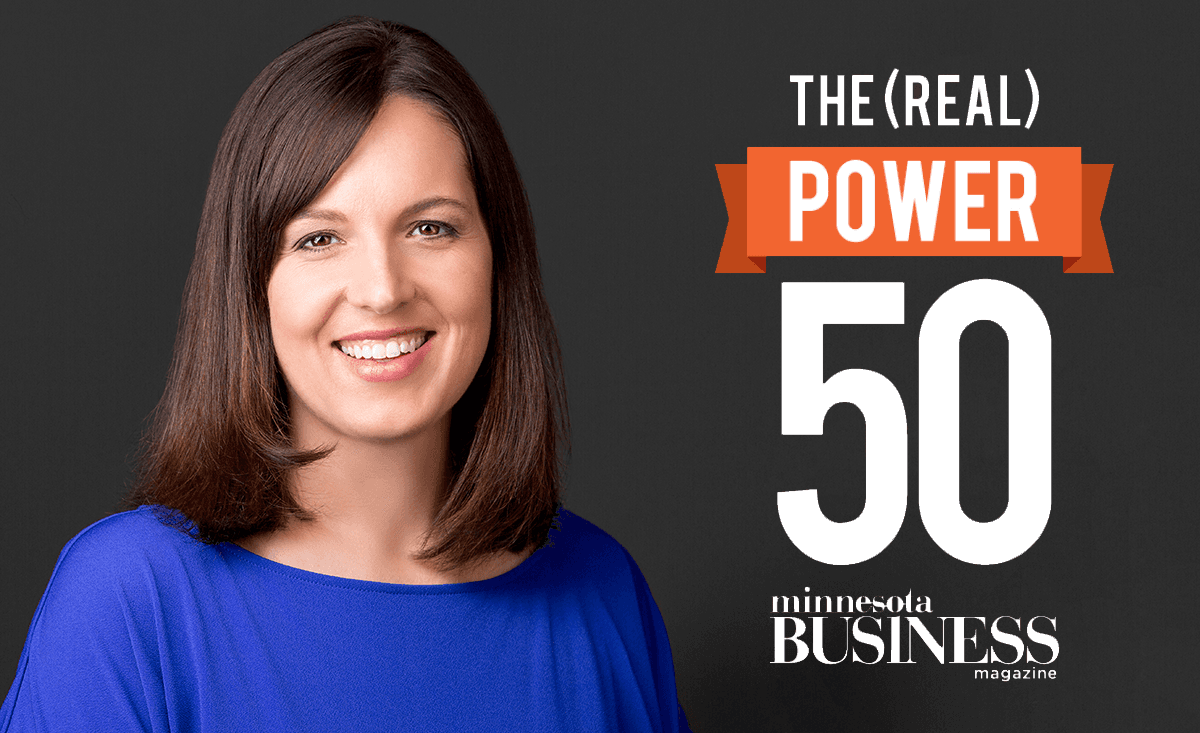 Jennifer Laible Makes Minnesota Business (Real) Power 50
We're pleased to announce that Antenna President Jennifer Laible is being recognized by Minnesota Business Magazine as one of the 2018 (Real) Power 50 business leaders in the city.

The magazine describes the honorees: "The members of The (Real) Power 50 are the linchpins in their company. The connectors in their industry. The heart of the operation. The people who make things happen. The remarkable players in the Minnesota business community with a knack for getting things done — and being helpful along the way."
This April, the 50 chosen movers and shakers will be honored at an awards dinner at the new Hyatt Regency, which will also be attended by former winners, nominators, and other Minneapolis/St. Paul business leaders.
We are so grateful for Jennifer's steady leadership and passion for helping people do work they love.
This year's year features a great list of leaders, with many friends and clients among the honorees. Congrats to all the winners!
Amy Langer, Salo LLC
Ben Aase, CliftonLarsonAllen
Beth Miller, Magid
Bo Thao-Urabe, Coalition of Asian American Leaders
Brenda Kyle, Saint Paul Area Chamber of Commerce
Brian McClung, MZA+Co
Chanda Smith Baker, Minneapolis Foundation
Chris Carlisle, Gray Plant Mooty
Dana Nelson, Super Bowl Host Committee
Danielle Steer, Independent Consultant
Dr. Rebecca Thomley, Orion Associates
Eric Taipale, Sentera
Gloria Perez, Jeremiah Program
Greg Cunningham, U.S. Bank
Hillary Feder, Ask Hillary's
Erin Procko, Bell Bank
Jeff Prouty, Prouty Project
Jennifer Bielstein, Guthrie Theater
Jennifer Ford Reedy, Bush Foundation
Jennifer Halcrow, Corvus North
Jennifer Laible, Antenna
Jennifer Olson, Children's Minnesota
Karrie Willis, United Language Group
Kayla Picciano, Irish Titan
Lani Basa, The Business Women's Circle
Laura Boyd, Leadership Delta
Ling Becker, VHEDC (Vadnais Heights Economic Development Corporation)
Lisa Christianson, Christiansonand Company Commercial Real Estate Services
Liz Collin, WCCO TV
Lou Nanne, RBC Wealth Management
Marcus Owens, Northside Economic Opportunity Network (NEON)
Matt Norman, Dale Carnegie
Molly Jungbauer, Hollstadt Consulting
Paul Batz, Good Leadership Enterprises
Sadiq Abdirahman, State of Minnesota, Department of Administration
Sally Mainquist, Veritae Group
Scott Litman, Equals 3
Susan Bass Roberts, The Pohlad Family Foundation
Teresa Hopke, Life Meets Work
Wendi Breuer, SeaChange Print Innovations
Subscribe to our blog to get the latest post delivered to your inbox weekly.
Stay connected with Antenna. Follow @Antenna for our take on marketing trends, corporate culture, and current events.
ABOUT ANTENNA
Antenna is a leader in delivering top marketing professionals to corporations of all sizes for project-based consulting, interim leadership assignments, and contract staffing engagements. With headquarters in Minneapolis, Antenna draws from its private community of experienced marketing talent to help clients balance the flexibility and expertise modern marketing organizations demand.