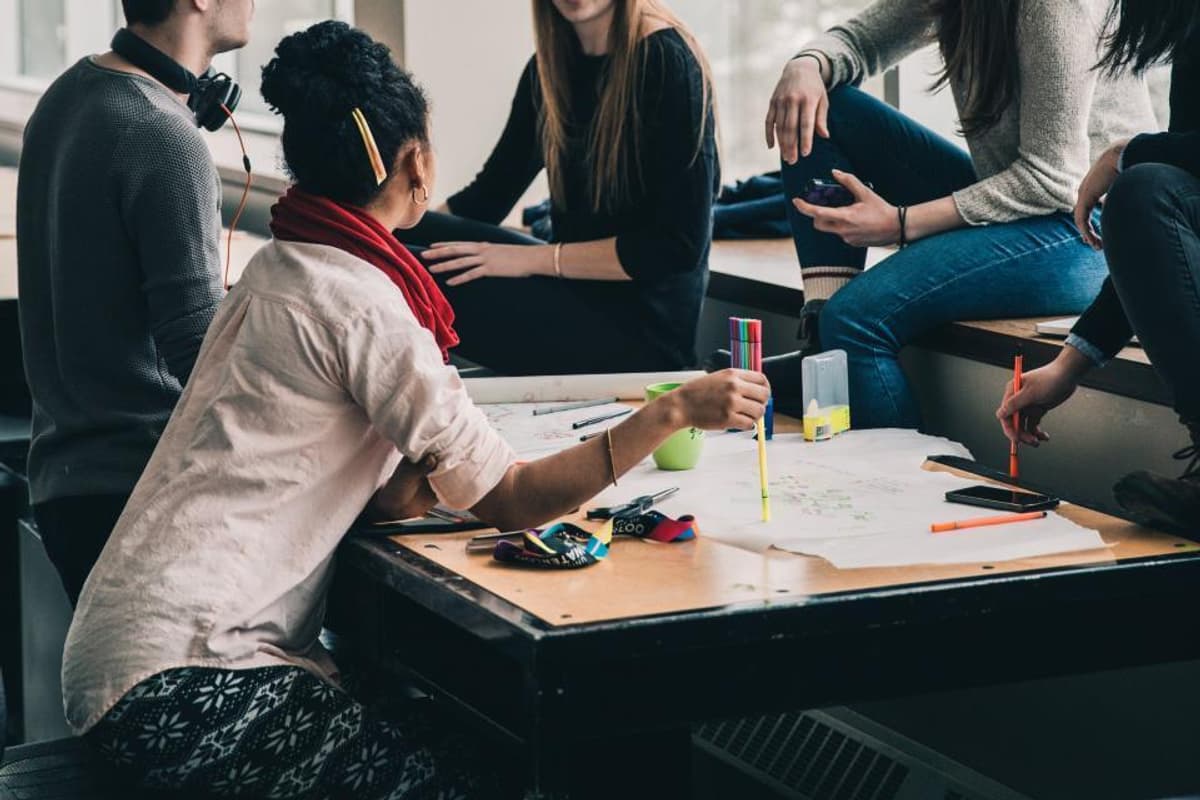 What Your Office Can Learn from the Coworking Trend
By Stephanie Vos

Maybe you've seen ads on Facebook or read about the trend online – everywhere you turn these days, there's a new coworking space. Cool furniture, snobby coffee, local pastries, young hip professionals. Not everyone has the flexibility, budget, or need to move into a coworking space, but that doesn't mean you can't still capitalize on this trend. What can your office do? We spoke with three people at prominent co-working spaces in Minneapolis and are here to deliver their secret sauce – hint, it's not just unlimited bagels.
Be flexible
One of the prominent features of coworking spaces is the variety of workstations available. Maybe you need a phone booth, a comfy chair, a small table for hosting a client, a big table to spread out, a tiny quiet library, a coffee pot to chat around – whatever your needs, coworking spaces are flexible and offer lots of choice.
Many traditional office environments have assigned desks, and while dedicated workspaces can be important (for storage of files and other necessary tools or personal items), how is your work environment set up for the different types of work you and your employees need to do?
There are 13,800 coworking spaces around the world as of 2017, up from a mere 1,130 six years ago in 2011, according to the 2017 Global Coworking Survey. Jim Vos, Twin Cities commercial real estate expert with CRESA, talks about the shifting trends in office environments:
"It used to be that space was used as compensation. A promotion came with a raise and a bigger office. Then we saw a move toward open plan offices, but many clients now are finding out that those can be noisy and distracting. One building downtown, in the redesign of their tenant amenity spaces is considering a 'library' where tenants can escape to a dedicated quiet space to escape the background buzz of their traditional workspace."
Does your office have options? Can employees use empty conference rooms as quiet workstations? Is there a community environment space? Are there standing workstations? When you think through the variety of tasks and types of work you do in a day or week, it's likely that you have different environmental needs.
Coworking spaces aren't the only ones to be navigating these trends, the polarities of private offices and wide open spaces. At FLOCK, I sat down with co-owner Kristin Hollander in the kitchen (where I was offered a variety of beverages, including wine – she explained they had just had a wine tasting event and I was free to imbibe!), after having just passed a variety of café tables mixed with dedicated desks, and now overlooking the back patio. This "creative clubhouse" has multiple zones, including options for personalized and semi-permanent desks. Whether it was the language teacher in the basement with bookshelves full of dictionaries and texts, to the creatives upstairs with their filing cabinets, everyone could find what works for them.
Hollander articulated FLOCK's goals clearly: "We want you to meet new people, get your work done, and get new work." These flexible spaces allow for each of these objectives to be met on any given day.
Be enjoyable
In interviewing numerous coworking hosts, many mentioned the same theme: "You spend so much time at work, it should be a place you really enjoy!"
How are you investing in the people that make your office great? It doesn't have to be a major event every month, it can be the day to day connection you make with individuals. Celebrate closing a big deal, go out to lunch with a coworker instead of just eating at your desk, being excited to host a client meeting in the space. Do you feel like you're known or noticed at work? Is it a fun place to be? Do you feel like you can be yourself? Are there individuals you enjoy? Is the environment comfortable? Are there things you can do to contribute to this type of atmosphere in your existing workplace? What does a sincerely enjoyable work environment look and feel like for you, and how can you bring more of that to where you are?
Sure, amenities can help. Industrious, has two locations in the Twin Cities; the first opened in November of 2015 in Downtown Minneapolis, the second opened December 2017 in the North Loop of Minneapolis. Their new spot has fitness facilities, lockers, showers, extensive bike racks, and a gorgeous rooftop patio. But most folks in the industry would say these are the accessories, and that focusing on the people is what makes the difference. "Your employees are humans that have lives and feelings, and if you take the time to understand who they are and what helps them be the best at what they do, they'll start to see each other as a community, instead of strangers in the same coffee shop," said Industrious Area Manager Marie Adrian.

If you're going to be showing up every day, spending a significant portion of your waking hours in one place, it should have people you enjoy and be a welcoming, relaxing environment. From location and amenities to design and personalized service, the coworking hosts know that creating a warm environment makes all the difference.
Be connected
One of the greatest advertisements of the coworking industry is the networking and cross-industry partnerships. Some spaces focus on this specifically: a place for creatives to connect and form project-based teams, while others do so more informally, counting on chats at the coffee machine and monthly networking happy hours.
The idea is that, too often, we get stuck in our own bubbles and it's these run-ins with others that can spark new approaches, if not collaborations. This can happen in traditional work environments as well – how often to employees of different departments get to interact? Talk about their work? Brainstorm or problem-solve together? It's easy for employees to get siloed. And, unfortunately, small companies are no exception to this.
From FLOCK's "Big Brain" meetings on Wednesdays to COCO's educational events and casual run-ins, what Laurie Healy, Director of Marketing and Communications at COCO, loves most are the "really interesting intersections." COCO, a veteran in the industry and the Twin Cities original coworking provider, opened their first location in 2010 and has grown to five locations around the Midwest. There are lots of coworking spaces that focus on niche markets, but when everyone is welcome in a space, there is "lots of serendipity." "We're all wired for connection," Healy reminds us.
How can you create these inter-departmental intersections? Do you build in time to listen and explore? To socialize and share projects? To ask for input or advice? Great communication builds great teams, and deep connections, on personal and professional levels, can drastically change outcomes, not to mention happiness!
The unlimited printing and endless pastries and hip millennials may make the adds, but it's the people that make these spaces the opportunity that they are. Just because your role or style doesn't fit the trend, doesn't mean that you can't learn and benefit.
Subscribe to our blog to get the latest post delivered to your inbox weekly.
Stay connected with Antenna. Follow @Antenna for our take on marketing trends, corporate culture, and current events.
ABOUT ANTENNA
Antenna is a leader in delivering top marketing professionals to corporations of all sizes for project-based consulting, interim leadership assignments, and contract staffing engagements. With headquarters in Minneapolis, Antenna draws from its private community of experienced marketing talent to help clients balance the flexibility and expertise modern marketing organizations demand.