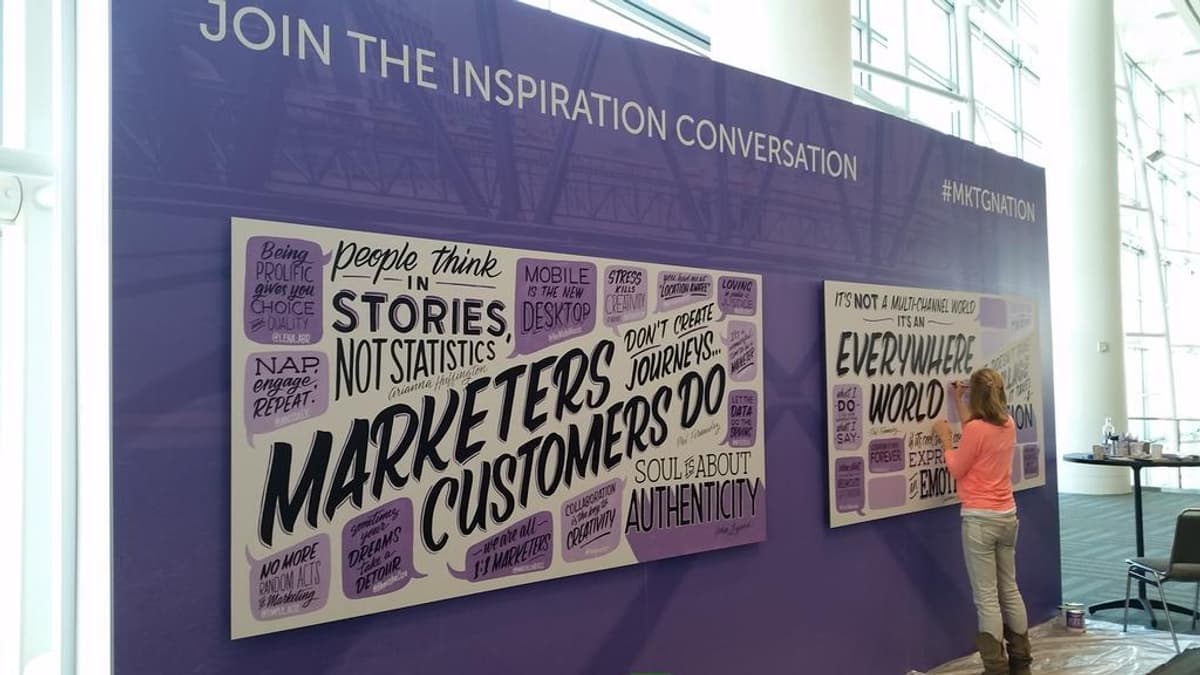 What We Learned at Marketo's Marketing Nation Summit
A few weeks ago, several Antenna team members headed to San Francisco for marketing automation software company Marketo's Marketing Nation Summit. In three days, we learned a lot from other marketers and from some unexpected sources. Here are five things we learned at the event.
1. The future of marketing is personalization.
Engagement marketing and one-to-one marketing were buzzwords we kept hearing. Phil Fernandez, CEO of Marketo, kicked off the keynote with a declaration that, as marketers, we're not going to recognize our jobs in a few years. He emphasized how fast digital change is happening and how it impacts us as marketers. Advertising and traditional email campaigns are becoming outdated, and, in today's world, it's all about being as personalized as possible.
Sanjay Dholakia, chief marketing officer at Marketo, also talked about the evolution of marketing practices. "The new era of engagement marketing is about building individual relationships," he said. He also reminded us that engagement marketing is based on having two-way conversations with customers. His advice: Stop treating customers like data points and connect with them on personal level.
He shared the ABCs of successful engagement marketing. Marketers should engage with customers:
As individuals.
Based on what they do.
Continuously over time.
Directed towards an outcome.
Everywhere they are.
2. Marketers have new tools to nurture leads across channels.
We loved this announcement: Marketo has a new partnership with LinkedIn. The LinkedIn Lead Accelerator will help marketers reach prospects who traditionally have been anonymous or unreachable — the people who don't fill out forms to share their email address, or who don't regularly open emails.
With this new partnership, marketers who use both Marketo and LinkedIn can nurture those prospects on LinkedIn using display and social advertising. GE is Marketo's first pilot customer and reported positive results early.
3. Even digital marketers need to unplug sometimes.
Arianna Huffington, founder of the Huffington Post, gave a spot-on description of the modern human: "We're more concerned when our smartphones are at 13 percent than with ourselves." She encouraged marketers to think about the metrics of success beyond money and power. To truly thrive, we need well-being, wisdom, wonder and a spirit of giving — and that means unplugging in order to recharge our creativity and take care of ourselves.
4. Marketers should seek out inspiration.
We got a dose of soul from singer and songwriter John Legend. Who knew he was a management consultant after college before becoming a nine-time Grammy award winner? He spoke about the importance of being prolific, meaning you have to scrap a lot more ideas than you move forward with.
For example, he'll write 80 or more songs for a 12-song album, but, as he points out, "it's not always about structure, it's about inspiration."
5. It's always helpful to get other marketers' perspectives.
Marketo's summit is a great place to compare notes with other marketers who have created unique ways to make Marketo work for their business. Not many companies use Marketo out of the box — most marketers customize the tool to work for them. We learned a lot from bouncing ideas off other marketers and Marketo superusers. We welcomed the chance to get a fresh perspective.
Are you looking for help using Marketo or other marketing automation platforms? Learn more about Antenna's new marketing automation practice.