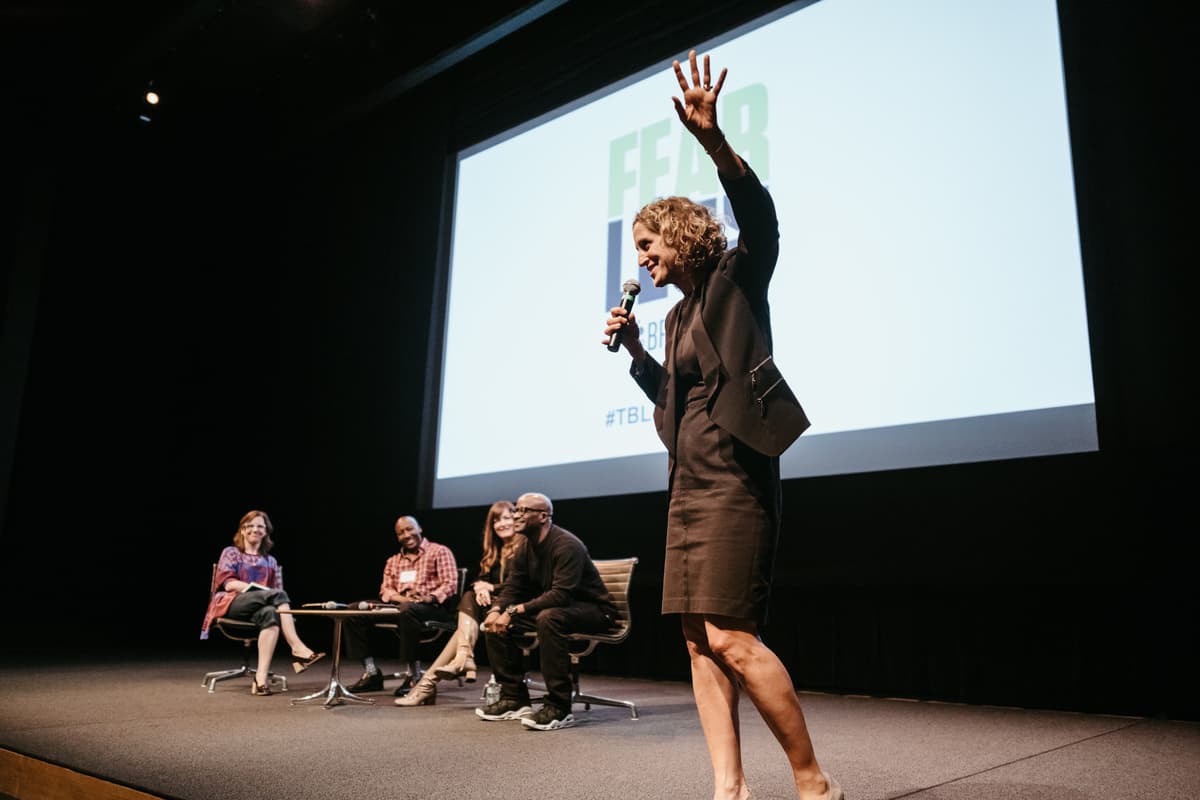 We Need More 'Fearless Conversations'
"You can find a way to talk to everybody if you have the right people in the room for the conversation."
Our marketing and advertising community has a diversity problem, but The BrandLab is on a mission to change that. The group hosted its annual Fearless Conversation event to get people talking about how to improve diversity in the industry. The event started with two goals: to bring people together (partners and donors), and get people in positions of power to get involved with the work (not just service for the youth). As Ellen Walthour, Executive Director for The BrandLab put it: "Let's lean in. Let's be fearless. In a safe space."
The BrandLab isn't just talking about diversity though; they're taking steps to bring a more diverse pool of marketers into the industry every year. Their internship program, which places diverse students in eight-week summer marketing jobs at organizations around the Twin Cities, has grown from one intern in 2007 to 70 interns now.
Great night at @TheBrandLab Fearless Conversation event. Looking for a mktg intern this summer? Give this organization a call. #tblfearless pic.twitter.com/Wu6jc0TZqP
— Brendon Schrader (@BrendonSchrader) April 27, 2017
The BrandLab also launched its Fearless Consultancy program to help companies who are ready to take action. So many of the Fearless Conversation attendees expressed interest and enthusiasm in bringing colleagues to future events, The BrandLab found a way to bring those conversations to the workplace.
Read our interview with The BrandLab Executive Director Ellen Walthour to learn more about her vision.
Several representatives from Antenna attended Fearless Conversation. (You can listen to the whole event, and past events on The BrandLab's website.) Here are the questions we're still thinking about.
How Do We Seek Out Disruption?
Diversity can feel like a chicken-or-egg problem. Are we hiring people who think just like we do, or do the people we hire start to think alike (and seek out similar opinions) because they work together? And, is diversity a hiring problem or a pipeline problem? If you're only getting resumes from people who look like you, it's time to work harder to find different candidates.
The pipeline is *a* problem. But it is not the only problem. #tblfearless
— Meghan McInerny (@irishgirl) April 27, 2017
One panelist shared how he's actively seeking disruption and different opinions, bringing in people who have different backgrounds and then creating a safe space for them to share their ideas and objections.
Disrupting a comfortable team can lead to big results for brands — imagine how differently Pepsi's recent catastrophic commercial release would have gone if someone in the room spoke up and pushed back before the ad aired.
@TheBrandLab #TBLFEARLESS
All of the diversity problems are solvable when you get the right people in the room.
— Laverne McCartney (@queenofdoucette) April 26, 2017

How Do We Set Everyone Up for Success?
If you're a marketer who's hired to work with a team of people who look different than you, going to work can feel like an uphill battle. One question resonated with the audience: What if we treated every "diversity candidate" like they were the boss' kid? That means setting them up for success — check in on them, look out for them, go the extra mile to make sure they have what they need to shine. The advice we heard in the room: You can't just hire diverse employees and expect everything to work out. You have to nurture and care for every employee.
How Do We Start Improving Diversity?
This question came up from the audience over and over — how do we get started? The answer: It starts at the top. Senior leaders have to value diversity, and then put those values into action, both talking the talk and walking the walk. If leaders are thinking and talking about diversity, the culture will shift. A pack mentality is hard to overcome, so leaders have to show a commitment to change and an openness to new ideas.
The key is to create a culture where people have the confidence to speak up when they don't agree with the prevailing opinion, or when their personal experience doesn't match everyone else's in the room. As Executive Director Ellen Walthour says, "It's a journey and we're all on it. Everyone is in different places. We want to create on-ramps for people, but we also need to push the bar forward."
"We need diversity of thought to get to human truth." -@Robertcliftonjr @JackLinks We belive: #thinklikepeople #tblfearless
— Olson (@OLSONagency) April 27, 2017
Subscribe to our blog to get the latest post delivered to your inbox weekly.
Stay connected with Antenna. Follow @Antenna for our take on marketing trends, corporate culture, and current events.
ABOUT ANTENNA
Antenna is a leader in delivering top marketing professionals to corporations of all sizes for project-based consulting, interim leadership assignments, and contract staffing engagements. With headquarters in Minneapolis, Antenna draws from its private community of experienced marketing talent to help clients balance the flexibility and expertise modern marketing organizations demand.