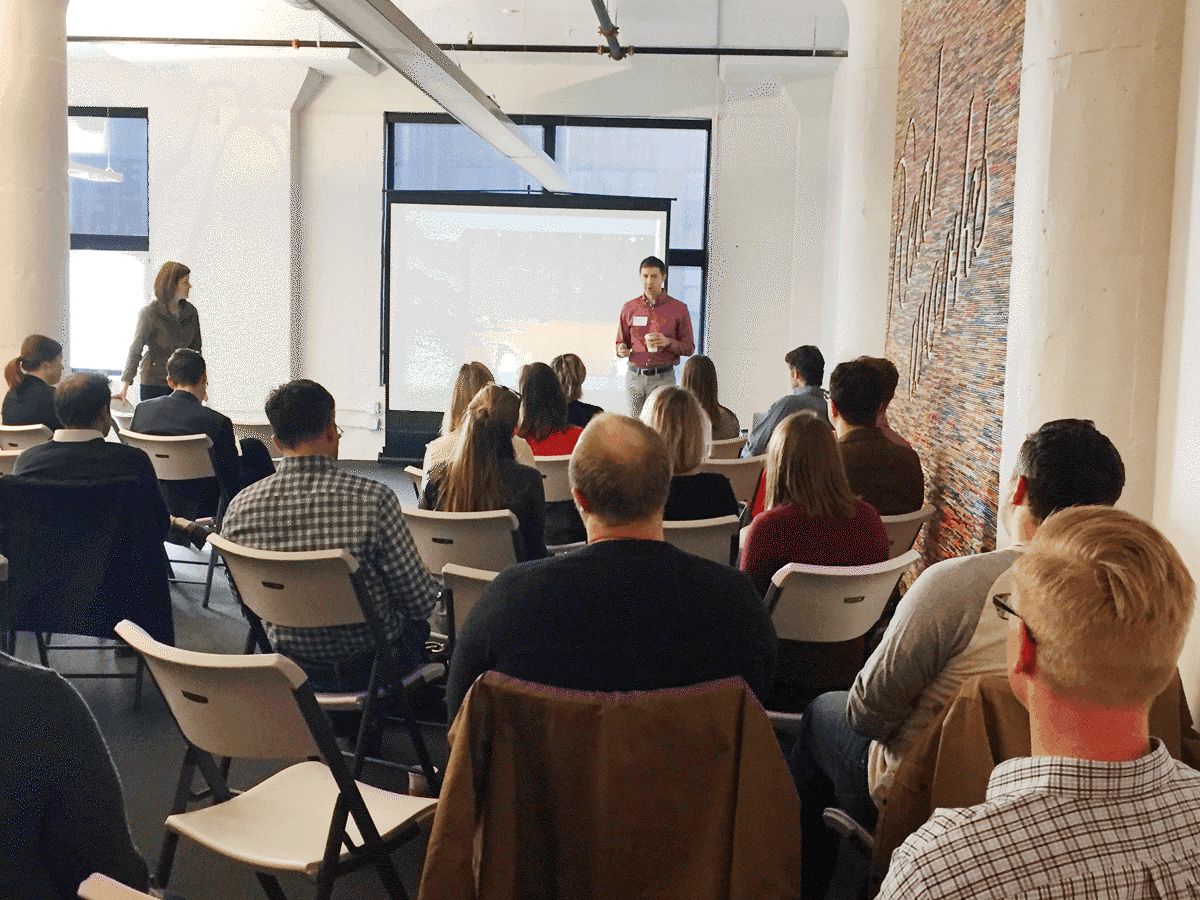 Two Marketing Pros Share Tips at MIMA Coffee + Case Studies
Last week, Twin Cities marketers got useful tips on using Snapchat as a recruitment tool and marketing like a startup, even if your company is a Fortune 500 healthcare giant. Antenna hosted the second session of Minnesota Interactive Marketing Association's new Coffee + Case Studies event.
We welcomed two knowledgeable speakers, Mickey Nelson and Jackie Colburn. Mickey Nelson is senior strategist of PR and emerging media at space150, and he offered tips on how to make Snapchat work for finding qualified candidates. Jackie Colburn, strategist at GoKart Labs, talked about how a human approach helped one healthcare company develop a direct-to-consumer digital strategy around a sensitive subject.
Here are the highlights from the event.
How space150 Used Snapchat to Recruit Talent
It's always a challenge to narrow down the crop of potential interns every summer in the agency world, Nelson says, so space150 wanted to be one of the first agencies to use Snapchat to recruit interns.
The Snapchat app makes it possible to send photos, short videos and brief messages that disappear after a certain amount of time. Users can apply geofilters that "tag" photos with different graphics, available only if the user is in a certain area. Nelson says space150 wanted to find a way to let people use that technology in a way that created buzz around space150 and narrowed down the pool of applicants.
The company worked with Snapchat to apply six filters on 29 college campuses. Some were selected because they were top feeder schools for spaceCamp (the agency's internship program) already, or space150 had a team member they loved from the school. The filters made references to Snapchat icon DJ Khaled and pop star Rihanna (with her song "Work") to create buzz around working at space150. "If you can make them playful and a part of the actual experience of using Snapchat, they're more likely to be used," Nelson says.
The filter provided information asking users to make a Snapchat "story" — a series of photos and short videos — for a client as if it were the year 2020, Nelson says. Within two weeks, the company had 230,000 views, and 6,000 geofilter uses.
It was time to up the game, Nelson says. "We were getting good buzz, but wanted to hit hard with the home market." The company reached out to a local TV station, and dropped a filter on the reporting team. Nelson says it's vital that agencies experiment with other media and channels on themselves — and be ready to package the results for the media later.
The company got about 150 applications for its spaceCamp internship, which Nelson says is less than it usually gets. "But I like to think we sourced candidates from a larger place, and we also got people who are more interested in being at space150, instead of those who just dump a resume or video on us. We put them through some hoops to do this, and have hired 10 of them."
How GoKart Labs Helped a Health Care Giant Move Like a Startup
Jackie Colburn says GoKart Labs is dedicated to helping business grow, but also it helps clients move more quickly, as if they were startups themselves. The company helped American Medical Systems market its EDcure.org website, addressing a touchy subject — erectile dysfunction — in the middle of a big change, as the company was being acquired by Boston Scientific.
The main challenge: The site just wasn't effectively engaging people, Colburn says. Research showed that it can take people 7 years to move from the onset of erectile dysfunction before they find a solution, and they tended to get to the site at the end of the journey.
Colburn says GoKart Labs took the company through a two-day creation session that uncovered lots of insights and ideas to work with. More than 39 million men have some form of ED in the U.S., Colburn says, and many of them start with pills to address the issue, but those tend to stop working about half the time. Only 25,000 get an implant every year to address it — and often as a last resort.
"We started looking at that picture," Colburn says. "What if we started talking to people sooner and got to them earlier in the journey? Those who get implants tend to say, 'If only I had done this sooner.'"
GoKart also surveyed users and found that they wanted a defined product roadmap that allowed people to figure out the right solution for them. They also found that patients aren't the only ones doing research on the topic — partners are a big part of that as well. As a result, the site changed to include more information about the implant solution, added a quiz so users could get their "ED score," and offered conversation starters for partners to bring up the topic.
While GoKart took time to dive deep into research and dig into what people are looking for from a healthcare website, the group also was able to help the company make changes quickly to take advantage of opportunities within the market. In the sometimes conservative world of healthcare marketing, the approach was a success.
Bookmark MIMA's upcoming events to learn from top Minneapolis marketers.
ABOUT ANTENNA
Antenna is a leader in delivering top marketing professionals to corporations of all sizes for project-based consulting, interim leadership assignments and contract staffing engagements. With headquarters in Minneapolis, Antenna draws from its private community of experienced marketing talent to help clients balance the flexibility and expertise modern marketing organizations demand. Contact Antenna for a free 30-minute consultation to discuss your marketing and resource challenges.