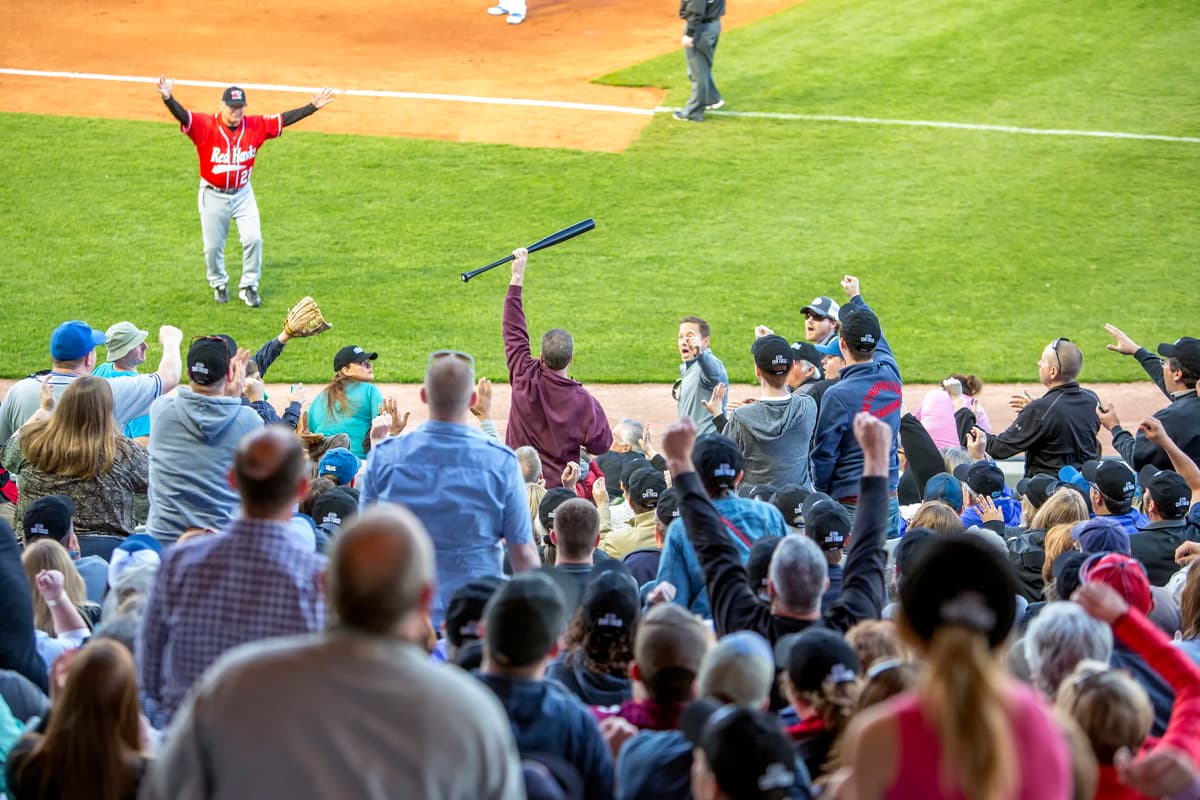 Top Three Things St. Paul Saints Do to Focus on Customer and Brand
Every successful brand knows that their community is just as valuable – if not more – than their product. We talked with Eddie Coblentz, Director of Community Partnerships and Fan Services for the St. Paul Saints baseball team about what he's learned about building loyalty, enthusiasm, and a brand that truly puts its fans first.
Coblentz has had a long career in professional sports operations, starting with the NFL Players Association in Washington DC before getting into baseball with the Baltimore Orioles, and then moving to the New York Yankees to help with the new Yankee Stadium. His first season with the Yankees included a World Series win, and a parade through the New York City "Canyon of Heroes." Coblentz came back to Minnesota and was hired after the Saints built their new ball field to proactively engage the community and to make sure that the fan base, and community as a whole, was connected to the team and their new home.
You don't have to be a baseball fan to love the Saints, and you don't have to be in sports to build a loyal fan base. What does a baseball-delivering pig have to do with brand promotion? How can organizations without Bill Murray as a rabid fan and influencer learn from this quirky team? Quite a bit, it turns out. Coblentz has a thing or two to teach any smart marketer looking to engage the community and be consistent, visionary, and responsive all at once.
1. Know your DNA: Conversation, Connection, and Community
The Saints are playful, experimental, and a little wacky every now and then, but they know their DNA, and have from the beginning. Coblentz talked about joining the team, and the strength of the leadership that was built into the fabric of the organization.
"Leadership can say, 'this is what we're about,' and we've stuck to that. Even in a new venue, we have to remember to come back to the pillars and the heart of the organization. Shiny things will go away if the core isn't there." This heartbeat of consistency, without rigidity, is a major factor in their organization. While the Executive Vice President and General Manager Derek Sharrer has the final word, he's not afraid to say "I'm uncomfortable with that idea, but let's talk and you can convince me."
Coblentz keeps coming back to the Three C's of the team, which his predecessor Annie Huidekoper set in place at the start of the organization: Conversation, Connection, and Community. At any given game, "a good 75% of guests are not hardcore baseball fans," Coblentz explains, "and that's great. They root for the Saints, they have pride in the team doing well, but they're there to have conversations with each other. Those connections build the community that the Saints are about." By focusing on the guest experience, the atmosphere around their 'product' (the players and the game itself), they have been able to expand their audience.
The Saints know it takes more than a winning team to win fans over. During games, Coblentz is on the concourse or hanging out at the Fan Services desk, chatting with guests. "You see the community feel when you walk around," he says. "Half of our guests aren't even looking at the field, they're chatting and connecting with each other. Those things combined – a great team, and a great time at the field – are what really delivers this experience."
2. Focus on the fans
Because the Saints are a minor-league team, they aren't confined by a league governing body. "The league doesn't manage individual franchises, so there's lots of freedom," explains Coblentz. Because they have the consistency leadership and buy-in from the top, it's easy to be a little experimental and imperfect in their quest for authentic connection to the fans.
"We want them to have a sense of ownership," Coblentz says of the Saints fans. From the Charter season ticket holders who take a lot of pride in their history with the team, to the first-time guest, "it comes back to feeling like this is a community place."
When the Saints were building their new stadium, they named it the CHS Field. "We really wanted it to be a field, not a stadium. A stadium is some big awe-striking facility, not a community establishment. We knew we were going to have Hamline University play there, other high schools, and American Legion teams. Plus, it hosts the annual cat video festival! We were really intentional about making sure the community feel was infused, even into the name."
This sense of ownership comes through in other traditions, like the annual naming of the ball pig, who returns balls from the umpire to the pitcher on the mound. These kinds of brand promotions and contests keep the community at the center. "Our fans enjoy that we push the boundaries in some of our promotions," Coblentz reports. "Our fans aren't afraid to speak up. You get to hear when you're starting not to deliver in a certain area," Coblentz says of the community. But he cherishes the input, and believes it makes the organization stronger to have that level of engagement and ownership.
An important part of staying connected to the community is doing what they can to accommodate requests for support. "It's not always a yes to the initial request, but we try to always say, we can do this or that instead. Whether it's having mascot Mudonna show up, promote an event on our social media, we want to be lifting up the organizations that reach out to us. We always do what we can to make it work."
3. Fun is good
The team management also stresses not being afraid to take risks. "It will either work out or teach us something," said Coblentz. Saints President and Co-Owner Mike Veeck has always instilled the motto, "Fun is good." This kind of attitude comes back to Day One for the Saints, keeping the team connected to their community and true to their "quirky" brand of baseball. It's obviously working for them – and other clubs are taking notice.
There's a new team starting this year called the Chicago Dogs who has been inspired by the Saints' creativity and success. Rather than seeing this team as a threat in a crowded market, Coblentz takes a signature community attitude about it: "I see it as a compliment. If they're successful, it helps this brand of baseball. Having another fun team is only positive for the industry."
In the end, it's all about stories
Brand experience, community engagement, authenticity and risk – for the Saints, it comes down to stories that you want to be a part of and stories you want to tell. Baseball has a long history of being passed with nostalgia and pride from generation to generation, but it can happen in smaller ways too. "Maybe you had a great time and want to tell your coworker about it the next morning. Maybe it's something I ate that's different, or a random pig that delivers the baseball. We're all about making memorable experiences."
"Visiting teams are amazed by the support we get," says Coblentz. Whether it's guests just stopping by the Fan Services desk to say, "Thanks for doing this" or the curiosity of new visitors, Coblentz knows that his mission is to do something special for the fans that fill the ballpark and "treat every day like it's opening day."
Subscribe to our blog to get the latest post delivered to your inbox weekly.
Stay connected with Antenna. Follow @Antenna for our take on marketing trends, corporate culture, and current events.
ABOUT ANTENNA
Antenna is a leader in delivering top marketing professionals to corporations of all sizes for project-based consulting, interim leadership assignments, and contract staffing engagements. With headquarters in Minneapolis, Antenna draws from its private community of experienced marketing talent to help clients balance the flexibility and expertise modern marketing organizations demand.