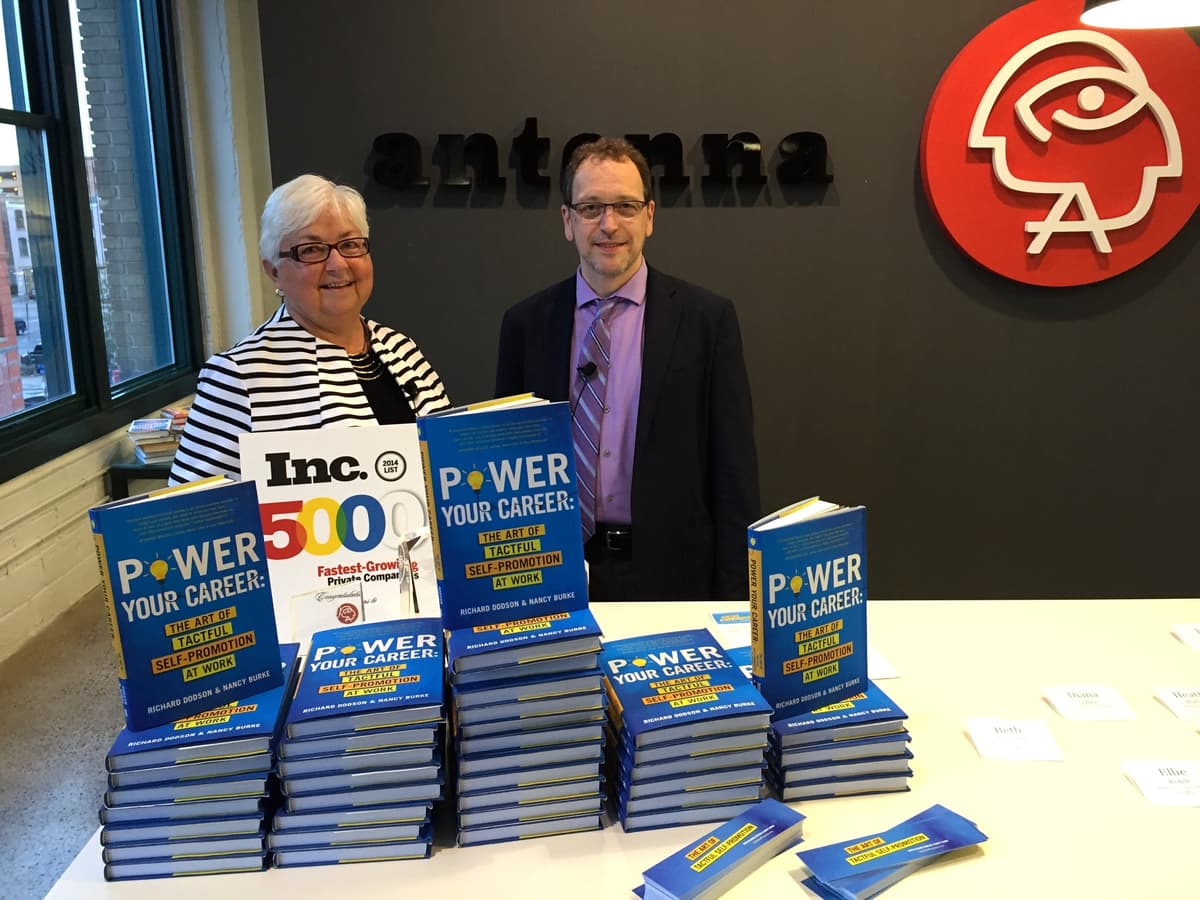 Tips on Building Your Network
It always sounds so easy: Differentiate yourself! Stand out and build relationships! Whether you're a consultant, a leader, an employee (or all of the above), building strategic relationships isn't always that simple.
That's why we talked toRichard Dodson and Nancy Burke. They're the authors of "Power Your Career: The Art of Tactful Self-Promotion at Work" and they provided practical tips on how to work a room and cultivate relationships with others.
Consultants often are too shy about tooting their own horn for fear of looking self-centered or self-important, Burke says. "But if you don't promote yourself, no one else will either," she says, and that could mean missing out on projects, promotions, rewards and relationships that can take you to the next level.
Dodson says the solution can be as subtle as effectively answering the question "How's it going?" He cited a project in Silicon Valley where he and a co-worker were greeted by their boss with that very question. His co-worker said, "I'm doing great. I just completed this part of the project, which I think will help candidates get jobs faster." When asked how he was doing, Dodson simply responded "Fine."
"You can't expect people to know what you're doing unless you tell them," he says. Think about the projects you're working on or the things you've learned that you can share to show how you're growing. Burke and Dodson offered three tips for better networking.
Position Yourself
Marketing consultants spend a lot of time thinking about other people's brands. But it's important to think about your own brand as well, Burke and Dodson say. People need to know what you stand for, and you need to be able to articulate it. Among their suggestions:
Avoid jargon. If the other person doesn't understand the words you're using, they won't understand what you do. Instead of talking about "leveraging strategic synergies," describe your work as "building relationships between different departments."

Talk about outcomes, not processes. It's easy to talk about what you do every day, but it doesn't necessarily uphold your brand. Instead, talk about the results you get. Do you optimize email campaigns, or do you consistently boost open rates? Get specific about your value.

Talk about what makes you unique. This can be a challenge, Dodson and Burke say, and it might take time to identify. Look at your soft skills and how they shape your hard skills to determine what makes you stand out.

Think about what people in power want to hear. They're the ones who can give you opportunities, Dodson and Burke say, so think about the value they want to see from you.
Develop Strategic Relationships
Not everyone is comfortable building a network, but it's something you have to do, Dodson and Burke say. Even if you're not comfortable making small talk, there are a couple of ways you can interact with others who can be helpful to you down the road.
Burke recommends changing your mindset to one of curiosity. Being curious about other people and wanting to learn from them will help you connect in a more natural way compared with trying to sell them on a new project. Ask questions and find out what you can learn about their outlook and the problems they want to solve.
For consultants, Burke also recommends giving others a heads-up as the end of a project approaches. "You're not actively selling, but you're letting them know they will lose you," she says. Doing so will at least get people to connect with you to keep in touch — or they might renew the contract.
Increase Your Visibility
All of this is well and good for connecting with people you know, but the next step is to reach beyond that circle, Burke and Dodson say. To build new relationships with people beyond your close network, they recommend these ideas:
Manage meetings. Showing you can lead can give others outside your network ideas about tapping you for leadership projects.

Write and share. Putting your thoughts together and sharing them on social media show that you provide more value than simply passing along someone else's link.

Take or teach classes. Sharing your knowledge in a classroom setting — or showing how you love to learn — can help establish you as a leader in your field.
Building a network can be difficult, especially when you're juggling full-time consulting. But by positioning yourself, developing strategic relationships and boosting your own visibility, networking will soon be a breeze.
Find out more about "Power Your Career: The Art of Tactful Self-Promotion at Work" at http://bit.ly/PowerYourCareer.
Subscribe to our blog to get the latest post delivered to your inbox weekly.
Stay connected with Antenna. Follow @Antenna for our take on marketing trends, corporate culture, and current events.
ABOUT ANTENNA
Antenna is a leader in delivering top marketing professionals to corporations of all sizes for project-based consulting, interim leadership assignments, and contract staffing engagements. With headquarters in Minneapolis, Antenna draws from its private community of experienced marketing talent to help clients balance the flexibility and expertise modern marketing organizations demand.