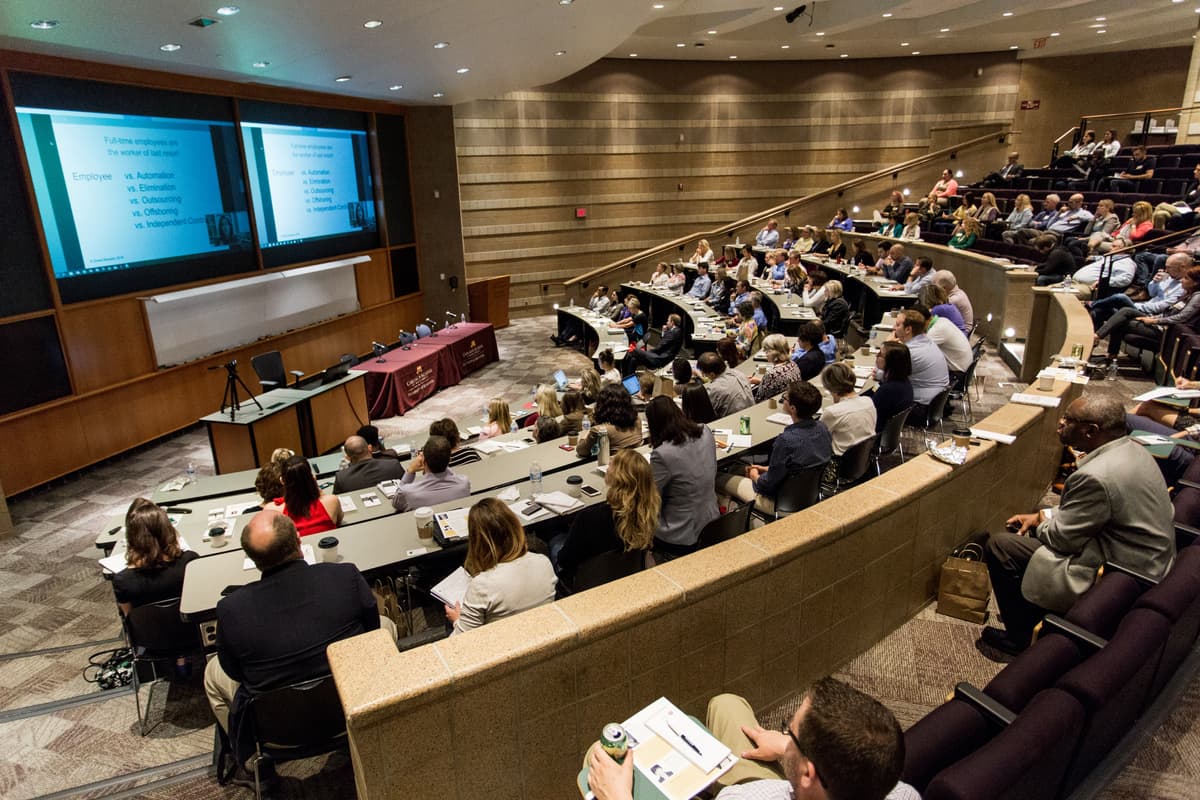 The Way We Work: Navigating the Gig Economy
The Way We Work is a new series that examines the future of work and the implications for the business community and individuals in a time of changing demographics, growing technology, and increasing globalization. Created in partnership by Antenna and the Carlson School of Management, The Way We Work brings together thought leaders, companies, and individual workers for dynamic dialogue around relevant topics.
"No matter what numbers you look at, it's clear that this trend is quickly growing and showing no signs of reversing." Diane Mulcahy, author of "The Gig Economy: The Complete Guide to Getting Better Work, Taking More Time Off, and Financing the Life You Want," and featured speaker at The Way We Work in May, led the conversation around the future of work and how individuals, and companies, can get ahead in the new world of work.
Diane Mulcahy - What Is the Gig Economy?
Mulcahy, herself a consultant, advisor, and speaker in the gig economy, has spent her career helping individuals and companies navigating the gig economy and learning how to make the most of this emerging – and surging – way of working.
"The Gig Economy really includes everyone who is not a full-time employee in a full-time job. It's people who are on-demand, freelance, contract, independent." Often, when we read or think about the gig economy, the focus immediately goes to Uber drivers or other gig platforms, but Mulcahy pointed out that less than 5% of gig work happens through platforms like Uber.
Another common myth? "It's not just about millennials either." About 50% of people under 25 have a side gig, and 33% of adults age 25-54 are working in the gig economy, primarily as a way to be fully self-employed. What is often underrepresented is the interest and availability of more experienced workers, those over 55, 44% of whom are already participating in the gig economy. "Where it's really catching on is older workers – those approaching or at retirement age. They think, 'I want to continue to generate income, and I don't necessarily want to sit on a beach for three decades." They don't want to be subject to constraints of a full-time job, but they have the skills and experience to contribute. It's a big opportunity for them."
"This has happened in a generation," Mulcahy says of the shift from traditional careers to portfolio careers. "Companies aren't offering multi-decade careers anymore. The idea that you can simply have one job and sit back and relax is also coming to an end." This requires shifts and adaptations on both the company and employee side, and actually comes as great news. "For many employees, traditional work isn't working. Workers want to work differently!" she says, pointing out that 75% of the people in the Gig Economy choose to work in this way, as opposed to the minority who are coping with this style of working but would rather have traditional employment.
So how did we get here? "In the last ten years, we have really seen the jobless recovery. Large employers aren't creating jobs anymore – they're creating shifts. Even Silicon Valley is moving towards a variable, independent, on-demand workforce and serving lots of people with a very small full-time workforce." We're not seeing a new GE, for example, that would employ 30,000. Instead, companies are looking to automation, elimination, outsourcing, and independent contractors to fill their needs, and "full-time employees are the workers of last resort." When companies go looking for alternatives, there are lots of alternatives to look at.
Workers are realizing that they need to work differently – job security is no longer guaranteed, with the median tenure of a job being 2-5 years. In an economy that changes so dynamically, both employees and businesses are responding and becoming more mobile. Mulcahy lays it out clearly; "The gig economy solves a lot of problems in our traditional jobs economy."
How to Thrive in the Gig Economy
1. Ask Yourself: What Am I Working For?
"It's important to start by considering what kind of life you want to have, and what kind of lifestyle you want to buy. A large part of working is to be able to buy the lifestyle you want – but after thinking it through, many people realize they're buying a lifestyle they don't even want! The big house, the big yard, the ninety-minute commute…" Mulcahy encourages starting with the values and priorities, and then translating that into the vision for the life you want.
"I've seen MBA students of mine make unbelievable changes. They've sold homes or moved cities, dropped out of MBA programs and quit the corporate recruiting track. And it isn't always drastic – sometimes I get emails two or three years later talking about the changes they've made." By looking at your entire life, and how you want to structure it as a whole, can help you decide what kind of changes you want to make to your professional, and personal, life so that it reflects your values and priorities.
2. Keep Calm and Have an Exit Strategy
Mulcahy described an interesting exercise: Imagine your boss comes in and says, in six months you're going to be laid off. "Who would you be reaching out to? What certifications would you pursue? What conferences would you attend? What projects would you hope to complete? What would you start doing financially to save? What corporate benefits would you be sure to take advantage of? Personally speaking, what items from your bucket list would you look forward to in that time off? How would you use your severance?" A big advantage of the gig economy, Mulcahy points out, is the integration of living fully during your working years, instead of putting off that hobby or travel or leisure until retirement.
By thinking through these possibilities, you have a real sense of possibility and control. "It abates the fear of losing your job or leaving your job. It's not hard to have an exit strategy – but it's amazing how many people don't have that."
3. Always Have a Side Gig
Mulcahy recommends taking the pressure of revenue off of a side pursuit, and appreciating all of the other benefits it provides. "Just pursue something that you're interested in or curious about. Even if you aren't generating income, you're expanding your network, improving or developing skills, and getting tons of new information," she says. Whether it's something creative or volunteering on a non-profit board, "Bring a mindset of experimentation and see where it leads you."
This sense of exploration and curiosity will make you better at your 'real' job, and Mulcahy was quick to add, "Anything you do outside of full-time work opens up possibilities for the future."
4. Build Your Skills
Nobody has to jump off the cliff – but there's no excuse for not building your skills. With myriad online platforms, there are "lots of ways to play and experiment and sample." Whether you're taking a class in blockchain or writing, continuing education is a great way to expand your skills and take some initial steps, which will make you more secure and more prepared for changing jobs. "It's a great way to see if this is right for you. We know that jobs aren't there forever anymore, but now you can be more prepared."
Mulcahy's Advice to CEOs
"Companies who are unwilling to change are becoming less attractive places to work." As one who regularly consults with large businesses on the gig economy, Mulcahy sees many who are resistant and putting their heads in the sand. "They don't want to deal with people who aren't employees, they don't want to deal with the management model where they don't have full control. Those companies are going to fall behind." But these same CEOs share with her that they're losing top people to positions that allow remote or flexible work, and admit that those are their biggest competition.
On the other hand, Mulcahy sees companies that are absolutely embracing the gig economy. "They have standardized contracts, ways of sourcing independent contractors, HR is on it, they're actively incorporating gig workers into their workforce to access particular skills beyond the local labor market. Those are the companies that are winning right now."
"There's a war for talent, and the battlefield is the independent workforce. Whoever wins that, wins the future."
Panel Discussion, led by Brendon Schrader
A live panel discussion followed Mulcahy's presentation, giving context and a diversity of experience to the gig economy.
Alissa Montbriand, over the course of her career, has successfully built high performance teams through a mix of headcount employees and professional level independent talent that has helped her businesses achieve results. She shared her top three reasons companies should tap into the gig economy:
1. Project-Based Work. If the work is over a very set period of time, and has a clear end, consultants are great for that on-demand defined need.
2. Speed. Independent workers can make an impact really fast and can help get the work started as you build out the full long-term team.
3. Specialized Skills. Often, consultants bring in capabilities that are in high demand. They may not want to settle in and commit to one employer, but are happy to help you for a period of time. It's a much more accessible way to reach the top talent you might otherwise have trouble attracting, but you can use them to upscale the teams you already have.

Once you do hire a consultant, be sure to chat with your existing team. It can create a lot of anxiety – are they going to take my job? Articulate the specific skills you're bringing on, and be transparent about why you're doing this while reassuring the folks you already have.
Bettina Hanna, seasoned consultant, shared what she's learned about staying successful in the gig economy. Her advice for independents, and how to make sure clients set you up for success:
The onboarding at any assignment is really critical. I need the leader's input to understand the team I'm leading. They all say that it's crucial for you to be really deep in the industry, but that's not necessarily true. I have to know that the leader is behind me at any point in time, and I can go to them to reinforce the work when I need to. They need to communicate and help the team understand who I am and how I'm there to boost the team up. As for me personally, I've had to learn that the fear is just all in my head. I have to be my own sales department and billing department and all that, but it's really all about my network and how I use and appreciate them.
Jodi Brendel, of Patina Solutions which provides executives for on-demand work, talked about how she sees clients altering their talent strategies:
You have to move fast, or you will go away. One of the best ways to prepare yourself is to mentor and coach the talent that you already have. It's important to be seen as a good place to work. Millennials are very loyal if you coach them and give them room to grow. Along with this, the executive team has to change their mindset, and bring in executive consultants to serve surge needs and solve problems quickly. Picking the right partner on the front end is critical. You can tap into wisdom and institutional knowledge, someone that's already made all the mistakes. It can be the difference between staying afloat as a company or not!
Mynul Khan, CEO of FieldNation, a technology platform connecting on-demand workers with infrastructure projects, talked about the power and potential of platforms in the future of work:
We always set the expectation on the client side and teach them how to look at our talent, whether that's from pricing or the right kinds of skills. We handle a lot of that administrative work, so our workers can spend more time on their craft and less on wondering if they're going to get paid. We collect over 1000 data points per job, and use machine learning to ensure quality, and match the best talent for customer needs. Our customers even tell us that their contractor did a better job than their full-time employee! With a platform like ours, corporations can go directly to the talent they need instead of working through a lot of levels of management. The speed to deployment is unbelievable. If you post a job with a defined scope, skill, location, and pay rate, we have a match in less than eight minutes.

The panel's diversity of perspectives and appearances made one thing clear, as Brendon Schrader summarized: "The gig economy is a very real trend that has direct implications for how all of us work – from corporations, to employees, to new opportunities for independent talent, changes in our work preferences, skill sets, demands, and new technologies will continue to drive this trends forward in the future."
Thanks to all who came out to this great event. Our next session will be in September – subscribe to Marketer by Antenna to be notified of future events, and stay current with other news, trends and thought leadership on these topics. If you missed our first Way We Work event with Nicholas Whittal about The Changing American Workforce, you can read more here.
Subscribe to our blog to get the latest post delivered to your inbox weekly.
Stay connected with Antenna. Follow @Antenna for our take on marketing trends, corporate culture, and current events.
ABOUT ANTENNA
Antenna is a leader in delivering top marketing professionals to corporations of all sizes for project-based consulting, interim leadership assignments, and contract staffing engagements. With headquarters in Minneapolis, Antenna draws from its private community of experienced marketing talent to help clients balance the flexibility and expertise modern marketing organizations demand.