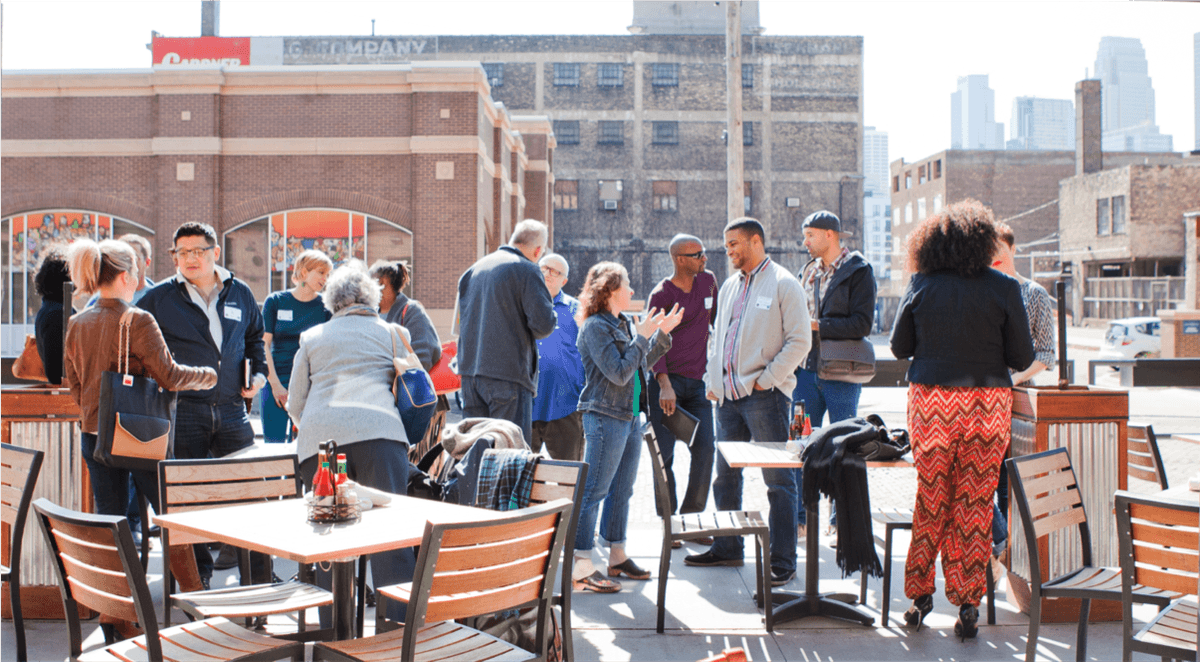 Real Good: Supporting Social Enterprise for Growth
By Brendon Schrader
Imagine a global network that offers inspiration, resources and support for growing businesses that prioritize social responsibility. That's the idea behind Impact Hub, an organization that describes itself as "part innovation lab, part business incubator and part community center." And I'm excited to report we now have an Impact Hub location here in Minnesota, thanks in part to the hard work of Antenna's own Katie Kalkman.
Katie is a key member of our client development team, and she's always had a passion for combining doing business with doing good for society. While attending college, she studied entrepreneurship and business ethics while majoring in philosophy, looking for ways to draw upon business solutions for social problems.
"It's always interesting to me to see how you can do more than work for just the bottom line — you can make an impact as well," Katie says. That kind of social enterprise is a growing trend. "There's a level of self-awareness and responsibility that people have now — not just with their work, but also with what they're buying and where they're putting their dollars." That new energy is part of what fuels organizations like our Impact Hub.
How Impact Hub Supports Social Entrepreneurs
Katie co-founded the Minnesota Social Impact Center in 2014, with the hope of joining the Impact Hub community. After a trip to San Francisco that brought her to the Impact Hub Bay Area, she left passionate about the idea of bringing an Impact Hub to Minnesota. She began researching local interest in creating a center for social entrepreneurs and innovators and dedicated her time to creating a team devoted to bringing and Impact Hub to the Twin Cities with the goal of connecting talent here to the global community to inspire, connect and enable people to sustainably and collaboratively impact society.
Impact Hubs serve as physical spaces to foster collaboration among passionate and entrepreneurial people. The first Hub opened in London in 2005, and since then Hubs have opened in more than 70 locations in more than 50 countries on 5 continents, bringing together 11,000 members. They hold events and seminars, provide networking opportunities and can serve as a workspace. More than 54M people have been informed, influenced or inspired by our members activities and campaigns.
According to an Impact Hub report compiled by the Vienna University of Economics, hundreds of startups have been founded at Hubs around the world. The majority of members say the organization helps them come up with new ideas or strengthen their personal commitment to social causes. More than 70 percent say it's helped them expand their personal and professional network, connecting them to advisors and experts.
"Everyone in the global Impact Hub community is very open to sharing ideas without asking for anything in return," Katie says. "It's remarkable and almost shocking how collaborative people are. It feels like more of a movement than places for people to work. The coworking space becomes merely a means to an end."
A Job that Leaves Time to Pursue Passion Projects
Katie says working at Antenna has helped her efforts at Impact Hub. "Our values are in alignment with this type of work." Because Antenna provides so much support to employees and consultants alike, our culture makes it possible for people to pursue outside projects that are important to them.
More practically, Antenna's flexibility and support makes it possible for Katie to take time when she needs to work with Impact Hub. She serves on the board and was recently able to travel to Romania for an International Impact Hub conference joining over 50 other Hub founders and leaders. "My role at Antenna is client development — I help solve business problems. And I'm able to do that for Impact Hub as well by connecting people to opportunities. That's why I got involved."
Follow @Antenna for our take on marketing reads, corporate culture and current events.
ABOUT ANTENNA
Antenna is a leader in delivering top marketing professionals to corporations of all sizes for project-based consulting, interim leadership assignments and contract staffing engagements. With headquarters in Minneapolis, Antenna draws from its private community of experienced marketing talent to help clients balance the flexibility and expertise modern marketing organizations demand. Contact Antenna for a free 30-minute consultation to discuss your marketing and resource challenges.