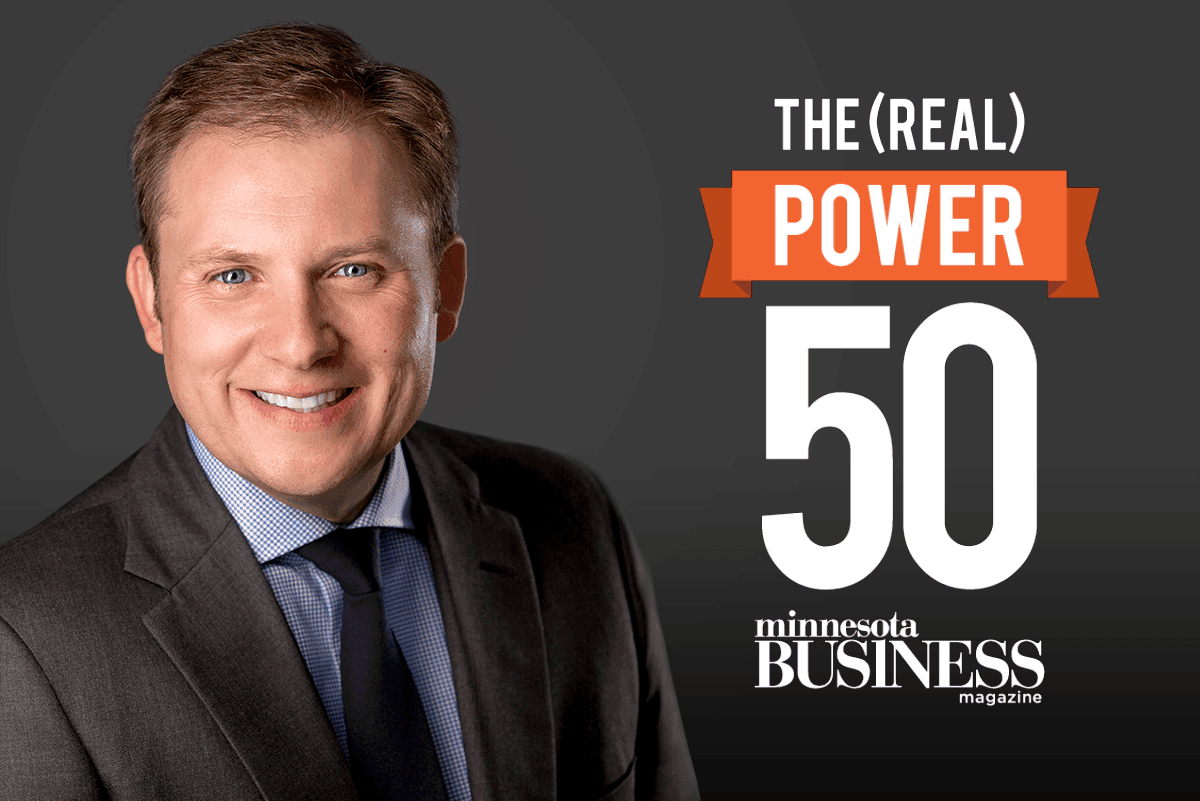 Brendon Schrader Makes Minnesota Business (Real) Power 50
Minnesota Business magazine recently announced its 2016 (Real) Power 50 list of local business leaders. Antenna Founder and CEO Brendon Schrader has made this year's list.
Minnesota Business scanned the state's business community, asking their trusted partners and business leaders to identify the movers and shakers who have impressed them in the last year. Next, the magazine's editorial team evaluated these nominees and narrowed their list.
Minnesota Business describes The (Real) Power 50 as "The linchpins in their company. The connectors in their industry. The heart of the operation. The ones who make things happen." This April, the 50 chosen movers and shakers will be honored at an awards dinner at the new JW Marriott, and will also be attended by former winners, nominators and other Minneapolis/St. Paul business leaders.
2016 The (Real) Power 50 list:
Al Coleman, Principal, Gray Plant Mooty
Aleesha Webb, VP and Commerical Relationship Manager, Minnesota Bank & Trust
Amanda Brinkman, Chief Brand and Communications Officer, Deluxe
Amee McDonald, Co-Founder and CEO, jabber logic
Andrew Dayton, Co-Founder, North Corp | Askov Finlayson
Andrew Eklund, Founder and CEO, Ciceron
Ben VandenWymelenberg, Founder and CEO, WOODCHUCK USA
Brenda Sallstrom, Co-founder and Principal, Envoi, LLC
Brendon Schrader, Founder and CEO, Antenna
Caren Schweitzer, President, Creative Resources
Carlos Landreau, President, The Landreau Group
Cathy Connett, CEO, Sofia Fund
Chris Culp, President and Founder, The Excelsior Group
Christine Chalstrom, President and CEO, Shepherd Data Services
Clarence Bethea, Founder, President and CEO, Upsie
Dale Cook, Co-founder and CEO, Learn to Live
David Burley, Owner and CEO, Blue Plate Restaurant Company
Don Ness, recent Mayor of Duluth, Ness Partners
Dr. Simone Ahuja, Founder and Innovation Strategist, Blood Orange
Dug Nichols, CEO, Kidizen
Ellen Valde, Assurance Partner, PricewaterhouseCoopers LLP
Eric Dayton, Co-Founder, North Corp | Askov Finlayson
Heide Olson, Financial Architect and CEO, All in One Accounting
J. Marie Fieger, President, Nemer Fieger
Jack Fiterman, Director of Strategic Acquisitions, Liberty Diversified International
Jeff L Fritz, President, Insite | Storyworks1
Jeff Martin, CEO, Collective Genius
Jody Kern, Private Mortgage Banker, Wells Fargo Home Mortgage
Joy McBrien, Founder and CEO, Fair Anita
Judy Lysne, President and CEO, Lifeworks Services
Justin Grammens, Owner and Founder, Recursive Awesome, LLC
Justin Porter, VP of Operations, Kipsu
Kai Worrell, CEO, Worrell Design
Katherine Forrester Schneewind, Owner and Wealth Management Advisor, Forrester and Associates
Liwanag Ojala, CEO, CaringBridge
Luz María Frías, VP of Community Impact, The Minneapolis Foundation
Mark A. Cohn, President and CEO, Aspirity Holdings LLC
Marni Hockenberg, Founder and Principal, Hockenberg Search
Matt Frauenshuh, CEO, Fourteen Foods
Meghan Wilker, COO, Clockwork
Nils Snyder, Senior Vice President, Colliers International
Nina Hale, Founder, Nina Hale, Inc.
Rassoul Dastmozd, President and CEO, Saint Paul College
Ryan Kanne, Director, U.S. Commercial Service
Shawntera Hardy, Co-Founder, Civic Eagle
Stacey Stratton, Founder, President and CEO, True Talent Group
Stephanie Shimp, Owner and SVP of Brand and Marketing, Blue Plate Restaurant Co
Terri Soutor, CEO, FastBridge Learning
West Stringfellow, VP of Internal Innovation and Operations, Target
Wokie Weah, President, Youthprise
ABOUT ANTENNA
Antenna is a leader in delivering top marketing professionals to corporations of all sizes for project-based consulting, interim leadership assignments and contract staffing engagements. With headquarters in Minneapolis, Antenna draws from its private community of experienced marketing talent to help clients balance the flexibility and expertise modern marketing organizations demand.