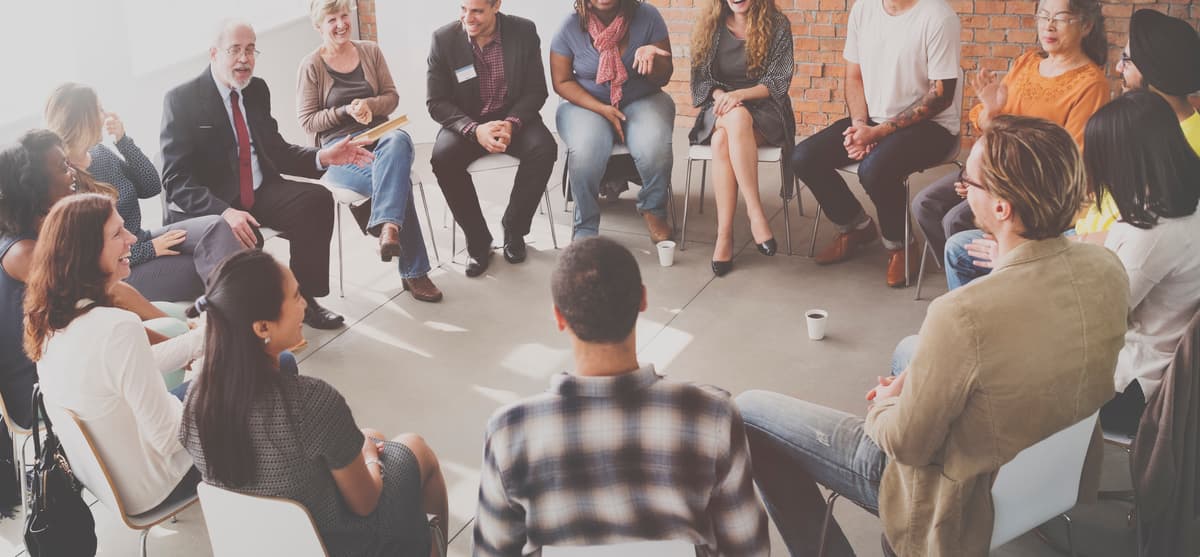 Real Good: Supporting Families Living with Mental Illness
In our Real Good series, we go beyond the job description to look at the good work Antenna consultants and employees do in their communities after hours. Today, we're highlighting Antenna consultant Donna.
Antenna consultant Donna Balitz is an experienced project manager, but it's her work after hours that's most impressive. In recent years, Donna and her family have faced tough diagnoses. One of her twin sons has been diagnosed with bipolar disorder, while the other has generalized anxiety disorder. To learn more about how to advocate for her sons, she got involved with the National Alliance on Mental Illness (NAMI) Minnesota, a national organization whose mission is to advocate for the mentally ill.
She's now a Family-to-Family instructor with the organization. Working as a consultant gives her the flexibility to help other families who are living with mental illness. "If sharing my story and taking time to teach the class has helped even one person, then I've done something good. I've in some way helped them to find the resources they need," she says.
How She Gives Back
Donna got involved with the Family-to-Family course to help continually educate herself, as the amount of information about mental illness can feel overwhelming. The 12-week course takes two and a half hours per week and is designed for family members or close friends of people living with a mental illness.
Donna and her daughter first took the class in 2012. "We took the class because it was very apparent to us that living in isolation with two sons and brothers living with mental illness wasn't doing us any good," she says. The free class is not meant to be a support group, but an educational course that can provide resources to get through different situations with their loved ones. "The class runs the gamut from 'this is what mental illness is' to symptoms, to what the loved one is feeling when affected by symptoms, medications and side effects, how medications help over time, and how to find a doctor," she says.
In an effort to retain that knowledge and help others, Donna and her daughter decided to teach the class together. At the time, Donna's daughter applied to be on the state advisory council on mental health. She was appointed by the governor to the council after college and is now chair.
Donna has taught the class twice and is planning on leading it again a third time. In addition, she's organized a team the past four years to raise funds in support of NAMI's programs through the NAMI Walks event each September.
What She's Learned
The class helped Donna and her family better understand what was going on in her son's brain. "Living with someone who's bipolar, when their behaviors change, you don't know whether to attribute it to their mental health or an external factor," she says. In addition, the class provided direction on where and how to get help, such as a support group for herself and a therapist or psychiatrist for her son.
Everyone who attends the class has had different experiences and tips on how to find help and support. "It's informative, and while it's primarily meant to instruct, there's no way in 12 weeks you can keep out the support group influence," Donna says. "We all get to know each other's stories and some stay in touch after the course is done."
It's an experience that builds connections. "Volunteering does as much for me as it does for the people I help," Donna says. "The class helps people know they're not living in a vacuum. There are others out there who can relate."
How Consulting Makes Good Work Possible
Donna was previously an employee for a large corporation, and made the switch to consulting several years ago. Now, she's an Antenna consultant on assignment back at the same company, and she says the difference between working as an employee and working as a consultant is fairly distinct. "I have a commitment to doing the best job and completing projects I've been assigned, but I feel as though I have additional time," she says. She's allotted a certain number of hours a week, but has some flexibility around how she spends those hours, as long as she completes her projects.
"I know every company does their 'volunteer thing,'" she says, "but Antenna really leads by example and encourages people to be good citizens."
For more information on the NAMI Family-to-Family program, click here.
If you or anyone you know would like immediate support with mental illness, please contact the National Suicide Prevention LifeLine at 1-800-273-TALK (8255). If you're in Minnesota you can find more local resources on the NAMI Crisis Resources page.
Subscribe to our blog to get the latest post delivered to your inbox weekly.
Stay connected with Antenna. Follow @Antenna for our take on marketing trends, corporate culture, and current events.
ABOUT ANTENNA
Antenna is a leader in delivering top marketing professionals to corporations of all sizes for project-based consulting, interim leadership assignments, and contract staffing engagements. With headquarters in Minneapolis, Antenna draws from its private community of experienced marketing talent to help clients balance the flexibility and expertise modern marketing organizations demand.