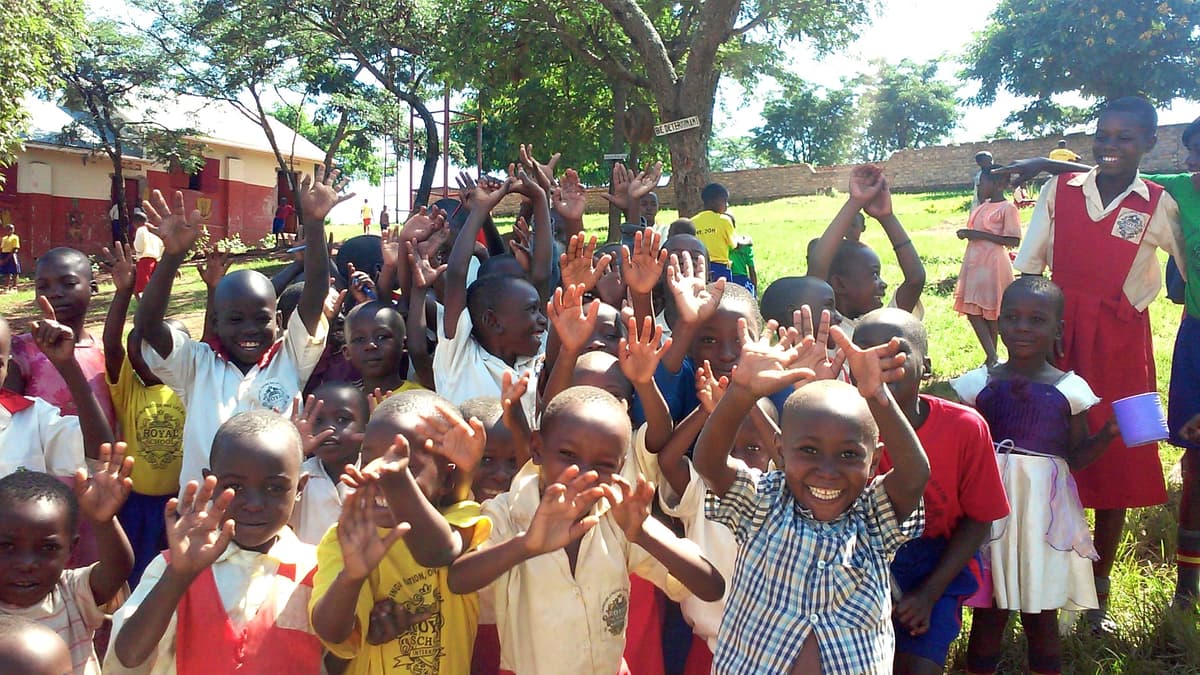 Real Good: Giving Back Through International Aid Work
Transformation, excitement, purpose, fulfillment, opportunity and adventure.
These are the words Antenna's controller, contractor Chris Heino uses to describe his work in Uganda. He has taken two trips to the African nation, and has two more planned: one with his family later this year and another in early 2016. Chris has worked on rain harvesting projects and raised money for vulnerable children who need educational support, and the upcoming trips will focus on medical missions.
A self-professed U2 fan who is inspired by Bono's charitable work, Chris is able to balance his passion for helping the people of Uganda with his contract job overseeing our company's accounting and finances. In doing so, he embodies many of the values we live by at Antenna.
'I Always Wanted to Try Something Like This'
Chris first traveled to Uganda with a church group to complete the rain harvesting project at Royal School International in Lwamasanga, an agrarian community and an underdeveloped area about 1.5 hours west of the country's capital, Kampala. The project also involved helping the school seek sponsorships for vulnerable children in need of educational support. While on the trip, he came across two other organizations he and his family have been working with: The Gem Foundation, a group caring for abandoned special needs children in Kampala, and The Village of Hope, a school in northern Uganda about 4 hours north of Kampala.
Chris's wife, Carla, had done some charitable work in the past, but once they had three children of their own, they put volunteering on hold until they were older. Now, one daughter Maggie, 13, is preparing to take her second trip to Uganda, while their other daughter, 14-year-old Emma, will join them for the first time this fall. "I always wanted to try something like this," Chris says. "I just felt it was time."
The Challenges and Rewards of Doing International Aid Work
Chris says doing international aid work can be hard. "You have to be open to a certain amount of ambiguity." You may go into a project thinking you will bring certain skills or expertise, but then events require that you change direction, make do with what you have and find new solutions — similar to working at a startup. "On the plane ride home you find yourself reminiscing, 'I am glad it turned out that way — our network or our sphere of influence is so much deeper than if this had just gone as planned."
The relationships Chris has established with other workers and the people on the ground have been particularly rewarding. On his first trips, he was surprised at how strangers who share a common purpose or mission can become like brothers and sisters so quickly. And these trips to Uganda have changed him. Coming back to the U.S. sometimes represents a larger culture shock than going to Uganda, and the more work he does, the more he sees needs to be done.
The Corporate Culture That Supports Taking Time to Give Back
Chris says that in previous work situations, it would have been difficult to get the kind of time away from work needed to volunteer in Uganda. And while the ability to work remotely makes a big difference for someone who wants to be involved in international aid, he says the corporate culture we've built at Antenna is what really makes it possible.
We try to make a point of pushing our employees and contractors to be adventurous, to take new risks and to give back. Chris says that while many companies talk about encouraging these traits, Antenna walks the walk. "To have a company say 'we want you to do this' is incredible. I know I wouldn't have been able to do it elsewhere. It means so much to have that support."
And we're proud to give it to him.
Follow @Antenna for our take on marketing reads, corporate culture and current events.
ABOUT ANTENNA
Antenna is a leader in delivering top marketing professionals to corporations of all sizes for project-based consulting, interim leadership assignments and contact staffing engagements. With headquarters in Minneapolis, Antenna draws from its private community of experienced marketing talent to help clients balance the flexibility and expertise modern marketing organizations demand. Contact Antenna for a free 30-minute consultation to discuss your marketing and resource challenges.