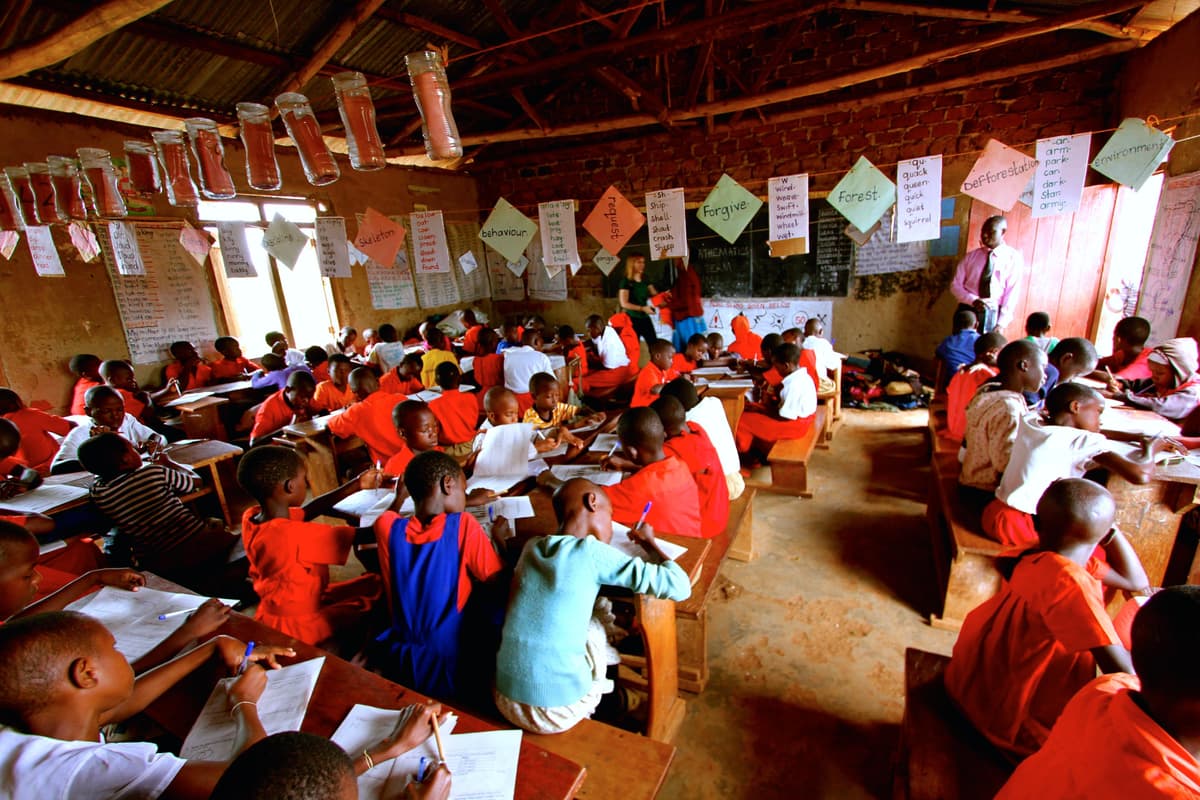 Real Good: Antenna Consultants Help a Primary School in Uganda
By Brendon Schrader
We love connecting our marketing consultants with projects and clients that give them the opportunity to do their best work — and we also love connecting them with great causes where they can really make a difference. As we build our community of marketers, we've always been interested in how we can leverage that community to do good both locally and globally.
Our latest project was a quick-hit, super-fast fundraising effort for a project in Africa with a partner we've worked with before.
From Building a Windmill to Improving a School
Back in 2013, the Antenna team got involved with a project to build a fully sustainable windmill for Gambella Village in Kenya. We partnered with AJ Leon, a writer/designer/humanitarian and alumnus of Antenna's Quarterly Speaker Series. Years later, the windmill continues to affect lives every day.
AJ and his team recently approached me with another project they're working on — helping school children in Kampala, Uganda. Kisimbiri Primary School is dangerously overcrowded, with 190 children squeezed into each tiny classroom. This creates an impossible environment for the school's teachers, who are often only trained in outdated and didactic teaching methods. The standard of education is low and dropout rates are high.
AJ and his team needed to raise $15,000 to build new classrooms that would cut class sizes in half. The money will also help pay for important teacher training on group-based learning methods, and for local artists to work with students to create beautiful, bright teaching aids that will more deeply engage them in their learning.
We were excited to help out with this project and quickly reached out to our Antenna consultants for help raising the money.
Exceeding Our Giving Goal
We were thrilled when our consultants almost doubled our fundraising goal in just eight days. And as with the windmill project, we will all have a chance to see how the money is being spent as the school project progresses. Last month, AJ and his team headed to Uganda to train staff members to use a reporting app that will allow them to easily send us updates from the field. This means that every person who gave to this campaign will have the opportunity to see the evolution of Kisimbiri Primary School in real time.
Our own Chris Heino, who's already been working in Uganda, found that the Kisimbiri Primary School is very close to the school he has been working with. He has been in touch with the leaders of the Kisimbiri Primary School and may have the chance to visit the school during his next trip to Uganda in late November.
The response we received from our consultants was amazing . "I am so proud to work for a company that champions charitable causes where donations go directly to actionable activities with direct and sustainable community impact," says consultant Heidi Klima. "Antenna supports efforts where the dollars go to a specific project that provides sustainable assistance. And the bonus? We get to see our dollars in action."
When you connect real people to real opportunity, you can help them do the best work of their lives. But that's not just work for clients. It's work for others. Our consultants are passionate people who like to be part of something bigger and give back — and we're always looking for opportunities to help them do just that.
Follow @Antenna for our take on marketing reads and events.
ABOUT ANTENNA
Antenna is a leader in delivering top marketing professionals to corporations of all sizes for project-based consulting, interim leadership assignments and contract staffing engagements. With headquarters in Minneapolis, Antenna draws from its private community of experienced marketing talent to help clients balance the flexibility and expertise modern marketing organizations demand. Contact Antenna for a free 30-minute consultation to discuss your marketing and resource challenges.