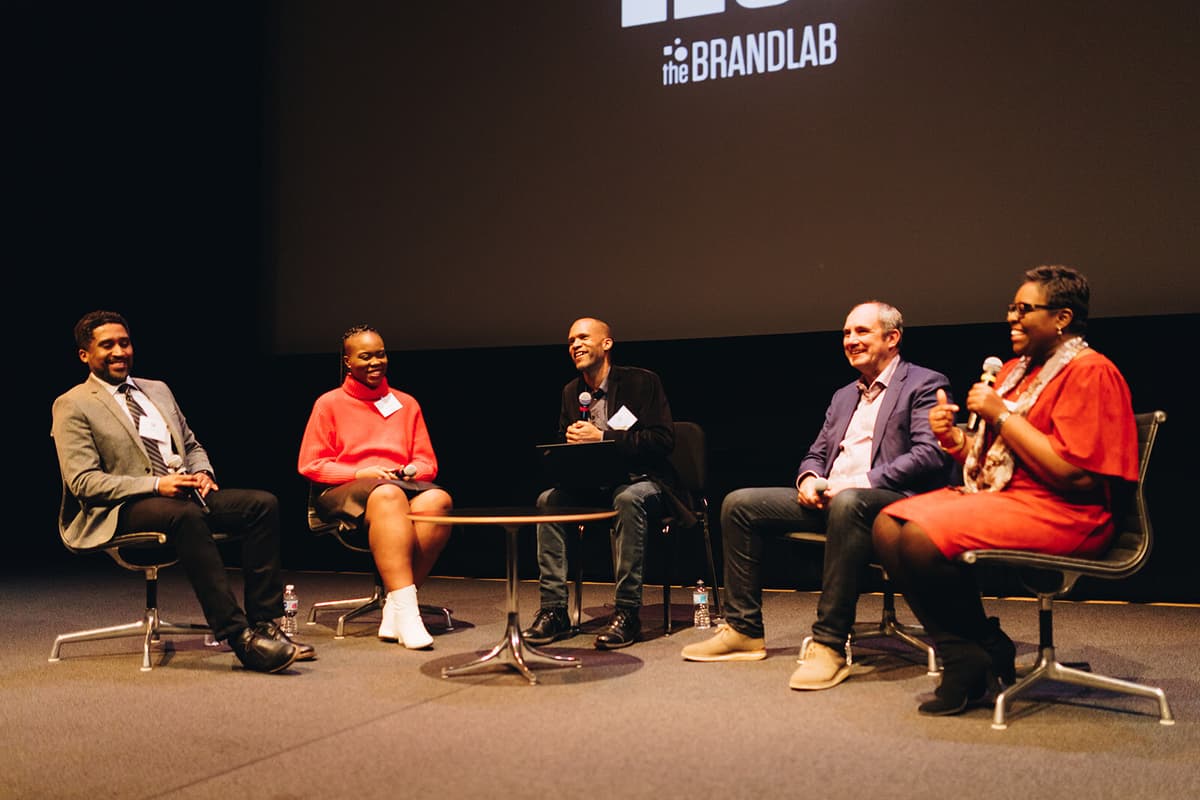 Practicing Fearless Conversations with The BrandLab
Our marketing and advertising community has been slowly but steadily increasing its diversity, but there is still a long way to go. The BrandLab is on a mission to be part of that transformative change. The group hosted its annual Fearless Conversation event to get people talking about how to improve diversity in the industry. The event started with two goals: to bring people together (partners and donors), and get people in positions of power to get involved with the work (not just service for the youth). As Susan Oh, Fearless Director at The BrandLab said, "Please practice with us."
Ellen Walthour, Executive Director of The BrandLab
Read our interview with The BrandLab Executive Director Ellen Walthour to learn more about her vision.
The panel discussion was moderated by Minnesota Public Radio's Brandt Williams, and features Rosalind Chevreuil, Senior Vice President of Human Resources for Best Buy, Keith Mayes, the Horace T. Morse-Alumni Distinguished Teaching Professor at the University of Minnesota, Dale Nitschke, founder and CEO of Ovative/group, and Ingrid Sabah, senior at the University of Minnesota and TBL alumna and board member. Such a spectrum of experiences and contexts made for a well-rounded and interesting conversation. Here are the questions we're still thinking about:
"What does it mean to be included?" – Brandt Williams
Rosalind Chevreuil shared how she thinks of diversity and inclusion in her role at SVP of HR: "Diversity is: we invite everyone to the party. Inclusion is: we ask everyone to dance." Many of the panelists agreed that it's too easy to focus on recruiting or hiring diverse talent, but that means nothing if those individuals are not warmly welcomed and invited into the culture of the organization.
Ingrid Sabah, TBL alumna and intern with Dale Nitschke at Ovative/group shared her experience on the job. "Dale came over to my desk one day and asked my opinion – it was great to be valued, to be taken seriously." Knowing that senior leadership sought out and trusted her opinion went a long way towards feeling like a vital part of the company.
Keith Mayes, professor at the U of M, spoke about how academia faces an inclusion problem, even as it touts its diversity. "At the U of M, only 1 in 2 of our black students graduate. We're facing a retention problem at the U and have been shifting our focus from recruitment to graduation." Mayes also talked about the conversations his students have with him, feeling like "diversity is a showpiece but it's not measuring up!" He pointed out how it's easy for companies and institutions to oversell diversity, without doing the longer and deeper work of true inclusion. "Institutions have a way of creating documents that don't always match up to reality. They pay lip service to the idea but then you peel back the layers to see the reality on the ground."
"Where is the accountability?"– Brandt Williams
Dale Nitschke, founder and CEO at Ovative/group talked about how accountability can come from the top, or be written into policies, but needs to be part of the whole organization. "It's important that everyone plays the same game. Don't rely on one single person to make it happen. It's the everyday actions that create the policies – I'm a huge believer in actually doing."
Chevreuil was quick to follow up, "Yes, and write it down! Make the expectations clear. It's the examples that are set from the start, that you can then bring to life through interactions." But she agrees that policies and documents aren't enough, "It starts with each leader. Once leaders are accountable, individuals can be. It takes a while for grass to grow where there is no seed or fertilization."
"Is there a pressure, as a person of color, to educate your colleagues?"– Brandt Williams
"Yes – and I've stepped into it," said Sabah. "A lot of my peers have rejected that role and that's totally up to them, but I own that choice. We can be teachers when we want to, and not be a teacher when we don't." She added, "I've experienced a lot of unconscious bias at this point in my academic career. It's up to individuals to charge themselves with [being a teacher] – and it's on the person they're speaking to to hear them out."
Ingrid Sabah, center, with other The BrandLab alumni and friends
"Early in my career I was 'one of' – the only women, the only people of color, etc," shared Chevreuil. "I got a lot of questions and curiosities, but I figured they were curious for a reason, they were trying to understand, and they must've felt safe enough with me to ask. I didn't feel the pressure to educate, but privileged to have the opportunity and be a safe space to talk about these things."
Mayes spoke about the particular context of Minneapolis, and how people of color are not only in the minority at school or work, but in much of the city. "People of color are isolated. It gets really white really fast, as soon as [students] leave my classroom. Especially in non-profits and private sector jobs. Why is there such a revolving door of POC professionals? People are coming from self-proclaimed 'chocolate cities' like Chicago or Atlanta, they're here for one, two, or three years, then they're gone. Sure the spaces are white, but when I leave work – where are the black spaces?"
Chevreuil agreed that what happens outside of the company affects our lives at work too. She has been working with her staff to bring community and connection into the workplace with their "Candid Conversations" project, where people meet and discuss all kinds of topics, so that individuals can network and share with one another. "We want to help people feel connected."
"What can white people do?" – Question from Audience
As the only white person on stage, Nitschke answered first. "You have to recognize where you're coming from. I've struggled because I don't always know what I'm doing. I'm just trying to make change one person at a time – it's impossible to change the world all at once but you can't stop."
Chevreuil spoke about the importance of safe spaces, and the benefit of using one's white privilege to support and raise up people of color. "They have to have air cover! Someone invested in your success. You have to know that you have enough people who care about what you're trying to do… It takes each person learning, how do I bring myself to this interaction, and how do you make space to hear me?"
Nitschke's admittance of struggle and Chevreuil's ideas of being heard were perfectly captured in Sabah's final remarks for the panel: "You always get feedback when [POC] are on the way out the door – seek out the unpopular opinions early."
What did you think?
Fearless conversations don't just happen onstage - The BrandLab hosts a reception before and after the event to encourage discussion. It's a great chance to connect more deeply with the speakers, other professionals, and lots of TBL alumni. We spoke with Pursha Powell, TBL alumna and current Marketing Major at Augsburg University, and asked her to share about her experience of the event:
"This was my first year attending Fearless Conversations and it was truly an inspiration. After listening to the panel I felt motivated to be the change the industry needs, to create change, and continue to push towards dismantling the inequalities in the industry. I was so influenced by the eagerness of the partners and donors in the audience. My heart was full as questions flew in from leaders wondering what they can do now to make this change possible. Programs like this are essential for POC like myself. As Ingrid mentioned, we have a pressure placed on us to be cultural educators, and its time we take that back. It is essential for non-POC to educate themselves on other cultures, accept certain differences, and communicate them. As a woman of color I feel the urge to either tone down my passion so it isn't misinterpreted as anger or tone up my attitude so I don't come off as too passive. We are forced to be the in between, that gray area between others black and white perceptions. This is where I believe communication plays a huge role. I am a firm believer in building strong communication in any relationship from friendships and intimate relations to school relations and work relations. Communication is vital.
The industry is slowly but surely creating change. We are acknowledging that change needs to happen, and I believe as an industry, we can only go up from here."
If you want to know more about how your organization can get involved with The BrandLab, be sure to check out their website or consider their Fearless Consultancy program, which helps companies who are ready to take action. The BrandLab also has a summer internship program and mentoring opportunities. The annual Fearless Conversation event is a great way to get the discussion started, but it's the work that happens every day that makes a difference. Thanks to The BrandLab for helping us all move forward!
Subscribe to our blog to get the latest post delivered to your inbox weekly.
Stay connected with Antenna. Follow @Antenna for our take on marketing trends, corporate culture, and current events.
ABOUT ANTENNA
Antenna is a leader in delivering top marketing professionals to corporations of all sizes for project-based consulting, interim leadership assignments, and contract staffing engagements. With headquarters in Minneapolis, Antenna draws from its private community of experienced marketing talent to help clients balance the flexibility and expertise modern marketing organizations demand.