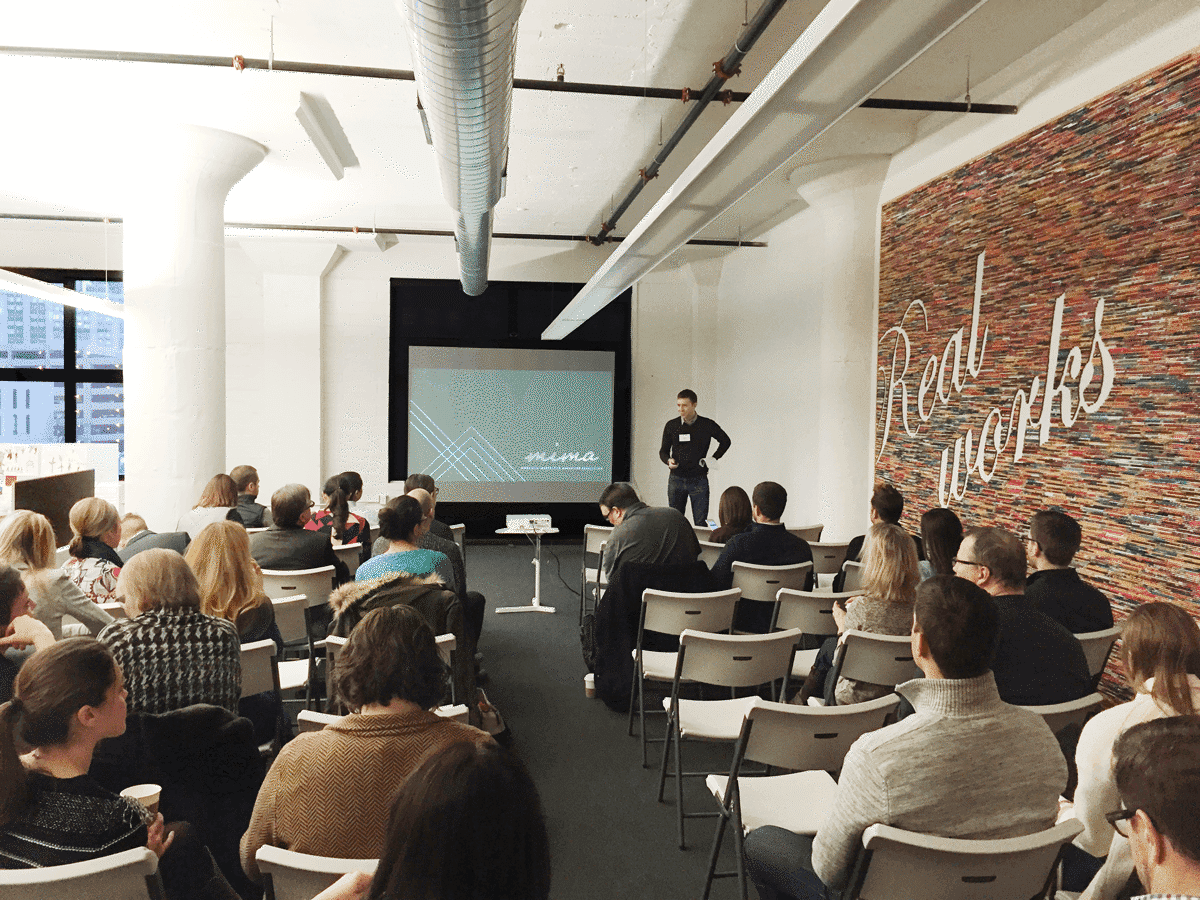 Marketing Experts Offer Tips at Antenna Hosted MIMA Event
Last week, marketers got real-life insight into how to use smart content and innovate SEO strategies to build success. Antenna hosted the first session of Minnesota Interactive Marketing Association's new Coffee + Case Studies event. We heard from two marketing experts: Lachlan Badenoch, senior strategist at Zeus Jones, talked about how to put the right information into customers' hands so they feel empowered to make decisions, while Chris Aburime, senior SEO strategist and partner at Augurian, talked about how a disciplined, data-driven process helped the company grow a client's e-commerce revenue by more than 50 percent in just nine months.
Coffee served by Kindly Coffee. (Image credit: Kindly Coffee)
Here are the highlights from the event.
How Purina Used Content to Clarify Customer Priorities

When it comes to pet food, the options can seem endless, and it's easy to feel overwhelmed. There are dozens of options for pet owners, Badenoch says, but rather than trying to boost awareness simply through branding, Purina Pro Plan took a different approach.
Pro Plan is targeted at a premium audience -- owners of show dogs and working dogs -- and the brand faces strong competition in the market, Badenoch says. In the face of this complexity, consumers tend to default to simple choices, and he says one of the simplest is "picking what's best for my pet," rather than trying to get into scientific explanations about why a certain ingredient mix is better for show dogs than working dogs.
What customers need is for brands to share their expertise and help them solve problems, Badenoch says. With this in mind, Purina looked for ways to ask owners about their priorities around their pets and then give them a solution. Zeus Jones built a questionnaire designed to help pet owners determine those priorities, and then bring them to a customized landing page that gave them a recommendation for their pets.
The lesson can apply to almost any product or service. "Don't start with the ingredients," Badenoch says. Instead, use your internal assets to turn a mundane user issue into something more interesting. Look for ways to use your content to clarify people's priorities and then offer solutions that match those conclusions. Create content around those solutions that highlight why it's the best fit for the customer as well. This helps build relationships, rather than simply a product selector, Badenoch says.
Rethinking SEO
Chris Aburime spoke about Augurian's work with an apparel company that leads its field category, but believed there was more of an opportunity to drive revenue from online searches. Its objective was to build revenue by tweaking its SEO.
Augurian identified the company's competition and what its voice share was. By finding missed search impressions and voice opportunity, it was able to quantify the missed monthly impressions, click rate and conversion rate and the monthly revenue it could represent.
Identifying how to go after that opportunity is complicated, Aburime says. But by doing a performance audit across 80 different points including search terms, content, information architecture and other SEO factors, the company was able to prioritize some recommended tests. "Find what works, scale it, and table what doesn't," he advises.
Augurian worked closely with the client's internal marketing team, teaching them how to do SEO testing themselves through an easily adaptable process. One change they made was how the clothing line for babies was identified. The website used terms such as "infant" and "newborn," but as Aburime says, people generally don't use those words when searching. Instead, they use "baby." Testing "baby" on several pages showed promise, so they made changes across different pages, measuring the whole time, and saw a lot of growth.
How much? Within months, there was a more than 50 percent increase in revenue, 34 percent increase in conversion (attributable to the switch to "baby," Auberime says), and a 40:1 ROI.
A final note for agencies: Auberime says teaching clients how to do things does not teach yourself out of a job. "Most companies will find other areas where you can help them grow, and that's why we're still working with them," he says.
Looking for more inspiration from related Antenna events? Read what we learned about branding from former JCPenney senior vice president of marketing Ruby Anik.
Learn more about MIMA and their great events that provide thought leadership and education around areas such as content development, design, experience design, digital marketing, media, product development, promotions, publishing and usability.
ABOUT ANTENNA
Antenna is a leader in delivering top marketing professionals to corporations of all sizes for project-based consulting, interim leadership assignments and contract staffing engagements. With headquarters in Minneapolis, Antenna draws from its private community of experienced marketing talent to help clients balance the flexibility and expertise modern marketing organizations demand. Contact Antenna for a free 30-minute consultation to discuss your marketing and resource challenges.