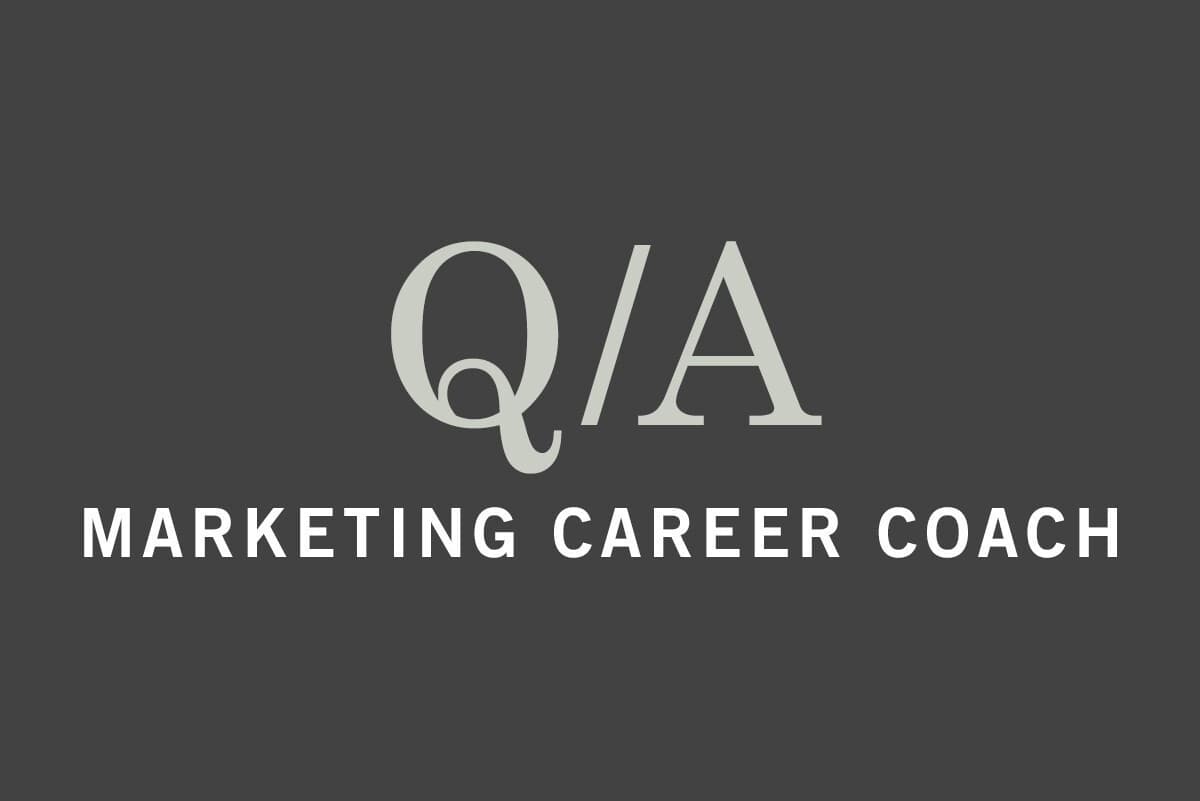 Ask the Marketing Career Coach: How to Have a Tough Conversation with Your Manager
In this series, certified coach and mono Director of Talent Julie Vessel is answering your questions about finding, keeping, and loving your dream marketing job. A career strategist and architect, Julie has more than 20 years of experience helping Fortune 500 companies find their truth, position themselves, and get their story into the world. Read her advice on starting a new job for success, rethinking your annual review, searching for work-life balance, overcoming your inner critic, taking control of your own learning, advancing your career, learning to love being a manager and how to manage work when your personal life takes priority.
Q: I want to talk to my manager about my future at my company, but I'm nervous. What if it doesn't go well, or I come off looking too aggressive? What's the best way to initiate a conversation about my career?
A: Bringing up a big topic with your manager can be intimidating. Especially when it's one as important and personal as your future at the company. It can be tempting to keep your questions to yourself, or wait for your manager to bring up your career development.
For many, there's a fear of "bothering" our boss with something unimportant. Culture still paints the manager as the more important, dominant person, with employees operating on a "need to know" basis.
But this perspective is outdated. Employee engagement and retention are the most critical business issues facing corporate success. In other words, your manager has a vested interest in your happiness, your career, and your future.
The career topics we treat as taboo are, not surprisingly, the top reasons people leave their jobs: career opportunity and financial opportunity. For many of us, it's much less intimidating to ask about career advancement and pay when we're interviewing with a new company, but we clam up when we think about approaching our current managers about the same issues. That's why these conversations just don't happen at many companies, or they come up very late in the process, like when an employee is considering a new job or even in an exit interview.
Everyone would be better off if we were more open about discussing questions like "What is my future here?" and "What is my financial opportunity?". A transparent dialogue would open up more possibilities, cement stronger relationships, and build trust and loyalty. But to get there, we need to stop bottling up these issues, only discussing them when they escalate to a what-have-you-done-for-me-lately ultimatum. We need to start sparking proactive, ongoing conversations.
Whatever your personal "big scary" topic, how you frame the conversation is everything. Here are a few tips to start a dialogue with your manager.
Take the pressure off.
All too often, folks approach these very important conversations with an air of desperation, as if it's their one and only chance. What's my future? Where am I going at this company? What's my opportunity? If not framed up properly, it's easy for these conversations to feel defensive and negative.
Instead, take some pressure off. Think about your first conversation as the start of an ongoing dialogue. Take a step back and present the topic with a broader perspective in mind.
Schedule a meeting to talk with your manager about big-picture career development, to discuss your personal career goals, or to discuss future growth opportunities. Framing this around the larger issues gives you a chance to learn about how the company approaches this topic, while still providing an opportunity to talk about the one and only you.
Do your homework.
In my Director of Talent role, I'm constantly surprised by how many people want to talk about their career paths or salaries without having done any research on their own. Think like an attorney and go into court with the facts. Arm yourself with as much knowledge as you can about the standards and conventions in your industry and role.
In particular, focus on three areas of research before you approach your manager:
Assess your current performance.
Be honest about your most recent contributions. Are you a rockstar or someone who's just getting by? What are your biggest contributions, and your specific role in each success? What is your popularity or approval rating? Are you the one everyone wants on their team or the last one picked? It's helpful to be really honest about where you currently truly stand. A+ students always have an easier time getting A+ opportunities.
Understand the company dynamics.
It's helpful to be aware of your employer's latest state of the union. Does the company have momentum? Is the company meeting/exceeding its goals or struggling to make it? What are the company's priorities, and how do you feel you can help fuel that success? What do you know about employee-wide career or financial opportunities? Are there people in the company who you aspire to follow or be like? The closer your goals align with your company's goals, the better.
Find out what's normal for the industry.
Make sure you're aware of what's standard in the industry. If you're looking for a raise, talk to recruiters or do online research about salary ranges and average promotion levels based on your role, region, and company size. It you want more responsibility or a promotion, use LinkedIn to explore different roles and jobs and to understand the experience needed to assume your desired role. Industry knowledge is a powerful tool in helping you make the case for yourself.
Know what you want.
Now that you've done your homework, you're officially entitled to an opinion. And please don't go into this conversation without one. So often, employees will ask their manager a question they haven't properly answered for themselves.
When it comes to important topics like career opportunity or financial opportunity, don't ever go into a conversation without a clear idea of what you want. Ultimately, it's your career. Managers are here to help make things happen, but you should be the author of your career story.
Take charge of your opportunity by defining what you want. What does the future look like to you? If you're after more money, how much more? If you know exactly what you want your future to look like at the company, feel free to mention it as your goal. If you don't know exactly what title you aspire to, then you might start a more general conversation about taking on more leadership opportunities or developing a particular skill.
Beyond what you want, it's important to stress why you feel you deserve it. Maybe you have a track record of carrying out big projects and contributing to revenue. Or maybe you've documented your contributions and value over the last 6 months and have an upgraded salary in mind to match. Be prepared to articulate the unique contribution you bring to the team and company.
Consider your timing.
I once scheduled a meeting about my future with my manager the week he returned from a family funeral. It did not go well. Just like for most things in life, timing really matters for big work conversations.
Plan around, and for, your audience. Is your manager a morning person? Does she prefer coffee or walking meetings? Is he on deadline? Is the company in a stressful crunch time? Think about the day, time, and environment when your manager will be most engaged, relaxed, and attentive.
And if dynamics change (like if a funeral comes up), don't hesitate to reschedule your meeting. It's better to wait a little longer for the right moment than to force the conversation in less than ideal conditions.
Conversations about your career should never feel taboo or off limits. By sparking an ongoing conversation with your manager around these topics, you'll find that you're happier with your career and better positioned in the eyes of your boss, your team, and the company.
Subscribe to our blog to get the latest post delivered to your inbox weekly.
Stay connected with Antenna. Follow @Antenna for our take on marketing trends, corporate culture, and current events.
ABOUT ANTENNA
Antenna is a leader in delivering top marketing professionals to corporations of all sizes for project-based consulting, interim leadership assignments, and contract staffing engagements. With headquarters in Minneapolis, Antenna draws from its private community of experienced marketing talent to help clients balance the flexibility and expertise modern marketing organizations demand.