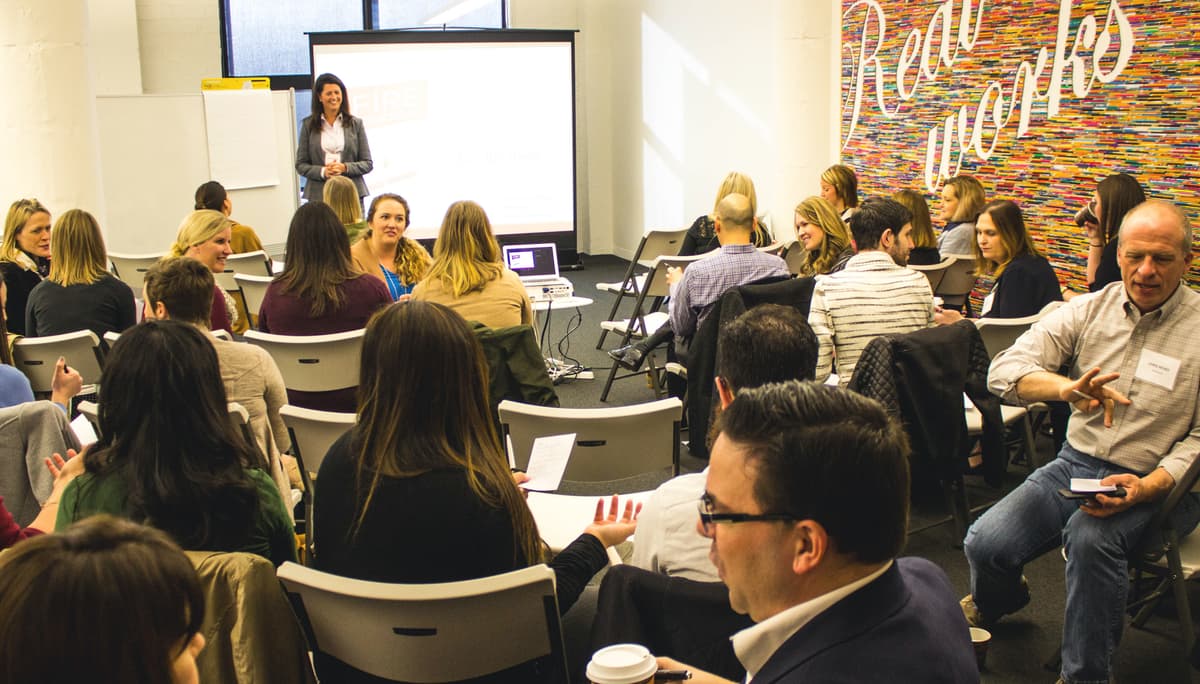 How to Fire Yourself and Find Your Career Path
Getting fired is no fun — it means a loss of control and having to determine a new direction, often under a lot of stress. But "firing yourself"? That's the recommendation Lisa Brezonik gives in her new book, co-written with financial planner John Rusciano.
The book is not about how to fire yourself from your current job, she says. It's about how to determine whether you're on a path to where you want to go, before you're forced to face that question. It's unrealistic to think you'll be doing the same thing for the next 10 to 15 years, adding: "And really, why would you want to?" Understanding how to get that next opportunity will help you do so when the time comes.
Lisa has more than 20 years of experience in matching people with jobs, and is now the chief administrative officer at Salo LLC, which connects finance, administrative and HR professionals with opportunities.
Her approach was a natural fit for Antenna's community of marketers: It's all about getting people in the right positions. Here are Lisa's tips for finding the right professional path.
Be Ready for Change
Change is hard, but being ready for it is key, Lisa says. The work you do to prepare for change will help make it easier as time goes on. Lisa is a fan of "knowing your intention" and being able to articulate exactly what it is you want from change; talking about your goals will help make them happen.
The book uses a worksheet to help readers prepare for change. The worksheet asks questions like:
What are you good at?

What experiences have you had, and what knowledge do you possess?

Where do you need development?
Answering these questions honestly will help you identify a plan for change.
"Why in the world would you want to spend the next 10-15 years just mailing it in?!" @FireYourselfNow @lbrezonik #antennalearning
— Antenna (@Antenna) April 6, 2017
Identify What You Stand For
Many employees are in their specific role because they've followed a path to get there but have trouble identifying anything else they could do beyond the current path. Millennials, however, are starting to resist that thinking: "There's a new openness to make choices that aren't traditional choices."
To consider what getting off your path might look like, she encourages people to identify what they stand for. What gives you the energy and makes you an "additive" to your workplace?
"First you get clear on who you are and what your values are, then you can go get the life you want." @FireYourselfNow #antennalearning
— Antenna (@Antenna) April 6, 2017
Then, consider whether your employer has the same values that you do. "We talk all the time about what companies say their values are," Lisa says, but how many employees really know them? Can everyone articulate the same thing? And how many are working at a place where those personal values line up with their employers' values?
Speak for Yourself
It takes more than a resume to get a new job. You have a much better chance to change your path if you're "out there," whether that means networking, establishing an online presence, or being in a customer-facing position. Any of those pursuits, however, take a lot of work.
Opportunities come when you least expect it! Get the message out about who you are and what you do. @FireYourselfNow #antennalearning
— Antenna (@Antenna) April 6, 2017
One helpful piece of advice to make networking more fruitful: Identify how you want people to think about you, and practice clearly articulating that message. "It's an important skill to have," being able to establish who you are and what you want when you first meet someone. But it's hard for others to help you if you tell them, "oh, I'm happy to do just about anything." Being specific and clear can lead to more meaningful connections.
Subscribe to our blog to get the latest post delivered to your inbox weekly.
Stay connected with Antenna. Follow @Antenna for our take on marketing trends, corporate culture, and current events.
ABOUT ANTENNA
Antenna is a leader in delivering top marketing professionals to corporations of all sizes for project-based consulting, interim leadership assignments, and contract staffing engagements. With headquarters in Minneapolis, Antenna draws from its private community of experienced marketing talent to help clients balance the flexibility and expertise modern marketing organizations demand.