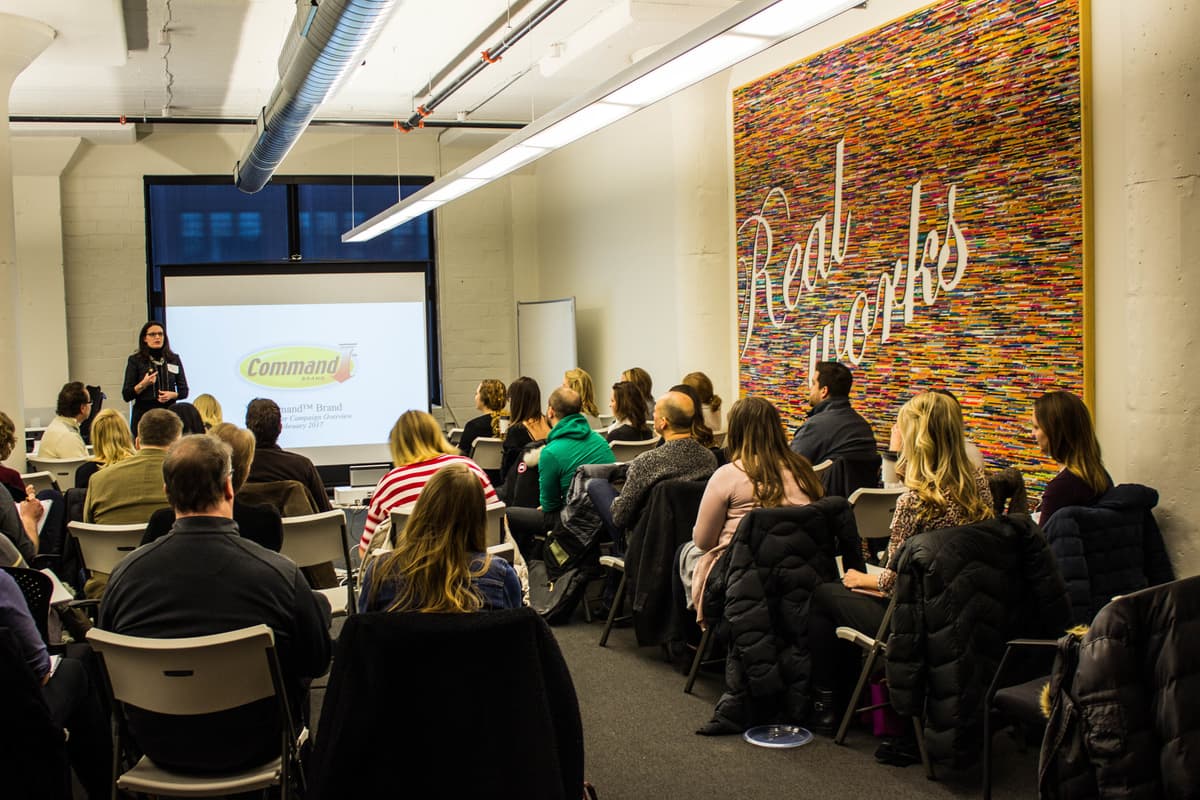 How 3M and Olson Are Thinking Differently: MIMA Coffee + Case Studies
Marketers tackle a lot of challenges in their work — incorporating new technology, understanding the customer journey, working with sales and other teams. But two big marketing questions seem to come up over and over:
How do you build a big campaign with a small budget?

How do you boost seasonal products out of season?
Olson art director Brit Ryan and account executive Madeline Hasler talked about the agency's campaign to promote Belize in new and creative ways.
3M brand communications manager Jessica Hack shared finding new uses for seasonal 3M products helped create new demand, with help from rapper MC Hammer.
How Olson Built an Interactive Travel Campaign
When the Belize Tourism Board came to Olson for help announcing direct flights from Toronto and Denver, the initial strategy was heavy on traditional media. But the team at Olson wanted to do something more, Ryan says. The result was a huge interactive billboard that drew people in and garnered major earned media.
Lots of tourism marketing shows people sitting on a beach in sandals and enjoying fruit drinks, Ryan says. But because Belize has a quirky, adventurous feel, the marketing team felt it could do something more to tell people about the new flights.
The team wanted to do three things with the campaign, Hasler says. They wanted it to feel authentic — to capture the adventurous, curious spirit that ignites travelers to Belize. They wanted to create something that didn't feel like an ad, but more like an experience. And they wanted to gain earned media.
The idea was simple: A four-story billboard in downtown Toronto showed footage of a man dancing. Passersby were invited to bang on a traditional drum in the square; the faster they played, the faster the man on the billboard danced. "Drumming and dance is a huge part of the culture," Ryan says, and people could immerse themselves in that culture through the billboard.
Making it happen took some work: There was some heavy lifting with multimedia partners and developers, not to mention finding someone who could get a drum to Toronto from Belize. But it was worth it: There were hundreds of passerby drummers, and through a social media marketing campaign that gave away free flights, the campaign got 59,000 social impressions and 2.5 million earned media impressions.
"We're very pleased with the results," Hasler says, adding that there are three takeaways from the experience:
Don't make ads; make experiences.

Location, location, location. The Toronto campaign outperformed the one in Denver, which didn't have such a grand space, Hasler says.

Collaboration is key.
How 3M Created Awareness with a Multi-pronged Approach
3M is more than science and technology products, Hack says; it also has a lot of products in the consumer home improvement market, including Command products, which make it easy to hang and display items without damaging walls.
Fall and winter are the big seasons for many of these products, when people go off to college and look for ways to decorate dorm rooms without damaging walls, and decorate for the winter holidays. As a result almost all of the sales come in the "back half" of the year.
In addition, there's still a strong consumer preference for traditional hanging tools, Hack says. "Seventy percent of the time, when someone wants to hang something, they go for the hammer and nail," she says. So, 3M took a two-pronged approach: changing the thinking around when to decorate, and changing the thinking about how to do it. The approach can be summed up in the idea of "do no harm," Hack says. "We really like this idea. 'Do' is the action we want them to take, while 'no harm' is the benefit of the product," she says.
The company enlisted MC Hammer and eliminated the comma in his "Stop, Hammer Time" catchphrase to use it in an "anti-nail" campaign. Then they created the idea of a third decorating season tied to spring cleaning. The team promote spring decorating through a strong digital presence that included home improvement bloggers and Apartment Therapy. "Hammer can do awareness, and then the digital strategy helped with the inspirational part of the piece," Hack says.
The result was a big win across the board. Hack says MC Hammer's cachet made big retailers willing to bend their brand guidelines slightly to accommodate 3M's campaign, and Command products were up 14 percent in the first half of the year, with point of sale up 28 percent. "We still have a mountain to climb, but we're starting to see lift in the front half of the year," Hack says.
Subscribe to our blog to get the latest post delivered to your inbox weekly.
Stay connected with Antenna. Follow @Antenna for our take on marketing trends, corporate culture, and current events.
ABOUT ANTENNA
Antenna is a leader in delivering top marketing professionals to corporations of all sizes for project-based consulting, interim leadership assignments, and contract staffing engagements. With headquarters in Minneapolis, Antenna draws from its private community of experienced marketing talent to help clients balance the flexibility and expertise modern marketing organizations demand.