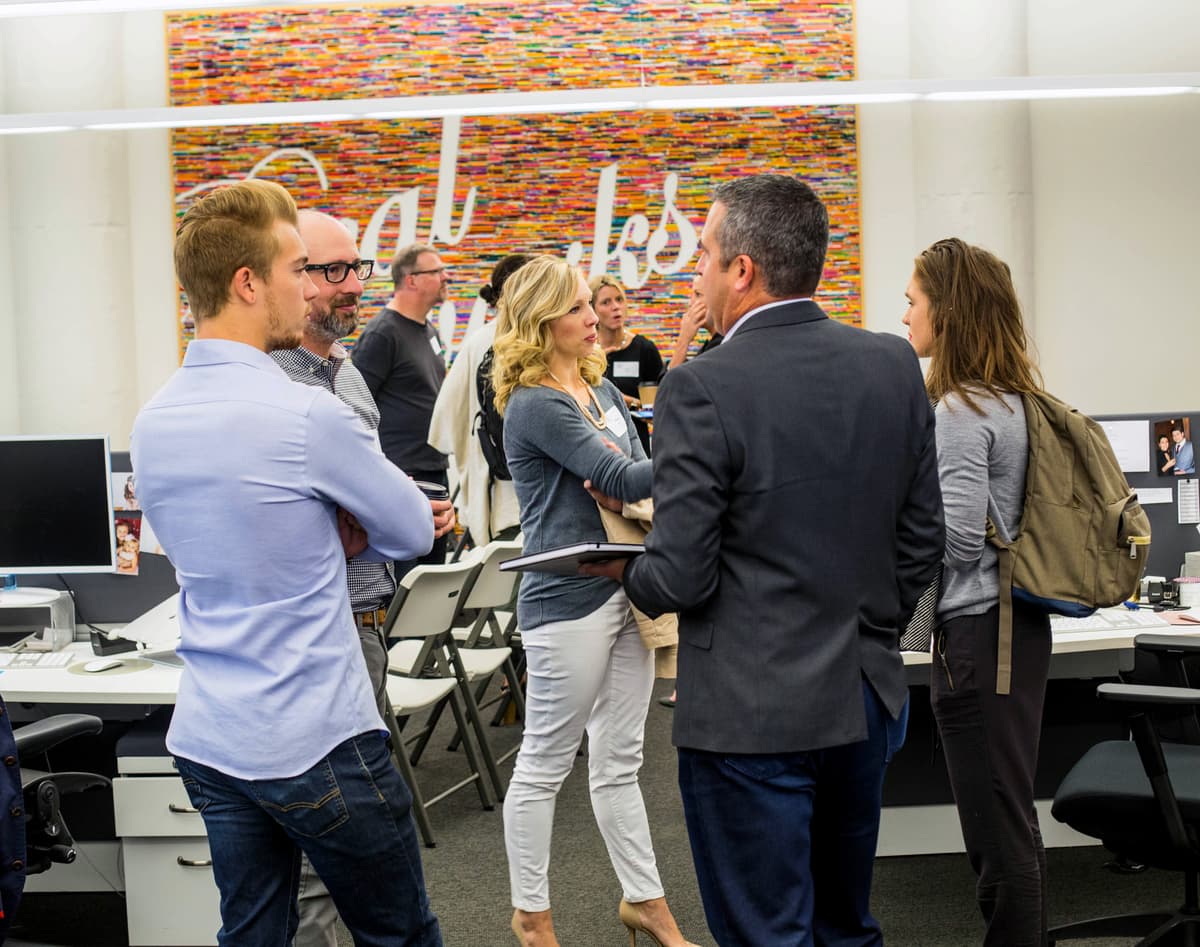 Health Care Costs Go Transparent: MIMA Coffee + Case Studies
Antenna is pleased to partner with Minnesota Interactive Marketing Association to host their regular Coffee + Case Studies at our North Loop offices. Mirum and The Nerdery shared some of their coolest projects.
Health Care Costs Go Transparent
Many of us may know our options for minor injuries and illnesses, whether it's urgent care, the Emergency Room, or a primary care clinic. But few of us know what those visits would cost. That's because health care companies don't make that information very accessible until now. Mirum was brought in to help make health care costs more transparent so that customers could make better informed decisions, shared Jack Fahden, Anders Hopkin, and Miranda Anderson. The challenges? Legal concerns of not prescribing one kind of care over another, the complexities of health care plans in different areas, security of data, and a tight deadline so that the company could promote the new app before open enrollment began.
The goal was lofty: to get people to change behavior and choose better care. The business problem was people over-indexing on Emergency Rooms – choosing too much care that was very expensive, even for minor illnesses like pink eye. In an eight week timeline, they knew they had to fail fast. Have to get there not only for that launch, but along the way create something that they can learn from. The validation groups that tried the program along the way proved invaluable.
They started with the landscape and the clear options, from virtual visits and convenience care to hospitals and emergency centers, and to understand what conditions fall under each option. Using national averages, they wanted to create transparency for specific needs around each of the available choices. The user experience was meant to be simple and fast, providing the consumer with clear data on what a typical visit would cost.
They had to test multiple paths and user experiences while they were also developing the 'wrapper' and branding imagery for the tool. The data visualization stage was crucial – what's the best way to illustrate the very real costs associated with these decisions? Some visits cost you $0, while others can cost you $1700. This drastic difference was key to driving behavioral change, and was a great design challenge built into this tool.
On a timeline this tight, some sacrifices had to be made. Behind the scenes, they were able to get creative about creating a 'faux dynamic' search, be more careful about where and how this tool was accessible, and how to build a "tiny" site that loads super fast.
The takeaways: big companies can move fast, with the right partners. If you can get clear on your objectives, and release a great product, you'll have time to go back and do more later. Since its initial launch, the program has now been released in Spanish. The tool has also been repeated for large corporate clients so that employees of a large corporation know exactly what these visits will cost with their employer's health plan. Thanks to creativity, ingenuity, and lots of fast failures, they were able to meet the needs of the client, re-educate consumers, and launch a tool that was not only successful at the start, but scalable in the long run.
One for All but Not All for One
Local digital consultancy The Nerdery was called in by a manufacturing partner to help drive efficiencies to multiple service centers, explained Casey Kaplan and Lacey Kobriger. Streamlining online presence and standardizing marketing across this entire ecosystem provided huge gains within six months, gains which have continued as time goes on. The marketing team had to start by rebuilding trust, establishing a clear vision, and connecting with customers to see what they were actually looking for.
Because of the distributed business model, the service center owners had disparate ideas of where to start and what the problems were. The large corporate headquarters weren't always as nimble as service centers wanted, but The Nerdery came in and was able to connect with the actual users to clarify the objective. What the insights showed were some tremendous opportunities to reach their customers in a more consistent and targeted way.
Whether it was educational content, seminars, blogs, or trouble-shooting content, The Nerdery helped build a strong centralized hub for all of the brand's content, with options for individual service centers to add their own pieces alongside with a coherent brand.
The takeaways: you can be big and stay small, serving your customers the best corporate can offer while maintaining the individual expertise of smaller locations. Make your content consistent with room for customization. The service centers that really took advantage of these opportunities ended up inspiring other centers to step up their content strategy as well. Overall there's been consistent and measurable gains towards the original objectives.
Subscribe to our blog to get the latest post delivered to your inbox weekly.
Stay connected with Antenna. Follow @Antenna for our take on marketing trends, corporate culture, and current events.
ABOUT ANTENNA
Antenna is a leader in delivering top marketing professionals to corporations of all sizes for project-based consulting, interim leadership assignments, and contract staffing engagements. With headquarters in Minneapolis, Antenna draws from its private community of experienced marketing talent to help clients balance the flexibility and expertise modern marketing organizations demand.