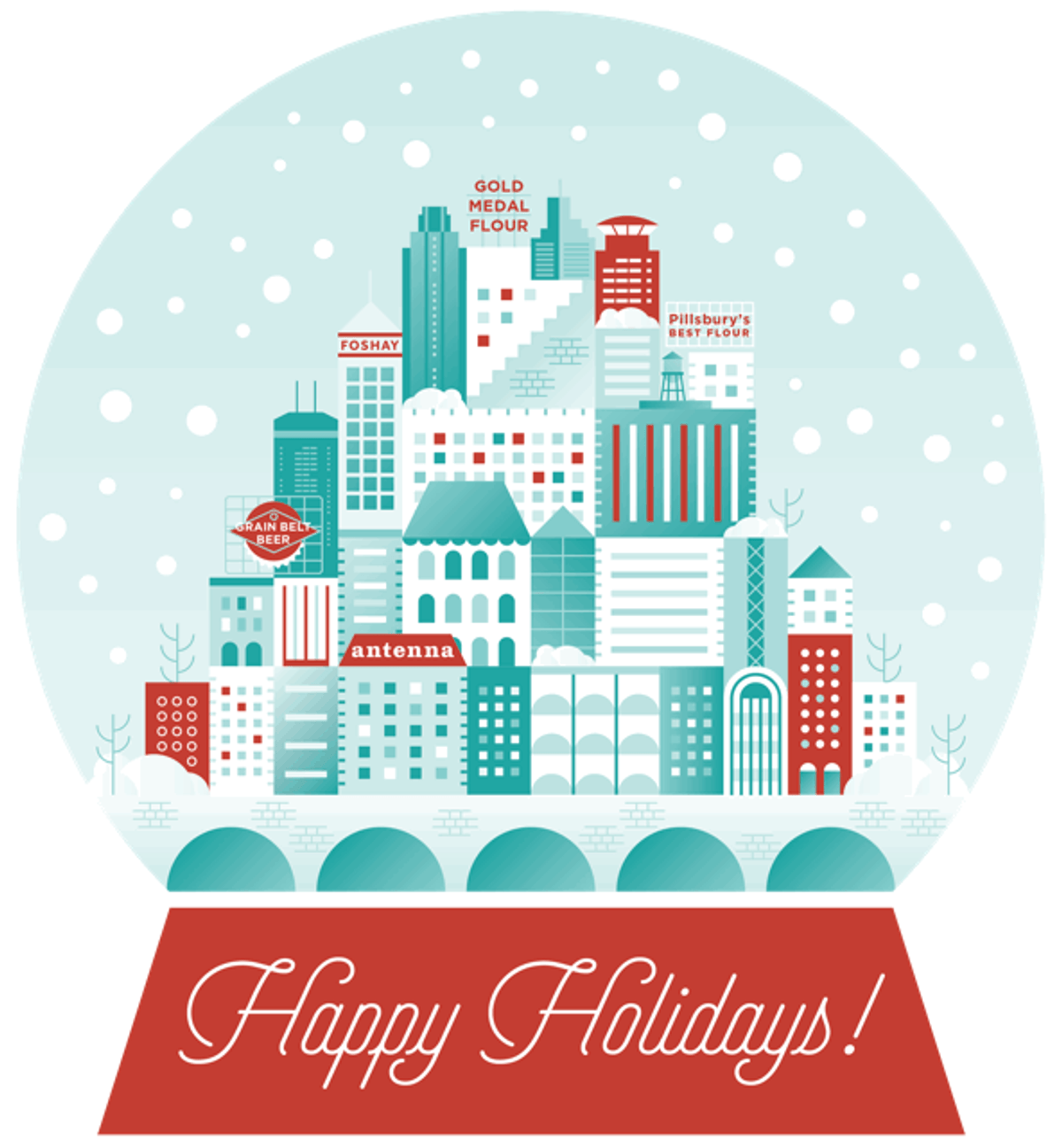 Happy Holidays from Antenna
In the flurry of this holiday season, we want to pause and say how grateful we are for you.
It's been a great year at Antenna, and that would not have happened without your enthusiasm and support. At the start of the year we began our Way We Work lecture series in partnership with the University of Minnesota's Carlson School of Management and have had four incredible experts share their insights on the future of work with the Twin Cities business community. We also launched Indypendently, an online destination for independent workers of every stripe, to find inspiration, resources, and advice on how to succeed solo.
Lastly, while we were so pleased to be named to many of the industry-leading fastest growing companies and best of business lists, the award we're most proud of is the 2018 Community Impact Award. We're so grateful for our consultants and clients that have helped our Good Works program donate almost half a million meals through Second Harvest Heartland. That's enough to feed twenty families, in each and every Minnesota country, for the entire month of December. That's a lot of Good Work!
We've been able to expand our reach and work with some new great clients in 2017. We love helping businesses work with top consultants, and helping new companies utilize on-demand resources for the first time. Shout out to our great business development team for establishing these relationships and bringing new opportunities to our community of marketers.
We wouldn't be able to serve all our clients without our amazing team of consultants. We continue to be grateful for the incredible talent that comes to us, and are tremendously proud of the work our consultants do every day. They are the heart of what we do, and we couldn't be happier to work with each of them.
We've got some exciting things on the horizon in 2019, but we'll leave you in suspense for a little bit longer. Suffice it to say, we're grateful for a wonderful 2018 and very much looking forward to where our incredible team, clients, and consultants are headed in the new year ahead. Wishing all of you a very happy holidays, from all of us here at Antenna!
Stay connected with Antenna. Follow @Antenna for our take on marketing trends, corporate culture, and current events.
ABOUT ANTENNA
Antenna is a leader in delivering top marketing professionals to corporations of all sizes for project-based consulting, interim leadership assignments, and contract staffing engagements. With headquarters in Minneapolis, Antenna draws from its private community of experienced marketing talent to help clients balance the flexibility and expertise modern marketing organizations demand.