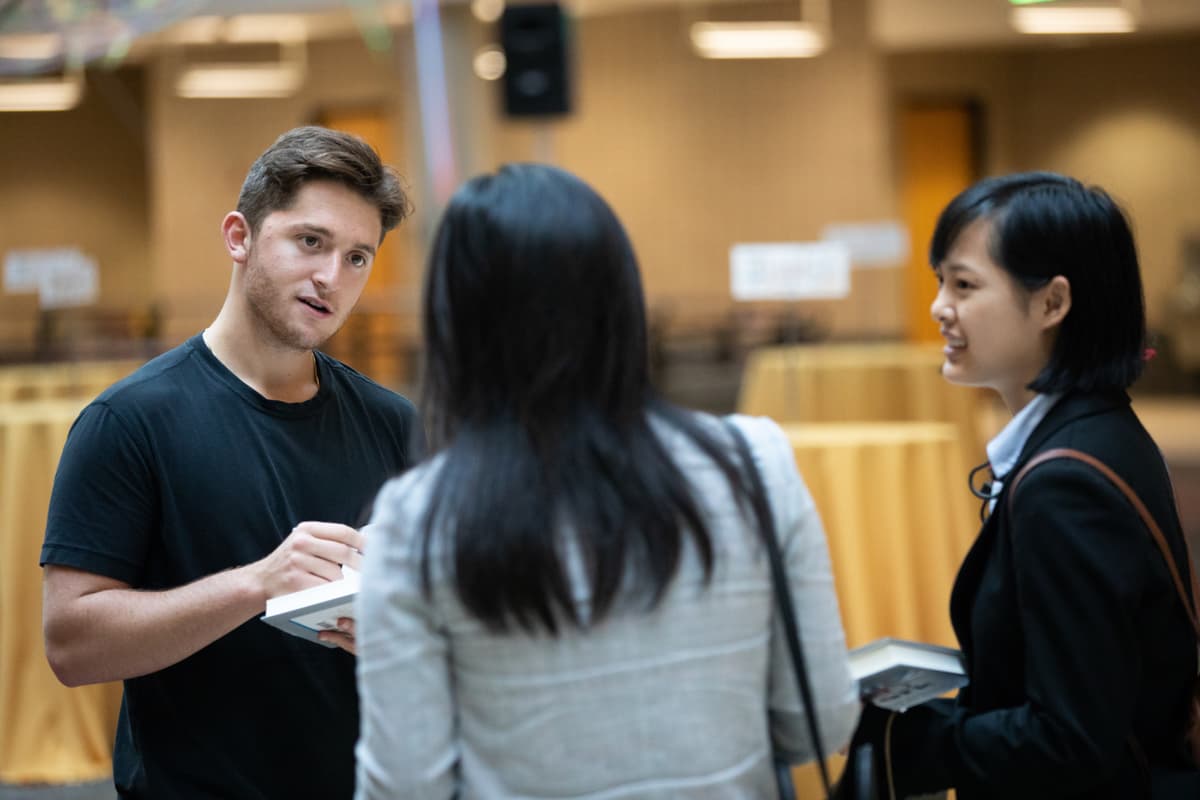 Gen Z @ Work
By Brendon Schrader
Jonah Stillman, generational expert and Gen Z'er himself, shared his perspective and research about the rising ranks of Gen Z during the latest The Way We Work lecture series, presented by Antenna and the University of Minnesota Carlson School of Management. Are you ready for the next generation?
Let's Get Phigital
This term is one that came out of Stillman's research (in partnership with his father) and really talks about the confluence of the physical world and the digital world. For Gen Z, there really isn't a difference – the lines are not blurred, but completely eliminated. Stillman illustrated this with a story about himself: "My dad and I had a really important meeting with a C-suite executive at a very large company. My dad confirmed the date and time of the meeting and I told him, 'Yeah, I'll be there don't worry.' The day of the meeting, my dad gets there and our client greets him: 'That son of yours sure is charming!' He walks down the hall into an empty conference room and asks, 'Where's Jonah?' and she says, 'Oh, he is joining us via Skype.' My dad was so mad!" For Stillman's father, "being at" a meeting meant physically being onsite, whereas to Stillman, he was still there face to face – except one of the faces was digital. To Gen Z, "we genuinely don't see a difference" between attending a meeting and Skyping in. "We've always had FaceTime," says Stillman, "so why can't I just FaceTime in?"
In terms of the workplace, Gen Z doesn't understand the concept of working remotely. As long as they're plugged in, it counts. Stillman's advice for those who are used to seeing and overseeing every step of work and workers: "Judge the result, not the process." This is the first truly digital native generation and may do things differently than managers are used to. By making expectations clear (like which meetings need to be physically in-person), and focusing on the results, Gen Z'ers can build their own phigital experiences and processes that work for them.
Playing the Long Game
"Loyalty is back on the table," says Stillman. 61% of Gen Z'ers said they'd stay at a company for ten years. This is a generation that came up right in the middle of the Great Recession, and saw their families struggling to make ends meet. Whereas millennials grew up during a booming economy and told they could do or be anything they wanted, Gen Z'ers have a "much more realistic" view of what they expect out of a career. Rather than focusing on meaning and mission (which scores at the top of what millennials are looking for work), for Gen Z is comes down to money. "I have to be able to survive," explains Stillman. Meaning is still a factor, but it ranks among other things like Opportunity. Gen Z'ers want to know that they are progressing, climbing, and being respected at work as well. This generation is going to live past 100, and going to be able to work for a long time. "Staying at a company for ten years, for this generation, is a long time but not a lifetime, given how long they're going to be working."
Custom Everything
"We customize everything, and get customization back at us," explained Stillman. From their personal brand online and profile picture to the shoes they're ordering from Nike, this generation has been able to personalize everything. 22% of Gen Z'ers even wrote their own majors in undergrad. The next thing they want customized? Job descriptions. "When I work, where I work, and what I get to work on" are all up for negotiation according to Gen Z. This might mean a portfolio career all at the same company – a job that's part-time HR and part-time graphic design. Jumping in on stretch assignments or having a side-hustle in-house. "You'll have the most loyal employee possible because they won't burn out on any aspect of their work."
What do you mean, unplug?
"We 100% struggle to unplug. This device is part of who I am." Stillman talked about the perpetual FOMO that is part and parcel of Gen Z. There are high levels of diagnosable anxiety for Gen Z when they are disconnected. This is a generation that was raised with nearly unlimited technology, but they don't know how to be bored. "There's always something coming at you," says Stillman, "but it's hard to see that as being the driver of what's causing anxiety." It's challenging for Gen Z'ers to self-regulate and force themselves to take a break. Stillman talked about a situation at the Google headquarters that illustrated this: Google has one of the youngest average employee ages for a company, which means they employ a lot of Gen Z'ers. They also notoriously offer 15% of unstructured time every day – hoping that employees use this time to unplug, ruminate, go for a walk, collaborate and brainstorm with others, etc. "What they heard from young employees was that they struggled with this time! They saw it as frightening," reports Stillman. But these kind of enforced breaks and strict rules are exactly what Gen Z needs to begin to break these habits, says Stillman.
Thanks to all who were able to join us for this great event. Still want to know more? Check out Stillman's book Gen Z @ Work, and be sure to save the date for our next The Way We Work session happening December 7, 2018.
Subscribe to our blog to get the latest post delivered to your inbox weekly.
Stay connected with Antenna. Follow @Antenna for our take on marketing trends, corporate culture, and current events.
ABOUT ANTENNA
Antenna is a leader in delivering top marketing professionals to corporations of all sizes for project-based consulting, interim leadership assignments, and contract staffing engagements. With headquarters in Minneapolis, Antenna draws from its private community of experienced marketing talent to help clients balance the flexibility and expertise modern marketing organizations demand.