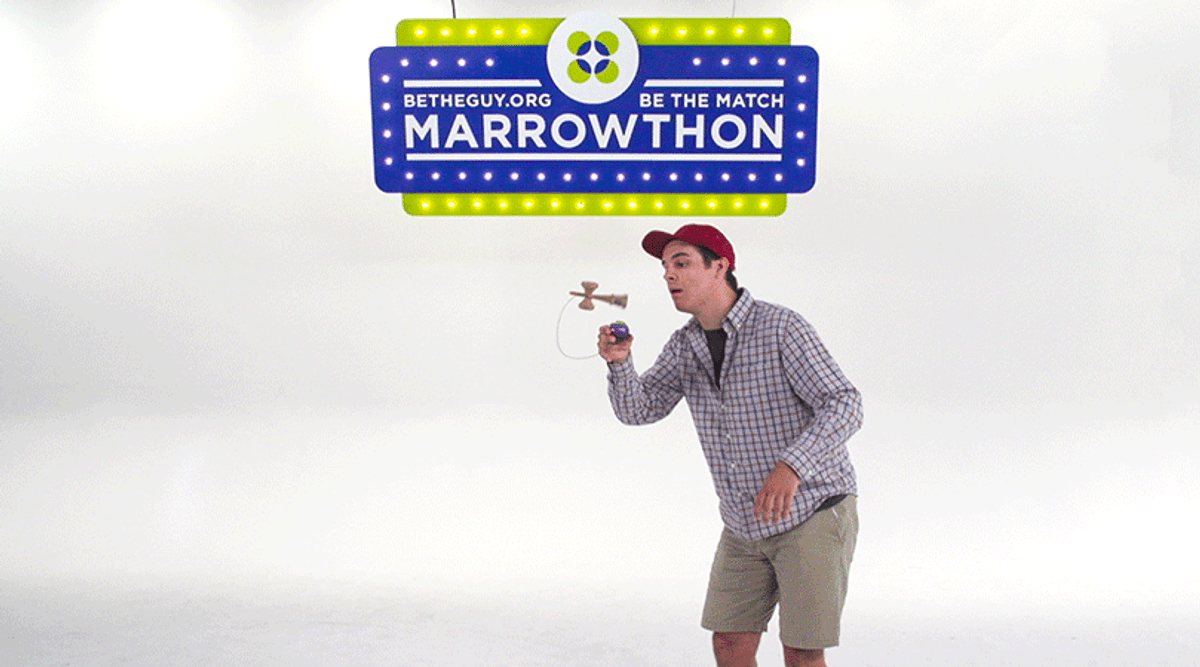 Facebook Live and Making New Traditions: MIMA Coffee + Case Studies
Antenna is pleased to partner with Minnesota Interactive Marketing Association to host their Coffee + Case Studies at our North Loop offices. These presentations included wisdom from Be The Match's telethon, and new traditions for the Minnesota Wild hockey team.
Be The Match
The goal:
Signing up for the bone marrow donor registry is very easy. It only takes about ten minutes, and anyone can do it. The best donors are men ages 18-24, but can be up to 35 years old. Be The Match wanted to run a creative and engaging campaign to get more donors into their database, so they partnered with space150 to try something a bit out of the box: an old-school telethon on the newest platform, Facebook live.
The event:
space150 designed an event to cover 3 days, with 4 hours a day of programming. (This is the limit for a single Facebook live event, so they built it into their strategy.) They had a timely CTA and a low barrier to participation. Since signing up only takes ten minutes, they had men in the target donor range perform any kind of skill, trick, or task, for ten minutes at a time, encouraging other guys just like them to take those ten minutes and become a registered donor. For Be The Guy talent, they used men on staff at Be The Match and space150, and recruited friends, actors around town, and even celebrities to fill a timeslot! Luckily, Be The Match already had budgeted money for a campaign and was up for trying something new. Facebook also promises great targeting power, since they knew exactly who they were trying to reach.
The result:
Other marketing efforts were averaging about a 0.3% conversion rate, so Be The Match was impressed with the 12.9% rate they got with the Be The Guy telethon! While they didn't hit their total goal for sign-ups, they were thrilled about their results. Not only did they get this rush of sign-ups, but Be The Match now has hours and hours of content that can be packaged and repackaged into video and print ads, plus the great comments on their feed from guys who registered than can become promotional copy. The content library this one event created is invaluable.
If you're thinking about Facebook live, space150 highly recommends it, and learned a few things along the way. For example, do not go over the four hour limit. Facebook will kick you off! Also, insert pre-packaged content whenever possible to give yourself a bit of a breather. They used software to help with the behind-the-scenes production that made it easy to splice in pre-recorded material, like their celeb influencers, which made a big difference during the live event. And speaking of influencers – while it was great to have that material ahead of time, space150 agrees it would've been more powerful to have them there live and promoting it via their social media channels on set. Because of the quick turnaround and tight budget, that wasn't an option for them with this event, but can be a powerful tool for promotion with the right lead time.
Minnesota Wild Hockey
The goals:
Despite being the professional team in the "State of Hockey," the Minnesota Wild knows that people aren't fans because they're the winningest team in the league. The team hoped to engage a broader audience and create more demand for early season games. In the past, they had focused on team or player storylines, but since the roster can change from season to season, that's hard to count on. They also needed a way to get people thinking about hockey before there's ice and snow.
The Culture Cure:
Hockey love runs deep in Minnesota, and is at all levels. Many people will tell you about the backyard pond where they learned to skate, or the lake they played on every winter when it froze. The team decided it was time for a new tradition. Rather than get folks in the door with a new promotion or campaign, they sought to build loyalty and connection into the heart of the organization. And Olson delivered.
The Our Ice program was announced at the Minnesota State Fair – another beloved Minnesotan institution filled with tradition, nostalgia, and a great mix of people from around the state. The Wild distributed small collection bottles at the fair, and told the fans, "We need your help." Bottles were also sent along with the season tickets in the mail. Fans were encouraged to bring in water from their favorite spot in Minnesota and have it become part of the ice that the Wild skate on for every game. There was a massive collection day early in the fall, and the turnout was incredible! People told moving stories about dedicating their water to friends they had played with or family members that had instilled a love of the game.
In collecting this water, they were able to collect stories and great info about their community, making a map of all the places the water had come from. They went a step further to set up a water collection site at the stadium, so fans could contribute at any game they attended. They also started a tradition of having the game begin with someone pouring their water onto the ice before the first puck even drops. The team has gotten really into is and plans to continue, weaving it in to the fabric of the club.
The results:
Focusing on community really works. People loved being part of something larger, and really got into it! There were even unboxing videos on YouTube of season ticket holders displaying their collection bottles.
They also learned that it's important to include outstate residents, and have collection available at all games, since many people only come to the city for the game they're attending. It's fun to have the big events and collection days, but keeping that participation accessible has been key. It's incredibly rewarding to have real engagement – people love feeling included, and part of the larger story in a real way.
The last thing they learned – call the DNR if you're going to start messing with all the waterways in the state and possibly cross-contaminating bodies. That being said, they advise: "stay scrappy." Move fast and ask permission later. There will always be 'proper channels' to move through, but don't let the bureaucratic hoops get in the way of a great new idea.
Subscribe to our blog to get the latest post delivered to your inbox weekly.
Stay connected with Antenna. Follow @Antenna for our take on marketing trends, corporate culture, and current events.
ABOUT ANTENNA
Antenna is a leader in delivering top marketing professionals to corporations of all sizes for project-based consulting, interim leadership assignments, and contract staffing engagements. With headquarters in Minneapolis, Antenna draws from its private community of experienced marketing talent to help clients balance the flexibility and expertise modern marketing organizations demand.