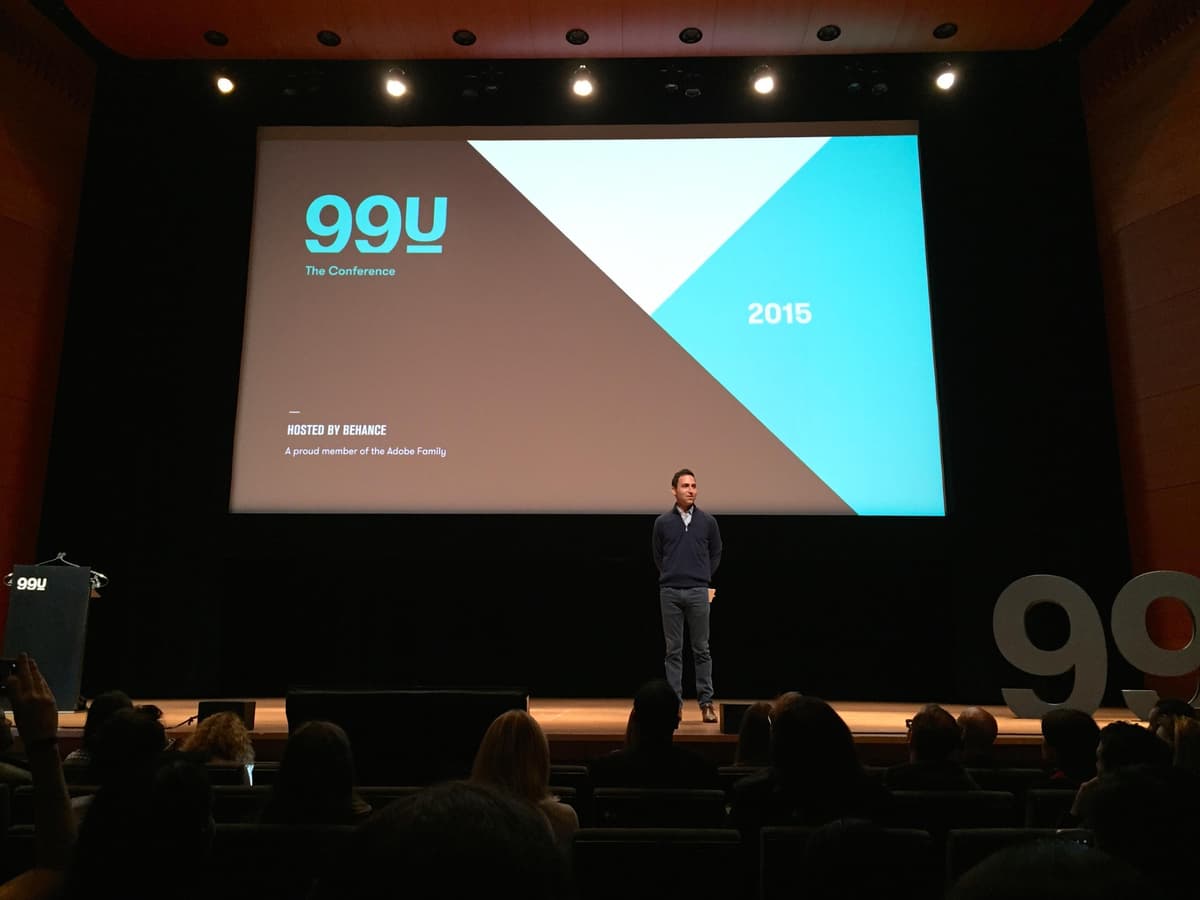 Evolve and Connect: Lessons from the 99U Conference
By Brendon Schrader
Inspiration is nothing without actionable ideas. Fortunately, both were in high supply at the 99U Conference I attended this May. The goal of this conference is to shift the focus of entrepreneurs, designers, artists from idea generation to idea execution. Originally started by Behance co-founder Scott Belsky, the conference brings together some of the world's most productive creative visionaries and leading researchers to share insights on how ideas are brought to life.

I was looking for insights that would help shape me as a leader and help accelerate our teams at Antenna. I wasn't disappointed.

Here are some of the big ideas that hit home for me.
Leaders Must Evolve to Succeed
Company founders often have challenges evolving as their organizations scale. As the original founder of Seer Interactive, Wil Reynolds shared how it's critical for company founders to evolve their leadership style if there is any hope of building a team, developing new leaders and scaling the business. Reynolds gained valuable insights into his strengths and limitations by swapping jobs with Moz CEO Rand Fishkin for a week. Each gained a valuable new perspective by doing the other's job and learned about themselves in the process.
Reynolds also talked the concept of focusing on outcomes rather than outputs. It's a great point and one I think is relevant to anyone building a business or simply setting personal goals. It can be easy to get lost in checklists and end points. Instead, focus on the macro effects your actions have. Are you celebrating an account you won? Or instead, are you celebrating the broader vision and impact of your company's mission and its impact on people and clients?
Keep Your Focus on People
Mindfulness Everywhere's Rohan Gunatillake led an inspiring session about conquering fear in entrepreneurship. Like Reynolds, Gunatillake talked about how it's all too easy to lose perspective when you're running a new business, especially when you're trying to scale up. Focusing on sales targets and financial metrics can make you lose sight of the one thing you should be prioritizing: People.
People, after all, are the ones who buy our goods and services, but it's also people who we work for and with, and who we engage to make growth happen. Gunatillake asked us to consider what would happen if we put human metrics -- employee well-being and development goals of each team member, for example -- on a white board with the same way we track and celebrate sales numbers. And most importantly, consider the human impact your product or service may have on individuals. Gunatillake shared a powerful example of an email he received from a user of his firm's new product.
At Antenna, our people are everything. We spend a lot of time and energy training and supporting our employees, consultants and our private marketing community. If our people are happy, energized and engaged, our business does well, too. And for us, that's what it's all about.
Make Connections
Heidi Grant Halvorson, author of "No One Understands You and What To Do About It," talked about why communication and collaboration can be so difficult -- and explained why they don't have to be. My favorite takeaway from her talk: If you want to get powerful people to notice you, don't just reach out and tell them how awesome you are. Show them how you can help them reach their goals. This is a great lesson for anyone in business.
Here are a few additional tips to consider as you engage others:
Be mindful of your trust lens. To be viewed as trustworthy, you must project competence and warmth. Don't over think this. Simply maintain eye contact when people are talking to you, smile, nod, listen and be affirming.
Be friendly, not just smart. Confidence doesn't mean you have all the answers. It's about actively listening to others and fostering trust by making a human connection.
Success isn't a threat. True collaboration means thinking about the team, not the individual. Halvorson gave the example of Serena and Venus Williams: They do the same work and sometimes even compete against each other, but support each other against outside threats.
Don't Fear Stress
We're often focused on negative stress, says author and Stanford professor Kelly McGonigal, but choosing to see stress as a positive can be empowering. She recommends looking at stress as an opportunity for growth rather than something to avoid or dread. Instead of feeling stress as signal something's wrong, use it as a signal something big is at stake. "The best way to manage stress isn't to reduce or avoid it, but rather to rethink and even embrace it."
McGonigal is well known for her Ted Talk on this same topic, which can be found below. Take a few minutes and check it out.
Over the course of three days, a series of 16 main stage talks, studio sessions and deep dive, breakout master sessions provided real world, pragmatic insights on how to create action. I highly recommend this conference to anyone looking to make their ideas a reality.
Follow @Antenna for our take on marketing reads and events.
ABOUT ANTENNA
Antenna is a leader in delivering top marketing professionals to corporations of all sizes for project-based consulting, interim leadership assignments and contact staffing engagements. With headquarters in Minneapolis, Antenna draws from its private community of experienced marketing talent to help clients balance the flexibility and expertise modern marketing organizations demand. Contact Antenna for a free 30-minute consultation to discuss your marketing and resource challenges.