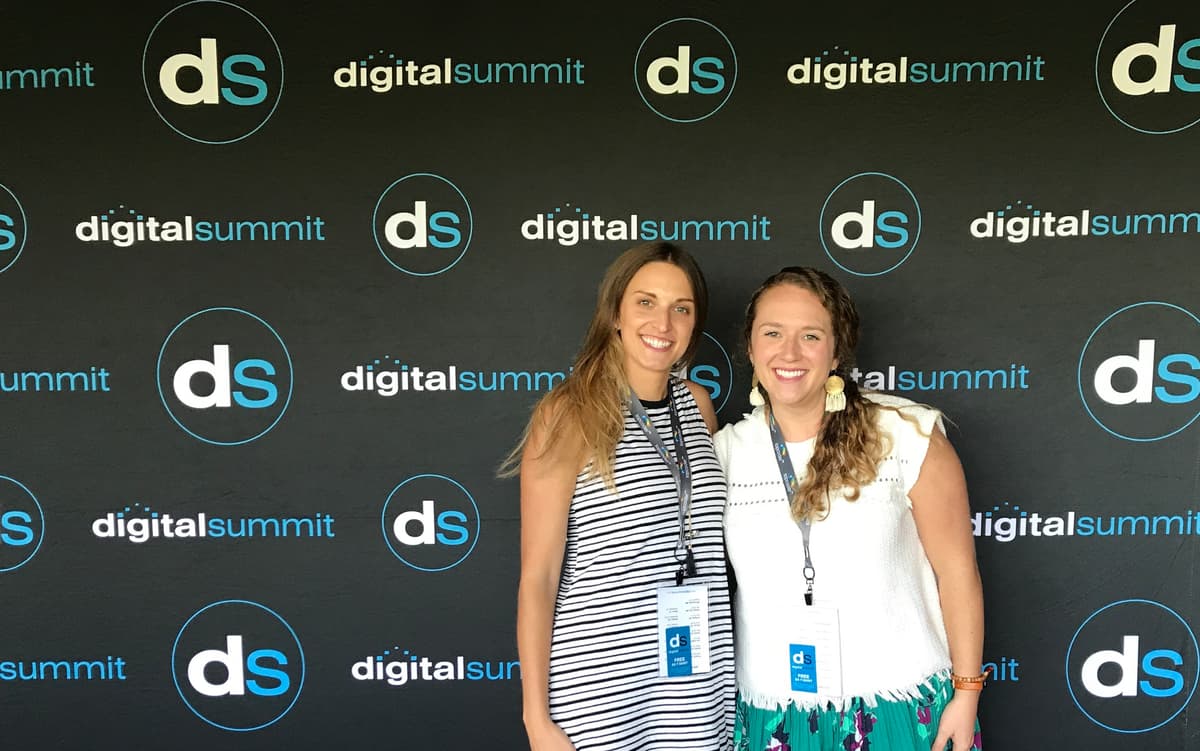 Top Takeaways from Digital Summit
"Digital Summit is where inspiration and ideas are born." A conference hosted in 14 cities across the county, Digital Summit is a high-energy event bringing the best thought leaders to local stages to inspire and inform professionals across a range of industries. "Not only a place for keeping up with the trends, but also for being an active player in their creation". The Minneapolis gathering touted Seth Godin as the Keynote speaker, and featured Neal Patel from Amazon, Gabe Tartaglia from Pandora, Mina Seetharaman from The Economist, and many others, including local leaders from Thomson Reuters, Brave New Media, and 3M.
Erin Hoolihan Korman and Melina Rossbach, from the Antenna Client and Talent teams respectively, were in attendance and brought back everything you need to know:
Highlight: Seth Godin Keynote
Who doesn't know and love Seth Godin? But how many get to see him and hear what he's thinking about right this minute? He gave a few key insights for modern marketers:
Smallest Possible Audience
Marketing is changing and you need to get on board, or get left behind. "You're not going to get more than your fair share of attention by yelling." So many marketers make the mistake of trying to be louder and reach as many people as possible. Godin recommends something completely counter to this: find the smallest audience possible. Rather than trying to be all things to all people, or trying to get everyone's attention, concentrate your energy and concentrate your audience. Your smallest possible audience is likely to be the most engaged audience your brand wants. "As we digitize so many things it's a race to zero. To be the one and only is priceless."
Seven Marketing Words to Live By in 2017
"People like us do things like this." In order to get to your smallest possible audience, you need to deeply understand your people, understand who you're trying to reach and understand how they think. Empathy seems to be a trend all over the place, but it's especially salient in marketing. If you aren't the target customer for your product or service, it is that much more important to put yourself in your customers' shoes. Maybe coupons are vital to your CPG marketing, but you don't use them in your week-to-week shopping. Can you put yourself in the coupon-user's shoes? To be successful in reaching your audience, you have to be able to confidently say, "people like us do things like this.
Tools Can't Be The Answer
Many companies have the same tools. Tools will not and cannot be the answer to your marketing challenges. The differentiation is in who they're for and what they're for. How are you using the tools? Who are you reaching? What are you offering? Technology and the latest tools can be seductive, but they won't make you stand out unless you do something great with them!
Email
You can't expect to get through a digital marketing conference without a lot of love for email! We all know that email marketing is incredibly effective, but two major trends are rising to the top:
Mobile
Savvy marketers need to be thinking mobile-first. By the end of 2017, 75% of all internet interaction will be on mobile, and email open rate on mobile has increased 180% in the last three years. Whether it's landing pages, lead-gen opportunities, or your regular email communications, make sure that you're considering (and optimizing) your content for the mobile spread and scale.
Segmentation
Segmented emails yield 750% increase in engagement. We've gotten to the point where customers expect personalization. It's crucial to use data to make sure you're reaching the right people at the right time with the right message. Sales, conversion, engagement, and lead generation increase significantly when content and messaging is personalized, so don't be afraid to make the most of what you know about your audience.
For more effective segmentation, you need better metrics. Are you asking the right questions to get the right data? Your marketing should be data informed, not data driven, and it takes smart, thoughtful people to ensure that you're capturing the relevant data, and interpreting and responding appropriately. Artificial Intelligence can help you sort through the mountains of information you receive, but will always have to work with and alongside human strategists to truly be effective.
Content
Content may be king but quality is queen. The market is so polluted with content, you have to continually earn (and keep!) the trust of your audience by offering true value.
Focus on Quality
The time is past for churning out low-quality content for content's sake. To stand out and stay connected, be sure that what you are putting out is relevant, meaningful, and valuable. Focus on helping your audience become more knowledgeable – social shares and time spent with content are more valuable than impressions, reach, and traffic.
Never underestimate the power of storytelling. So much of marketing used to follow the same pattern: There's a problem, the customer realizes the gap, and the product offers a solution. Shawn Pfunder of GoDaddy recommends a different narrative: Going along in life, something happens, things are different now, and the customer is the hero. Smart marketers need to be telling better stories with people at the center of them.
Social Strategy
When it comes to social media, be sure to tailor your message based on the channel and audience you expect to reach. Twitter and Facebook are very different platforms, and you need unique strategies to make the most of either one. Content should look different across channels, but ultimately, all work together.
"Smart companies don't follow conversations, they lead them," said Ann Handley of MarketingProfs. Branded hashtags, thought leadership, and pieces that go beyond current thinking will help you stand out. Rather than jumping on a bandwagon or simply responding to the latest trend, experts agree that the companies who truly stand out are those that start and lead the conversation.
Subscribe to our blog to get the latest post delivered to your inbox weekly.
Stay connected with Antenna. Follow @Antenna for our take on marketing trends, corporate culture, and current events.
ABOUT ANTENNA
Antenna is a leader in delivering top marketing professionals to corporations of all sizes for project-based consulting, interim leadership assignments, and contract staffing engagements. With headquarters in Minneapolis, Antenna draws from its private community of experienced marketing talent to help clients balance the flexibility and expertise modern marketing organizations demand.