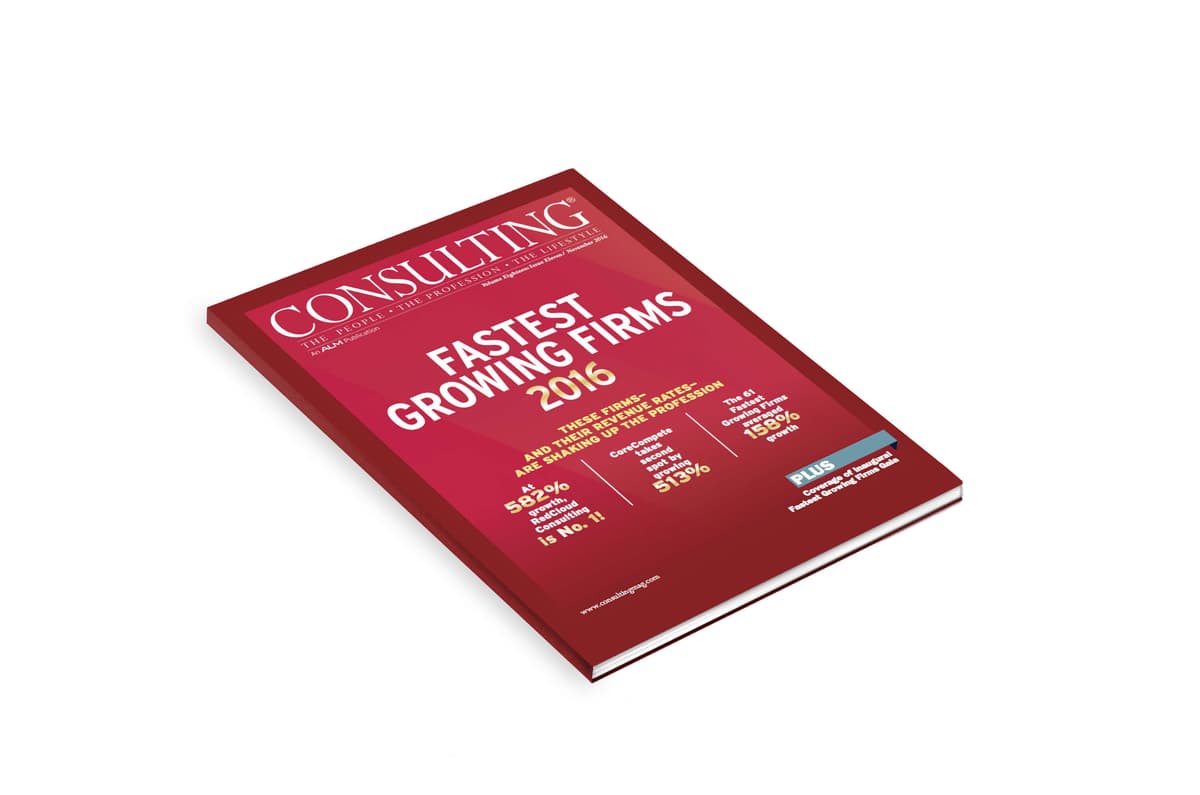 Consulting Magazine Unveils the Profession's Fastest Growing Firms
Consulting Magazine released its annual ranking of the consulting industry's Fastest Growing Firms—a celebration of the industry's top movers and shakers in terms of revenue growth. Antenna has made the list as the profession's No. 19 ranked firm over a three-year period.
"With off-the-charts growth, there's absolutely no doubt these consulting firms are shaking up the industry from the bottom up—they are the profession's Fastest Growing Firms for 2016," says Joseph Kornik, Publisher & Editor-in-Chief of Consulting magazine. "This recognition and award is aimed squarely at these up-and-comers that all too often fly below the radar because they typically aren't the largest and best known consultancies. We want to bring these fast-growing firms to the forefront. These firms are the future."
This year, 61 firms qualified for the ranking, which requires a minimum growth rate of 20 percent to be eligible. The Fastest Growing Firms were unveiled and formally recognized at Consulting magazine's inaugural Fastest Growing Firms award dinner October 13th at the Roosevelt Hotel in New York City. The Fastest Growing Firms will also be featured on consultingmag.com, as well as in the November issue of Consulting magazine.
"Being named to Consulting Magazine's Fastest Growing Firms is an incredible honor," says Brendon Schrader, Founder & CEO of Antenna. "I believe this recognition is a testament to the hard work all of our consultants do every day with our clients. Our talent is the everyday face of our brand and the growth we've achieved is a direct reflection of the collective work of all the great people we have here at Antenna."
Click here to read the full feature.
About Consulting Magazine
Consulting® magazine is the flagship publication of the consulting profession featuring the latest information on consulting careers, thought leadership and corporate strategies. In addition to providing industry insights, Consulting® hosts award dinners as part of their Achievement Awards series – honoring Women Leaders in Consulting, The Top 25 Consultants, Social & Community Investment and Rising Stars of the Profession.
About Antenna
Antenna is a leader in delivering top marketing professionals to corporations of all sizes for project-based consulting, interim leadership assignments and contract staffing engagements. With headquarters in Minneapolis, Antenna draws from its private community of experienced marketing talent to help clients balance the flexibility and expertise that modern marketing organizations demand.