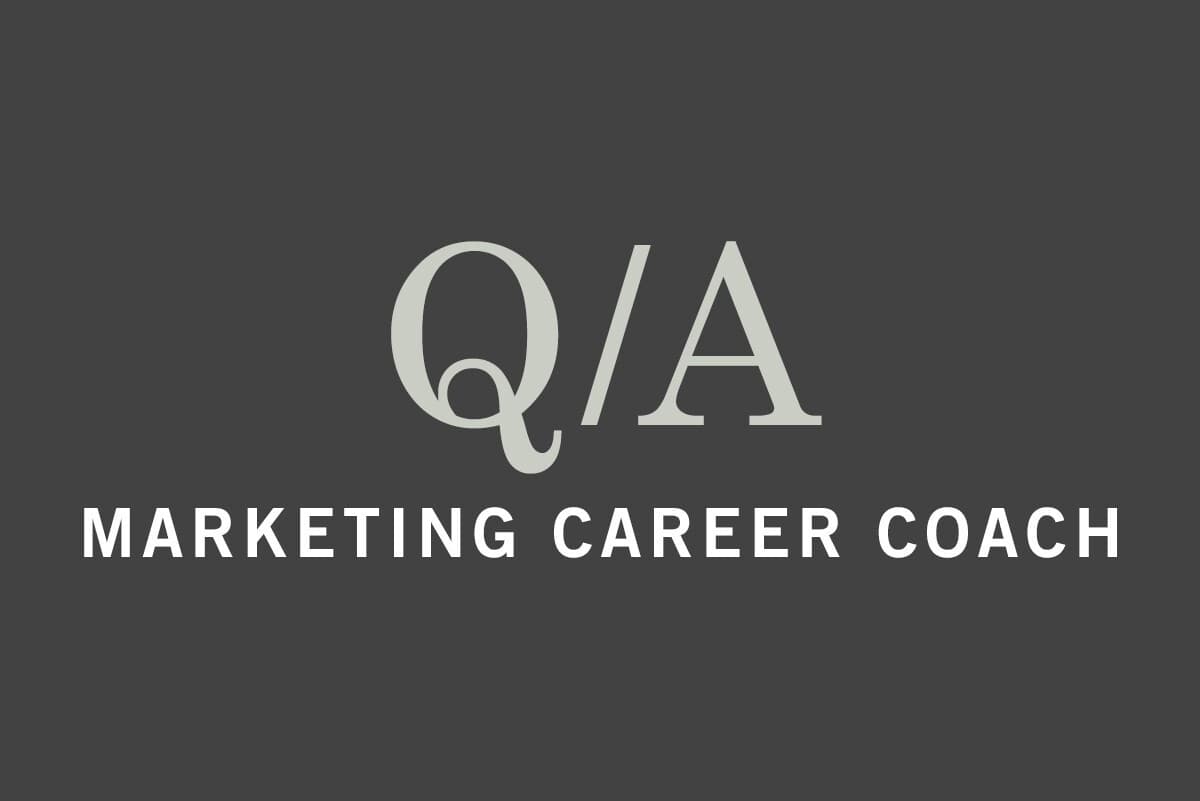 Ask the Marketing Career Coach: Work-Life Balance
In our new series, certified coach and mono Director of Talent Julie Vessel is answering your questions about finding, keeping and loving your dream marketing job. A career strategist and architect, Julie has more than 20 years of experience helping Fortune 500 companies find their truth, position themselves and get their story into the world. Read her advice on starting a new job for success and rethinking your annual review.
Q: I'm really struggling with my work-life balance right now. As a working mom, I feel like I'm constantly neglecting some part of my life. I see other working moms who seem to do it all. How do they do it?

A: We all know people who seem to have it all figured out. How does she do it? How can we get what they have? Despite the perfectly stress-free life we see, here's the honest answer to the question, "How does she do it all?"
She doesn't.

The myth of work-life balance is that there is a perfect balance we can attain or maintain. Work-life balance is not about creating a 50-50 balance between work and home. If you've ever had a sick child or a whirlwind business trip, you know that 50-50 balance is impossible to maintain. Our lives are dynamic and ever-changing, and our work-life balance has to be dynamic too. The right balance for you today may not be the right balance for you tomorrow or next week or next month, because over time your life and your priorities change.

To truly create more balance, we each need an approach as unique and dynamic as we are. Here are three principles to help you achieve more balance in your life and work.

You can have it all — just not all at once.
Finding balance in your life isn't about doing it all, all of the time. Rather, it's about defining and prioritizing what's most important to you at this present moment in your life. It's all about tradeoffs.
Start by deciding which areas of your life you want to focus on right now. Recognize the tradeoffs, too — the areas of your life you're comfortable putting in second or third place in order to focus on what's important. There will be times you choose to focus on a promising work project knowing it will dig into family time. There will be other times you choose to focus on family and slow down at work. It's okay to choose one over the other at the right times in our lives. It's about what is most important to you at this present moment. And the great thing is, you get to change your mind, and your priorities, as your life evolves and unfolds.

Too often, we listen and are swayed by outside voices telling us what we "should do" versus listening to our own truth. Ultimately, it's about what you want, not what they want. So, what's really important to you right now? Be honest. Remember, the only right answer is the answer that is true to what you want.
What's most important to my life right now?
What's less important to my life right now?
What would I like to make more of a priority?
What am I willing to make less of a priority?
Reclaim the choices you make every day.
To me, the biggest driver of work-life dissatisfaction is feeling like you don't have choices or control in your work. Feelings of "rat race" and "daily grind" happen when employees feel they "have to" work nights and weekends or they "have to" stay late at the office. When our life is at its most hectic, we often feel like things are happening to us. Despair, guilt and negativity creep quickly into our lives when we feel we have no choice about what we do or how we do it.
Work-life balance is often some far-away concept we aspire to create. But I believe our lives, and our work-life satisfaction, is really the sum of our daily choices. Yes, there may be some things in our lives we have less choice about – like which project we're working on or what the deadline is. But we can control how we choose to attack the project or the deadline. You may choose to bring your work home or stay late at work. You may choose to stay late at work, but squeeze in a run at lunchtime. While what you're doing may be predetermined, it's up to you to decide how you'll get it done.
There are a million choices we make each and every day. Many of them we make unconsciously, or based on the routines of our everyday life. But look closely and cherish the fact that every day, we have amazing opportunities to choose and take control of the course of our day and life.
Choose how you're going to start your day.
Choose the first thing you're going to do when you get to your desk.
Choose to avoid people who will bring you down throughout your day.
Choose how you're going to enjoy your lunch hour.
Choose when you'll take a 5-minute break.
Choose how you'll end your day.
We find satisfaction when we feel we're making choices that are aligned with our values and priorities. So, reclaim your daily choices and choose wisely.

Don't keep your ideas to yourself.
When asked, most people know specific changes that would improve their work-life balance: flexible work hours, additional time off or working from home. But many people assume their office culture will never change, or there's no chance of getting what they want. They keep their ideas to themselves, and never really ask for what they truly want.

If you never ask, the answer is always no. It's important to ask, and talk about, what's important in your life. Don't hide it and don't expect others to guess what makes you feel balanced and fulfilled.
Do you need to leave work at 5 p.m. so you can have dinner with your family? Do you need to step away at lunch to attend a yoga class? Whatever your priorities are, make them clear to others. It's important for you and your manager to have an open and honest dialogue about what truly matters to you. And because every job is different, it's important for you and your manager to work together on identifying scenarios to make things possible.

Sometimes, it takes a village just to leave work early. Sharing your intentions more broadly with your colleagues also increases your chances of making it happen. Keeping your plans to yourself is a recipe for a last-minute, unexpected plan killer. So let your team know, and let them know why it's important to you. Putting it out there sets expectations and helps you and your team plan around your needs. You might even start a dialogue that unearths obstacles to your plan that you can work out ahead of time. Especially in collaborative environments, it's about communicating and helping each other make things happen.

My final piece of advice: Life doesn't usually change overnight. Life changes through little everyday tweaks. If you want to make a change, start small. Find a tweak or a shift to make your work and life work better for you. Maybe it's waking up 15 minutes earlier to regain control over your mornings. Maybe it's setting up a meeting with your manager to discuss your schedule. Start small, focus on what's most important to you, and reclaim the choices you control every day.
Do you have a question for our marketing career coach? If so, email us your question in the "connect" section of our website. Please put Marketing Career Question in the subject line.
ABOUT ANTENNA

Antenna is a leader in delivering top marketing professionals to corporations of all sizes for project-based consulting, interim leadership assignments and contract staffing engagements. With headquarters in Minneapolis, Antenna draws from its private community of experienced marketing talent to help clients balance the flexibility and expertise modern marketing organizations demand. Contact Antenna for a free 30-minute consultation to discuss your marketing and resource challenges.