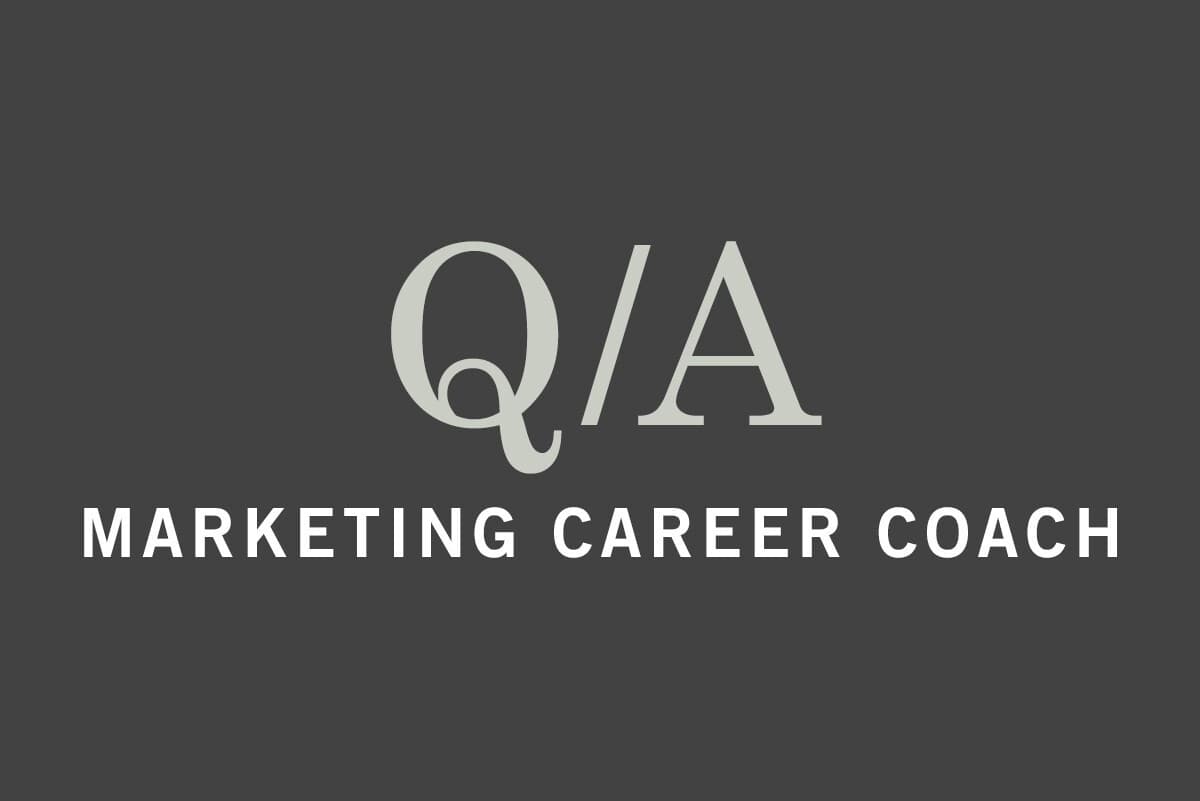 Ask the Marketing Career Coach: The Simple Trick to Setting the Right Goals
In this series, certified executive coach and mono Chief Talent Officer Julie Vessel is answering your questions about finding, keeping, and loving your dream marketing job. A career strategist and architect, Julie has more than 20 years of experience helping Fortune 500 companies find their truth, position themselves, and get their story into the world. Read her advice on starting a new job for success, rethinking your annual review, searching for work-life balance, overcoming your inner critic, taking control of your own learning, advancing your career, learning to love being a manager, how to manage work when your personal life takes priority, how to have a tough conversation with your manager, and how to stay positive in a negative work environment.

It's a new year, and you know what that means! The excitement (and sometimes, the pressure) to define you new year's resolutions. But maybe this year, you can keep it super simple. Simply resolve to make your 2019 work-life better than it was in 2018.
These past 365 days tell a colorful story about your body of work, your work experience, what you've accomplished and what's gotten in your way. Too often, we just keep moving forward on autopilot without taking advantage of the opportunity to learn from our past experiences.
One of the key differences between people who accomplish their goals and those that don't is their ability to pivot and adapt their plans - to double-down on the things that are going well; to face obstacles with action; and to adjust and evolve the plan as needed. It's so easy to just keep doing what we're doing. But reflection and recalibration can make a dramatic difference in seizing the work and life that you really, really want.
Take twenty minutes - set a timer, put it on your calendar, whatever it takes, to reflect on the year gone by. Not just to feel good about what you've done and conquered, but to look for learnings that will help you approach 2019 more thoughtfully and successfully.
Here are a few questions to consider:
What was your highest high of the year?
There's a lot to learn by looking at times when we've been at our best. Despite what we might think, these moments don't always happen by chance. By digging into the moments we felt supremely in our zone and/or successful, we can understand the conditions that create the perfect platform for you to shine. Name one or two moments where you felt completely and honestly at your best, doing something you love and were meant to do or be a part of.
What were you doing?
Who were you with?
What was the situation?
Think about and capture what this moment says about the situations you like to be in, the things you like to do, the role you like to play, and who you like to work with. With these learnings in hand, you are equipped to go in search of more opportunities that are custom-built for you to bring your best.
Why didn't that (project, presentation, etc.) go well?
More than just capturing the things that didn't go well in 2018, the true learning is in understanding the why behind each not-so-successful event or project. There are important lessons to be learned. Try to dig deeper to truly unpack why things unfolded the way they did. This is not about assigning blame, but an opportunity to understand what you could do better next time.
What worked that you'd absolutely do again without change? When things don't go well, it doesn't mean everything was a failure. It's important to identify the elements that were good and right.
What didn't work that you would never do again? It's important to identify the things to stop doing, avoid and/or let go of. The things that were damaging. The things that led directly to negative results.
What would you do again, but differently? What were the things that were ok, but could be better or improved. How can you take these things and turn them from ok to great?
Next time a similar project or experience rolls around, come back to these learnings and even talk them through with your team. Information in power when it comes to past lessons learned.
Who were your biggest champions and supporters?
Given our collaborative and team-oriented industry, most of our successes come with the support and contribution of others. Think about the people who played a part:
Who are the people who gave you a chance?
Who helped you out?
Who picked you up when you were down?
Who rolled up their sleeves and helped you get stuff done?
Don't underestimate the value of those who were there for you when you needed them most. Let them know that you appreciate what they've done for you. And as you look to 2019, these are the people you want to make time for and prioritize in order to strengthen your relationships even more.
How did you grow this past year?
If you are having trouble answering this question, then it's probably worth reminding you why it's important to learn and grow! There's been a lot written about the importance of a growth mindset, especially in leadership. Embracing a growth mindset means believing that learning and progress are both just as important as effort. People who embrace this look for chances to improve themselves, often through continual education. Thanks to the internet, webinars and online courses abound, there are more ways than ever to stretch yourself to learn and experience new things.
In what ways have you grown? Are you smarter, more informed, more skilled in some areas? Are there things you want to keep or start learning in 2019?
What kind of leader, partner, teammate were you?
How often do we talk about our colleagues and teammates, quick to point out the things that may annoy us or the ways in which they may disappoint us. But when is the last time you stopped to think about the type of teammate you are? It's important to reflect on how we show up for those around us.
Do you listen?
Do you get to know them as people?
Do you ask for their opinions?
Do you bring positive or negative energy to meetings?
How do you act in stressful situations?
The goal here is to think about the type of person you want to be and to assess if you are living those values. If you want to be an open, collaborative leader, then reflect on your actions and behaviors over the last year to make sure that you are living your values in your day-to-day interactions.
Did you use your talents fully?
One of my favorite sayings is: The purpose of life is to discover your gift.
The work of life is to develop it. The meaning of life is to give your gift away. There is no point in having gifts if you don't use them. There is no use in having a Lamborghini if you can only drive it in first gear.
What strengths and skills did you leverage most over the last year?
What strengths do you have that you didn't get to use as much over the last year?
If you're not sure, ask a few people you've worked with to share with you the top three strengths they saw you bring forward in 2018. Sometimes others can see our strengths more clearly than we can.
Whether you are in a leadership role, an aspiring leader, or you just want to be your best in work and life, the habit of reflection can help you establish and achieve more meaningful goals. Give yourself the gift of self-awareness before this year is officially behind us. Look for the learnings, and as you look to 2019, find ways to leverage your learnings to ensure that this year ahead is your best ever.
Subscribe to our blog to get the latest post delivered to your inbox weekly.
Stay connected with Antenna. Follow @Antenna for our take on marketing trends, corporate culture, and current events.
ABOUT ANTENNA
Antenna is a leader in delivering top marketing professionals to corporations of all sizes for project-based consulting, interim leadership assignments, and contract staffing engagements. With headquarters in Minneapolis, Antenna draws from its private community of experienced marketing talent to help clients balance the flexibility and expertise modern marketing organizations demand.