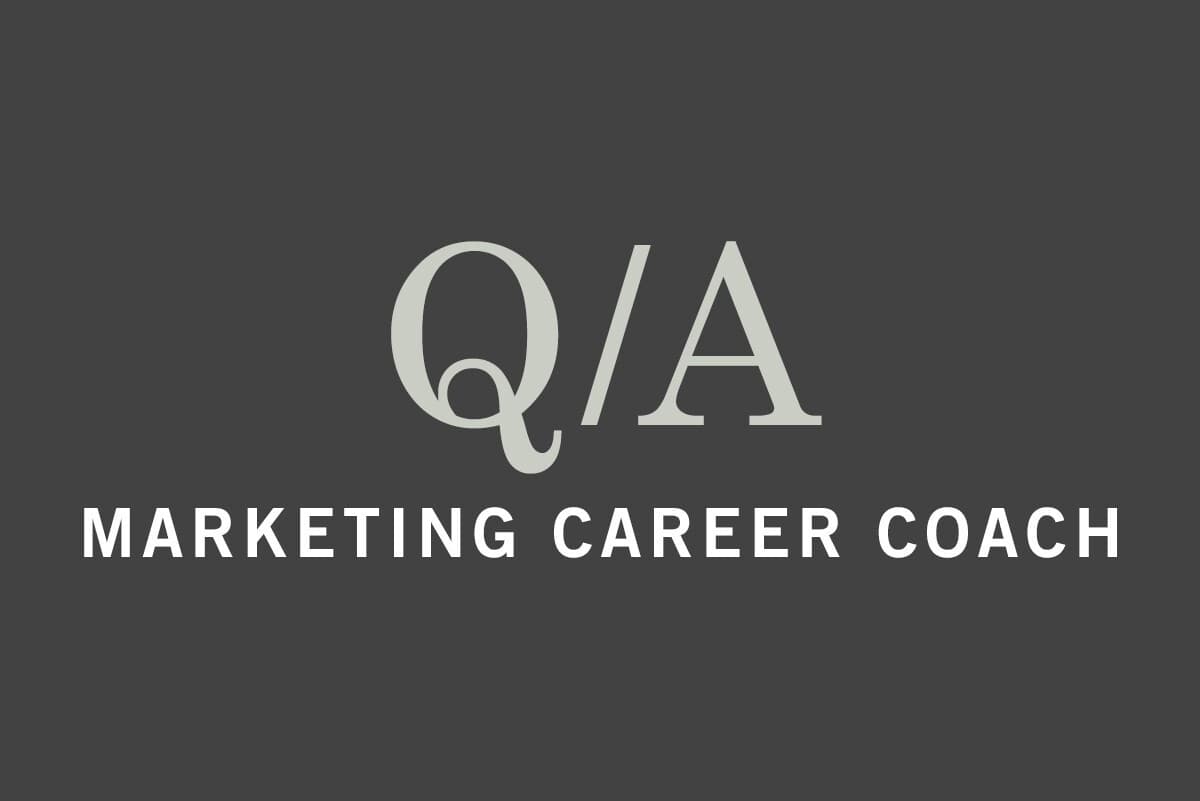 Ask the Marketing Career Coach: How Can I Rekindle the Joy of Being a Manager?
In this series, certified coach and mono Director of Talent Julie Vessel is answering your questions about finding, keeping and loving your dream marketing job. A career strategist and architect, Julie has more than 20 years of experience helping Fortune 500 companies find their truth, position themselves and get their story into the world. Read her advice on starting a new job for success, rethinking your annual review, searching for work-life balance, overcoming your inner critic, taking control of your own learning and advancing your career.
Q: I'm a manager of several employees, but sometimes the role of manager just seems like drudgery. How can I turn that around and rekindle the joy of being a manager?
"Manager" and "joy" are two words rarely used in the same sentence. Managers today have more responsibilities, more pressures, are under more scrutiny and get more blame when things go wrong. It's no surprise that in a 2011 Berrett-Koehler survey of 150 leaders, 68 percent of managers confessed they really don't like being managers.
Expectations for managers have skyrocketed. There are as many theories on what it takes to be a good manager as there are managers. Managers are at the center of our corporate obsession with employee engagement. There are thousands of training programs and millions of books encouraging us to tweak, change and add skills to our management repertoire. It's enough to overwhelm even the most talented manager.
While there's a ton of great knowledge out there, I sometimes wonder if we make being a manager sound harder than it needs to be. To me, being a great manager comes down to one simple thing: human connection. It's about seeing people, not employees. And it's about treating each other as people – in how we work together, in how we speak to each other and how we respect each other. Connection is the holy grail of any modern, successful company. Cultural and business magic happen when people are connected in meaningful ways to managers, to each other and to the company.
Not only is a focus on human connection the way for managers to be successful, connection is what brings satisfaction and joy to a sometimes thankless job. So, here are a few simple things you can do today to be a better manager and to rekindle the joy of being a manager.
Say Thank You
It's the smallest of gestures, so small that its inherent value is often devalued by shinier, fancier perks. But saying thank you and showing appreciation for a job well done is one of the most important things you can do as a manager.
It feels good to say thank you. But research shows it's also seriously good for business. A survey conducted online by Harris Interactive on behalf of Glassdoor among 2,044 workers found that 53 percent of employees would stay at their company longer if they felt more appreciation from their manager. In addition, 81 percent said they're motivated to work harder when their manager shows appreciation for their work.
And here's the best part: There's not a wrong way to say thank you. Say it, write it or text it. Tell the person what they did that you're thankful for, or mention the difference they made to you, the team or the company.

Shine a Light on People's Strengths
As a manager, you have a birds-eye view on strengths and potential. You see which tasks someone learns quickly, the talents they naturally exhibit and the jobs they feel good about doing. Those are all hints about their inherent strengths. Yet all too often, we don't discuss those strengths in detail or we assume the person must know what they're great at.
Gallup researchers have discovered that building employees' strengths is far more effective than fixating on weaknesses. In a strengths-based culture, employees learn their roles more quickly, produce more and significantly better work, stay with their company longer and are more engaged. A vast majority (67 percent) of employees who strongly agree their manager focuses on their strengths or positive characteristics are engaged, compared with 31 percent of employees who strongly agree that their manager focuses on their weaknesses.
Not only is it good for the business, there's no feeling quite like being the one to shine a spotlight on a strength or talent you've seen. So, take stock of special qualities, talents, skills and potential. Make sure you take the time to help folks understand what they do that's special, and why it feels special to you. Even if they're aware of a strength, hearing you capture it in your own words will breathe new and powerful inspiration into how they view their unique value.
Share the 'Why' Behind the Work
It's easy to leave the vision-setting stuff up to the C-level. It's their job to rally the organization around a mission and purpose, right? Unfortunately only about four in 10 employees know what their company stands for and what makes its brand different from its competitors'.
In most organizations, all-company communications or meetings about vision and mission happen occasionally. While those moments can inspire and connect people to a greater purpose, like any good TED Talk or Oscars speech, the impact fades with time.
So, remind people why you're doing what you're doing. Why does it matter? What's the end game? The desire for mission and purpose is one thing all generations can agree on. Mission drives loyalty and understanding a company's purpose helps employees answer yes to the question "do I belong here?"

This doesn't mean you have to get on a stage or pull together a team presentation. The best reinforcements are simple and frequent — at the beginning, middle and end of a project. If you feel like a broken record, or if people start telling you you've become redundant, than you know you've done your job!
Make Time for Your Team
Making time for your team and encouraging them to seek you out is important. Employees who feel strongly that they can approach their manager with any type of question are 54 percent more engaged. Being available when you're needed is important to help teams make decisions and guide them in the right ways.
But to truly become an approachable manager, it requires a bit more due diligence. Even if you're the nicest person on earth, you're still seen as the boss — which means you're often perceived as unapproachable by no fault of your own. The higher up the rank, the more this is true.
So, I believe managers have to show that being approachable is a two-way street. In addition to being approachable, go out and also approach your team. I call it the "how's it going?" lap around the office. Block out time in your schedule specifically to connect with your team, just because. You'll be surprised at the response you get. And more importantly, the conversations that unfold. By leading with "how's it going?" you are showing genuine interest and giving people permission to tell you what's really on their minds.
Managing people is one of the most challenging jobs on earth. But it can also be one of the most rewarding ways to spend your work days. Helping fuel human connection, purpose and engagement is as rewarding as it is effective. Success can depend on building simple habits that make a real difference in those you manage. And hopefully, actions that remind you of the joy and privilege of being a manager.
Subscribe to our blog to get the latest post delivered to your inbox weekly.
Stay connected with Antenna. Follow @Antenna for our take on marketing trends, corporate culture, and current events.
ABOUT ANTENNA
Antenna is a leader in delivering top marketing professionals to corporations of all sizes for project-based consulting, interim leadership assignments, and contract staffing engagements. With headquarters in Minneapolis, Antenna draws from its private community of experienced marketing talent to help clients balance the flexibility and expertise modern marketing organizations demand.