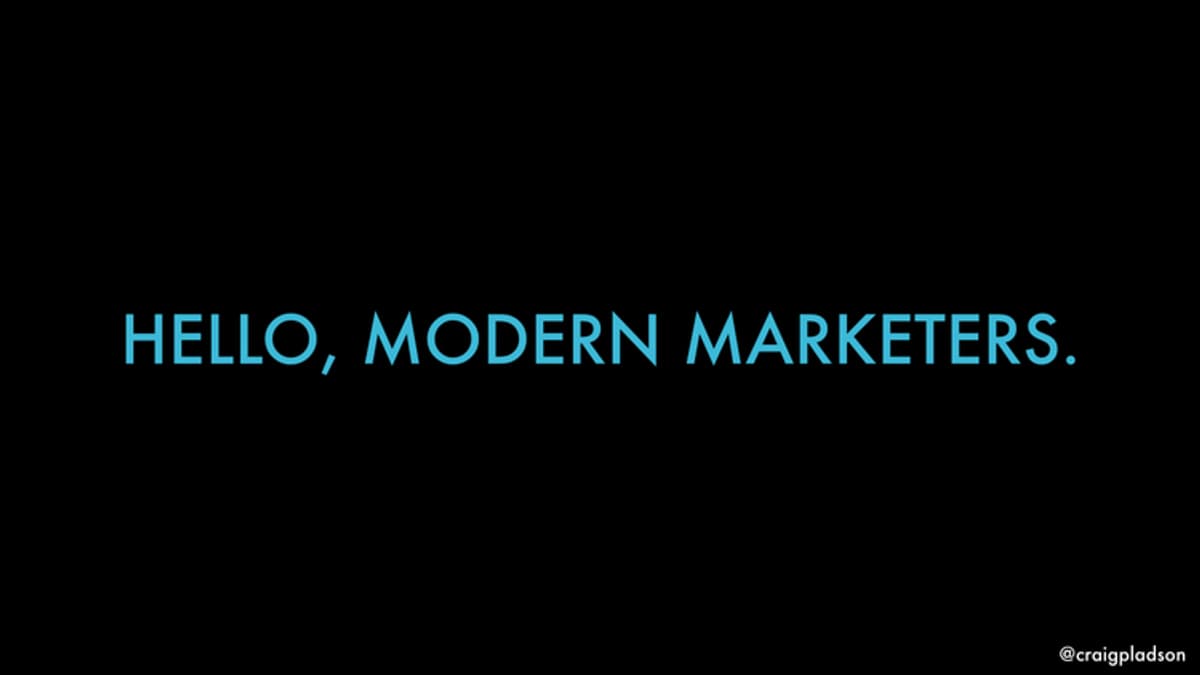 Modern Marketing Series: Brendon Schrader
Modern Marketing Series: Brendon Schrader
Founder & CEO, Antenna
1. What does the term "modern marketing" mean to you?
When I think of the term modern marketing, I immediately think of the revolution that is happening within the marketing discipline. In the last 10 years, what marketers do to engage customers has changed dramatically. Instead of siloed marketing organizations, there is more focus on integration. Digital, social, mobile, content and personalization have become priorities. Data and analytics are being used to improved effectiveness. And, marketing talent is evolving their skill sets in order to be successful.
2. How would you describe the modern marketer?
I would describe the modern marketer as someone that is both open and engaged. Open to new ideas and new engagement models. Engaged by being current on the macro-trends shaping marketing. Reading what others are thinking and doing, participating in the discussion, exploring social platforms as an active participant. I'm not saying you need to be the expert on all things new, but modern marketers understand the need to stay on top of the rapid pace of marketing change.
3. Who do you consider to be modern marketers and why?
There are several people that come to mind, but I'm a fan of Beth Comstock, CMO at GE. She has a tough challenge to turn a global manufacturer like GE into a marketing driven organization, but I like her leadership and her efforts to change the marketing culture. I'm also watching Airbnb and look forward to seeing where Jonathan Mildenhall takes this brand. There is so much opportunity with that business model.
4. Which brand(s) do you consider to be modern and why?
Of course, I have to say Apple. However, I recently had my first deep experience with the Disney brand and I was incredibly impressed by their focus on the holistic customer experience. I have never experienced a company master every single brand touch point like Disney has done.
5. Where do you look for inspiration about modern marketing?
I look for inspiration about modern marketing in the start up community. Entrepreneurs who are creating new models and challenging the status quo. Often times here, you can find amazing new ways of engaging consumers and creating products that deeply resonate with communities of people. Take a start up company called Lolly Wolly Doodle for example, an online children's clothing company. They are reinventing the apparel industry by creating real-time, custom clothing. And, it uses Facebook as both its main commerce platform and feedback loop for products. That is modern marketing.
Antenna
1. How do you describe what Antenna does?
Antenna is all about supporting the marketing organization, and the marketing community broadly. Our entire business model is designed to engage resources and talent differently in the new economy, to help marketers move faster, be flexible and activate marketing initiatives. We've built a community of marketers, bringing companies the hard-to-find specialists they need at precisely the right moment.
2. How did you come up with the name Antenna?
I wanted a name that described our firm's connectivity. Our model is designed to be at the center of the marketing community - working, engaging, dialoging, supporting - clients, talent and marketing practitioners. We want all signals transmitting in and out from us, ultimately helping all groups rise.
3. What advice do you have for others about entrepreneurship?
If you have an idea to start a business, go after it. Make the leap. Support will rally around you. I took the leap and it has made all the difference in my life. Ultimately, entrepreneurship is a state of mind. You have to inherently believe in not only yourself, but in new ways of thinking and doing. And you can never, ever, give up on seeing your vision come to fruition.
4. What are the differences / similarities between client side and service side?
I think a key difference is often the perspective and lens you have to solve marketing problems. Inside big corporations the innovation horsepower can be incredible. Yet, there can be so much focus on traditional methods, process and bureaucracy, that it can sometimes stifle modern marketing efforts. On the service side, there can be a heightened focus on bringing modern marketing to the forefront and helping clients make those changes internally.
5. How has your experience in education played a role in how you think about business / marketing?
My education has helped me be a better entrepreneur and understand how to run and scale business holistically. And most importantly, pouring through theory and case studies informs you on what not to do. That said, there is nothing like real world experience to put theory into practice. I still don't understand why I needed to take calculus (twice) to get my MBA, but that is a separate conversation.