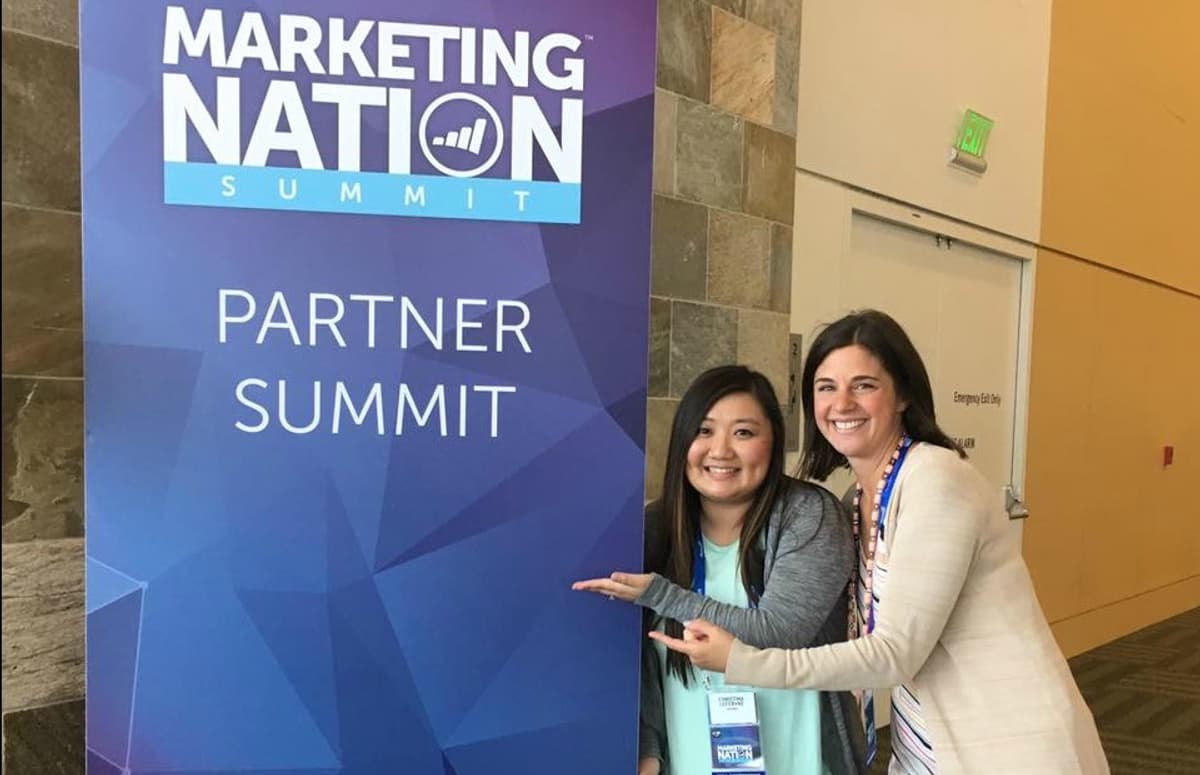 What the Antenna Team Learned at the Marketo Marketing Nation Summit
Antenna sent a team to San Francisco to join 6,500 other marketers at Marketo's Marketing Nation Summit. The theme was "The Engagement Economy." The team heard a lot about customer-obsessed marketing, advocacy marketing, and creating a customer experience centered on value and values.
News from Marketo Leaders
Antenna is a Marketo services partner. While our consultants are skilled in many marketing automation technologies, Marketo is our main area of expertise and the market's dominant platform. And since we work so closely with the technology, we were eager to hear Marketo's new CEO, Steve Lucas, share his vision for the company after Marketo was acquired last year by a private equity firm. Lucas and his leadership team will focus on growth through partnerships that will result in the largest open ecosystem of any marketing automation platform that exists today.

The Marketo team also announced major product enhancements, including improved analytics, new ABM features, and new ways to personalize marketing communication.
"Today we're making more complicated decisions than ever before." -@nstevenlucas for @marketo #MKTGnation Glad to be learning from the best! pic.twitter.com/WeR35MYQyJ
— Antenna (@Antenna) April 24, 2017
Big-Picture Themes
One of the big buzzwords from the event was "customer-obsessed marketing." In the past, marketing was product-focused; today's marketing is customer-focused. That means value propositions should focus on outcomes for the customer, and every marketing touchpoint should be personalized and meaningful for its recipient.
To connect with buyers, marketing teams must:
Listen (we spend too much time talking).

Learn (what are buyers telling us?).

Inspire (thinking about transformation, not transactions).
The implications of customer-obsessed marketing stretch beyond marketing to sales. We know that consultative selling is the best approach for today's buyer, and we heard advice for educating and engaging buyers as early in their journey as possible. Salespeople are mini-marketers, and sales and marketing can work together to learn more about the customer.
The theme of sales and marketing collaboration is important when we think about another big buzzword that dominated the conference: Account-Based Marketing. We heard eight tips for successful ABM:
Collaborate across teams.

Leverage technology.

Clean your CRM.

Define an Ideal Customer Profile.

Profile your buyers.

Personalize across multiple channels.

Adjust your reporting.

Measure all programs.
ABM has been a trend for several years, and we're starting to hear a more nuanced discussion about the strategy. ABM might not be best for every organization, especially small and medium-sized businesses. The lesson we heard: If you're going to implement ABM, make sure you have the technology and strategy to support it.
Tactical Takeaways
As our in-house email marketing expert, Christina Lefebvre learned a lot from an email marketing session, "Create an Email Database You'll LOVE."
If you work with email databases that include Canadian recipients, you'll want to know what she learned about Canada's Anti-Spam Law. CASL is important right now; it was established three years ago, but included a three-year grace period. That grace period will end this summer, and full compliance will be expected. Penalties could run in the millions for noncompliant organizations. The Data & Marketing Association has a helpful tip sheet on CASL if you need to get up to speed.
She also learned from an example of a successful reactivation campaign that Marketo executed to re-engage "sleepers" (people who hadn't engaged in over a year). The goal of a reactivation campaign is to engage formerly dormant subscribers, or remove them from the database if they remain inactive.
How to use reactivation campaigns! Reignite sleepers! 🔥 Via @marketo #MKTGNATION pic.twitter.com/o0M8A5bl59
— Hunter Stanton Auman (@HunterSAuman) April 25, 2017
Building Community
As we have the past two years, we hosted a special event for Antenna clients and friends during the summit. Each year the party has grown, and at this year's happy hour we welcomed 30 guests from 11 companies. Getting together at a national industry event to talk shop is one of our favorite ways to connect with the larger Antenna community.
The annual happy hour gives Marketo users a chance to network and discuss the conference, and it gives attendees traveling from the Twin Cities alone a chance to see a friendly face. We love bringing people together even when we're halfway across the country.
The @Antenna happy hour still rolling @JamberSF with our friends from @phreesia! #MKTGNATION pic.twitter.com/sr5ZfR1p3A
— Erik Voge (@evoge) April 25, 2017
Our team enthusiastically recommends Marketo's Marketing Nation to any marketer who wants to learn more about major trends affecting marketing, hone their marketing automation skills, and connect with smart marketers from around the world.
Subscribe to our blog to get the latest post delivered to your inbox weekly.
Stay connected with Antenna. Follow @Antenna for our take on marketing trends, corporate culture, and current events.
ABOUT ANTENNA
Antenna is a leader in delivering top marketing professionals to corporations of all sizes for project-based consulting, interim leadership assignments, and contract staffing engagements. With headquarters in Minneapolis, Antenna draws from its private community of experienced marketing talent to help clients balance the flexibility and expertise modern marketing organizations demand.